Click here to listen to the story
Haz clic aquí para leer la historia sobre Mattie Stepanek en español
Cliquez ici pour lire l'histoire en français
Young Poet and Peacemaker Hero Mattie Stepanek passed away on the morning of June 22, 2004. Mattie's poems of peace and hope have touched millions of lives; his heartsongs will continue to reach people of all ages around the world for decades to come.

Visitors are invited to add their thoughts about this courageous young man to MY HERO's guestbook honoring Mattie.






POET AND PEACEMAKER MATTIE STEPANEK
Photo by Jim Hawkins

Facing the Future

Every journey begins
With but a small step.
And every day is a chance
For a new, small step
In the right direction.
Just follow your Heartsong.

by Mattie Stepanek

From the book HOPE THROUGH HEARTSONGS by Mattie J.T. Stepanek. Copyright (c) 2002 Mattie J.T. Stepanek. Published by Hyperion. Used by permission. All rights reserved.

When Jim Hawkins of Children's Hospice International nominated Mattie as a hero on this Web site, the young poet hero was only six years old and had already written several hundred poems. Mattie was suffering from a hereditary disease called dysautonomic mitochondrial myopathy. This rare form of muscular dystrophy had already claimed the lives of his three older siblings. Mattie's mother, Jeni, also suffers from this disease.

Jim wrote this about Mattie in the MY HERO guestbook...

"Little Mattie has somehow acquired more wisdom in his short life than most of us do after decades of living. Through his poetry, he expresses wisdom in a way that touches anyone's heart. With his unabashed enthusiasm for life Mattie has charmed everyone who has crossed his path.

Mattie has inspired many people, young and old, to overcome every obstacle they may encounter and strive for their goals with dignity and humanity. THANK YOU, MATTIE!"

In 1997, Mattie and Jeni shared his remarkable poetry with the children of all ages who come to this educational Web site. Children's Wish Foundation gave Mattie a computer and he was able to view his poems online along with the comments of visitors inspired by his work. Later, Mattie shared three wishes with his friends at MDA Camp, Children's Hospice International and MY HERO. The first wish was to publish a book of his poetry, the second was to meet his hero, former President Jimmy Carter, and the third wish was to appear on Oprah. Remarkably, by the end of 2001, all three of these wishes had come true.

In July, 2001, VSP Books and Hyperion Books joined forces to publish Mattie's book of poems, Heartsongs. Not surprisingly, it has become a national best seller. Hyperion signed Mattie to a three-book deal. The publishers have released Mattie's second book, Journey through Heartsongs. His third book, Hope through Heartsongs, was released in April of 2002.

In September, 2001, when Mattie was in the hospital, staff workers arranged for him to have a phone conversation with his hero, Jimmy Carter. According to those who witnessed the 15-minute chat, Mattie, whose selflessness is beyond reproach, talked to President Carter about problems in Bosnia and Africa, and not, as one would expect, about his own health complications. Incredibly, after speaking to Mattie, the former president decided to write the foreward to Mattie's second book, Journey through Heartsongs. A month later, Diane Sawyer and her staff at Good Morning America surprised Mattie with his first face-to-face meeting with President Carter on live TV.

On October 19, 2001, Mattie's third wish came true. Mattie was featured on Oprah and spoke with Winfrey about his books, his love for poetry and life, and his desire to be a peacemaker in the world. Oprah then read her favorite excerpts from Mattie's poetry and said, "I think that's so important, especially now, when everybody is feeling a sense of fear and having been terrorized, to look at what you have in your life and have a sense of gratitude and see the miracles in your life. And you, even though you're hooked up to all this equipment, and we had to plug you in during the commercial break to give you more oxygen, you still see miracles everyday in your life."

In May 2011, Jeni Stepanek sat with Oprah Winfrey to honor her son as one of Oprah's top three most memorable guests. Oprah held up Jeni's inspiring book on Mattie's life and legacy, Messenger: The Legacy of Mattie J.T. Stepanek and Heartsongs, and called it a "wonderful story."
POET HERO:
MATTIE STEPANEK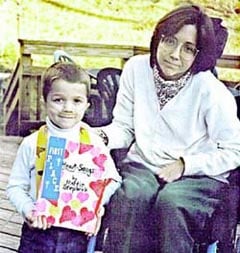 Mattie suffered from a hereditary disease called dysautonomic mitochondrial myopathy, a rare form of muscular dystrophy that had already claimed the lives of his three older siblings. Mattie's mother, Jeni, also suffers from the same disease. Mattie needed to take a portable oxygen tank on wheels with him wherever he went. Many times his illness would land him in bed in the intensive care unit of the children's hospital. Outside, Mattie was only able to move about in his motorized wheelchair. Even though Mattie battled a terminal illness for many years, Mattie never saw his condition as an obstacle between him and his goals.
He began writing when he was about 3 years old. Before he passed away in June, 2004, Mattie had written thousands of poems, dozens of essays and short stories, and presented a bound anthology of his writing to the Library of Congress. He received many awards for his writing, including the Melinda A. Lawrence International Book Award in 1999 for "most inspirational work."
His love of reading and writing evolved into public speaking, earning him the Maryland State Goodwill Ambassadorship for the Muscular Dystrophy Association. During his short lifetime, he enthusiastically participated in fundraising events to help find a cure for neuromuscular diseases, and to encourage children and families suffering from these diseases to celebrate life until a cure is found.
In Mattie's words, ". . .we must remember to play after every storm and to celebrate the gift of life as we have it, or else life becomes a task, rather than a gift. We must always listen to the song in our heart, and share that song with others."
Mattie on his hero ~
When I grow up, I want to be a peacemaker. My biggest role model for this is Jimmy Carter, who has been a wonderful peanut farmer, politician, and peacemaker... I call him the 'perfect hero.'
MATTIE'S POETRY
On Being a Champion
A Champion is a winner,
A hero...
Someone who never gives up
Even when the going gets rough.
A champion is a member of
A winning team...
Someone who overcomes challenges
Even when it requires creative solutions.
A champion is an optimist,
A hopeful spirit...
Someone who plays the game,
Even when the game is called life.
There can be a champion in each of us,
If we live as a winner,
If we live as a member of the team,
If we live with a hopeful spirit,
For Life.
From the book JOURNEY THROUGH HEARTSONGS by Mattie J.T. Stepanek. Copyright (c) 2001 Mattie J.T. Stepanek. Published by Hyperion. Used by permission. All rights reserved.
Jeni Stepanek wrote in the MY HERO Guestbook:
My hero is: Mattie Stepanek, my son. Through Mattie's innocent and uncensored expressions about life as he sees it, and feels it, and thinks about it, I have been inspired to think more deeply about my own life. Sometimes, it takes the wisdom of a child, for us to really appreciate what we DO have in life, and to remember to celebrate the gift of every day.
Lyn Mox added this comment about MATTIE in the MY HERO Guestbook:
My hero is: Mattie Stepanek. Just wanted to say that in my personal life, Mattie is my hero and glad to see that someone else outside of my family and friends agrees. Mattie is friends and schoolmates with my son. Please keep giving us more jewels like Mattie and his mother Jeni.
Rebecca Corrine Schonwalder from Pennsylvania wrote to MY HERO about Mattie on December 16, 1998:
I honor that a person like Mattie Stepanek would tell people about how he feels and he is only 6. I am 17 and I don't know how to tell people how I feel.
On October 19, 2001, Dale-Anne Smith wrote about Mattie and his poetry:
Thank you so much for your page about Mattie. I am a 29-year-old single mother of a beautiful little 2-year-old girl. In this last year, since separating from her father, and moving from the States back to my home in Canada, I have gone through many dark moments of fear and uncertainty. Reading Mattie's poems on your site really helped me see things in their true perspective. He is a true hero, an old soul, and a blessing to this planet. I wish I could hug that little man right now and breathe in his energy; he has touched my heart in a profound way.
After seeing Mattie on the Oprah Winfrey Show, 81-year-old Elizabeth Haestie wrote:
I "met" Mattie for the first time today on the Oprah show - I am an 81-year-old English lady, in good health, but sometimes feel somewhat depressed that I don't have a great many more years ahead of me in this life. But Mattie knocked all those feelings out of my mind altogether, and I don't think they will ever return. I am an "old soul" too, Mattie, as you are, and I shall remember you and your mother all the rest of my life. You are my hero, too.
Read other comments from visitors to MY HERO about Mattie.
Add your comments about Mattie and other inspirational heroes to the MY HERO Guestbook.


To read about Mattie Stepanek in Spanish, click here to visit Mi Heroe's Mattie Stepanek story.
Listen to the song inspired by Mattie and his poems!
Special thanks to David Alexander and the choir at St. Paul's Episcopal Day School, Kansas City for this touching song. Click below to download: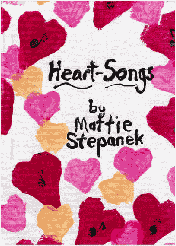 On July 6, 2001, VSP Books and Hyperion Books joined efforts to publish Mattie's book, HeartSongs, which quickly became a national best seller.
Since then, Mattie has published several more best-selling books of poetry: Journey Through Heartsongs, Hope Through Heartsongs and Celebrate Through Heartsongs. Recently, the teenage country music sensation, Billy Gilman, released a CD entitled, Music Through Heartsongs, which features songs based on the poetry of Mattie.
In January 2003, Mattie's fifth book of poetry, Loving Through Heartsongs, was released by Hyperion Books. Way to go, Mattie!
| | |
| --- | --- |
| Mattie at the press conference announcing the release of his book | Being interviewed by a TV personality |
On 12 October 2003, Jim Hawkins wrote to MY HERO:
Mattie was the opening speaker at the CHI World Congress in Alexandria in September and, of course, wowed everyone. He surprised me while I was taking photos by announcing the creation of a "Mattie Stepanek Champion Award" and presenting it to me. That brought a lump to my throat.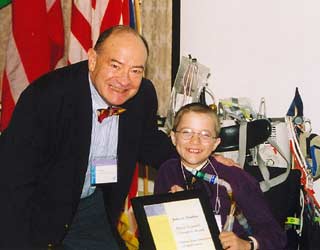 The "Mattie Stepanek Champion Award" was created two years ago by Ann Armstrong-Dailey and CHI to honor Mattie's contributions to children everywhere.