9TH ANNUAL LAGUNA HERO FEST TO HONOR LOCAL HUMANITARIANS, ARTISTS AND MUSICIANS
LAGUNA BEACH, CA - 03/24/16 - The MY HERO Project's 9th Annual Laguna Hero Fest will be held on April 21st, 2016 at [seven-degrees] event venue at 7 pm. Honorees have been chosen from the humanitarians, artists and musicians who bring creativity and vitality to our community.
The 2016 Community Award is being presented to Gregg Abel for more than 35 years of service to greater Laguna Beach. His impressive work includes beautifying our city with world-class residential and commercial design, serving as the former President of the local Chamber of Commerce, actively leading, with his wife Kathy, the growth of the Friendship Shelter, and currently serving as a Board of Director for the Laguna Food Pantry. Gregg's generosity to this town is unprecedented.
Artist heroes include ocean photographer
Patsee Ober
, and
Marinta Skupin
, Curator of Education and organizer of the annual Laguna Art Museum Art & Nature Festival.
Patsee Ober is an underwater tide pool photographer who helps to protect tide pool inhabitants and diverse habitats by exposing this magical world in her vibrant photos to those close to and far from the ocean. She is an active Sawdust Festival participant and an enthusiastic supporter of Laguna Bluebelt.
Marinta Skupin became the Curator of Education at Laguna Art Museum in 2012. Skupin creates opportunities for all audiences to engage in meaningful and enjoyable ways with art. The Art & Nature Festival, now going into its 4th year, is one of her most successful projects and her enthusiasm for art is infectious.
In addition we will be honoring Laguna Beach Live!, a non-profit organization, strives to increase the awareness of and participation in diverse musical experiences, enhancing the reputation of Laguna Beach as a music town.
Since 2001, Laguna Beach Live! has brought professional music to the community of Laguna Beach in intimate settings, at accessible venues and at affordable prices.
Dedicated to artistic excellence and innovation, Laguna Beach Live! presents free chamber music concerts year round, a weeklong Music Festival exploring modern classical music and new composers, special fall and spring concerts, an outdoor summer jazz series and a winter jazz series as well as free educational events for students in the greater Laguna Beach area.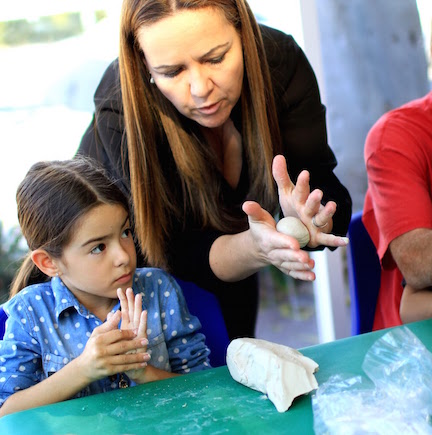 Community music educational non-profit organizations include Give a Beat, founded by Laguna Beach entrepreneur Lauren Segal and the local Music in Common program at the Laguna College of Art and Design, spearheaded by Jason Feddy, Warren Sellars, and Alisa Eisenberg, will be celebrated at the Laguna Hero Fest as well. We will screen the music video created in the program by local youth from diverse religious backgrounds titled "Pray for a Cure."
Zeda Stone and Bryn Mooser from Ryot Foundation, a non-profit entertainment collaborative, will be honored for "The Great Escape Project", which is a Virtual Reality program to benefit pediatric hospital patients.

Pediatric patients at CHOC Hospital experiencing virtual reality from RYOT Foundation
RYOT Foundation has launched a program called "The Great Escape Project". This program will bring uplifting Virtual Reality experiences to children who are patients at CHOC Hospital. Zeda Stone and Bryn Mooser both with roots in Laguna Beach are spearheading this humanitarian project.
There will be live musical performances by guitarist, John Heussenstamm with Youth Vocalist Whitney Winefordner. The evening program will culminate with fun and music by DJ Jamey Madrid.
The MY HERO Project, now in its 20th year, celebrates the best of humanity, by shining a light on heroes. The Laguna Hero Fest is the recognition of individuals who have made outstanding contributions and have accomplished important goals in our own greater Laguna Beach community. Media sponsors for the 9th annual Laguna Hero Fest include KX 93.5 radio & Stu News Laguna. Support for this program is provided by [seven-degrees], the lodging establishments and the City of Laguna Beach.
The Laguna Hero Fest is free and open to the public. It will be held on April 21st at 7:00 pm at seven-degrees. All are welcome to enjoy this celebration of heroes and movers and shakers!
Food and drinks will be available for purchase at [seven-degrees]
Page created on 4/6/2016 11:54:42 PM
Last edited 6/11/2018 12:53:38 AM