CONTACT: WENDY MILETTE FOR IMMEDIATE RELEASE
MY HERO Media Arts Director
MY HERO INSPIRES EDUCATORS AT THE 2016 GLOBAL EDUCATION CONFERENCE
LAGUNA BEACH, CA – 12/15/16 - "Do what you can, with what you have, where you are." That famous quote from Theodore Roosevelt provided the theme for a recent presentation by The MY HERO Project at the Global Education Conference. The conference is an annual, event that unites teachers, students and organizations around the world that are interested in creating opportunities and connections with like-minded individuals.
During the week-long event, which took place November 13 through 16, 2016 online, members of the MY HERO team shared tips on how to use MY HERO's online archives.
"MY HERO's library of stories, which is now over 40,000 essays, has been built by teachers, students and people of all ages from around the world who have been sharing their ideas of heroism," said Jeanne Meyers, Co-founder and Director of The MY HERO Project. "We really want to be a bridge for cross cultural understanding and appreciation of individuals who are trying to make a positive difference in their communities, in their homes, and around the world."
MY HERO's website features stories of diverse heroes from all walks of life. The writers range from elementary school students to professionals.
"You can use MY HERO as a resource to talk about problems and then the people who are addressing the problems," said Meyers.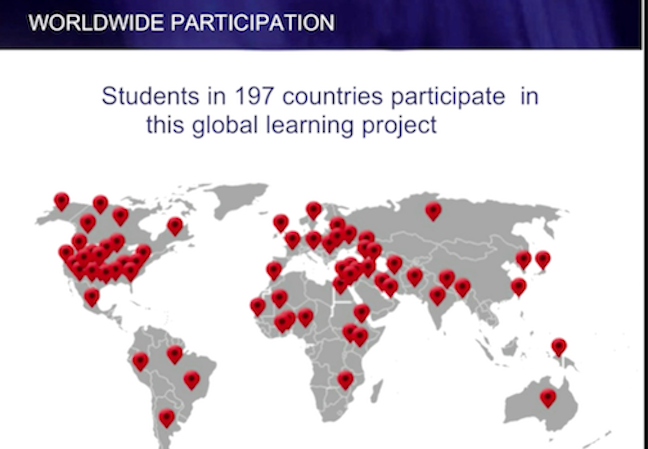 Meyers and other members of The MY HERO team shared creative ways of using The MY HERO's award winning website in the classroom.
"MY HERO is an incredible wealth of stories and inspiration," said Wendy Milette, MY HERO's Director of Media Education and The MY HERO International Film Festival. "We try to make it personal and we give you a place where you can get inspired and at the same time you can share your stories with us."
Inspiration takes many forms on MY HERO. Heroes are celebrated through stories, music, short films and art.
"I think it's really important to understand that art is transformative," said Victoria Murphy, Director of the MY HERO Gallery. "It engages the viewer in a way that is so important. Art is an immediate and direct communication with the viewer and, when you begin to boil down your ideas to create an image, it can really be powerful."
Murphy showed examples of inspiring works of art created by students as well as professionals. She explained how art is used to create positive change.
"Art is a universal language," said Murphy. "So, by engaging your student in making art and letting them use their creative talents, you are also giving the viewer an opportunity to be engaged in a hero message."
Another universal language is music, and MY HERO's Audio Portal is a space where visitors can enjoy and share the music and audio stories. Murphy pointed out that the ability to read along with the audio stories is helpful for students learning the English language.
Each year MY HERO partners with the International Education and Resource Network (iEARN) to form safe, online "Learning Circles," in which teachers and students can interact with classes in other parts of the world and explore each other's cultures.
"We're helping students to become active global citizens," said Wendy Jewell, facilitator of the Learning Circles. "It gives kids the idea that they have a voice and that their voices are heard in a safe environment. It empowers them to share what they think about the world, what they think is good in the world and what inspires them in the world."
Meyers and Milette delivered the Keynote Address for the Conference. During the MY HERO Session of the conference, the MY HERO team offered tangible, step-by-step tools and guides for students and teachers to add content to MY HERO's hero-themed web archive.
"The whole idea of activist media is that you think about the issues that matter to you. You brainstorm about them and then you decide what you can do about it," said Milette. "Doing what you can with what you have is a critical theme for a group like this. If you're working with elementary school kids, you may want to make a montage in iMovie. If you're working with high school kids, maybe you'll want to make a documentary with interviews. MY HERO offers so many opportunities for you to share what you end up creating."
The MY HERO Teacher's Room offers resources for bringing heroes into your classroom. For more information about The MY HERO Project, please visit the MY HERO website (www.myhero.com).
Page created on 12/16/2016 12:00:00 AM
Last edited 7/7/2017 11:40:23 PM