CONTACT: Wendy Milette FOR IMMEDIATE RELEASE
Media Arts Director
The MY HERO Project
[email protected]
949-376-5963
DOCUMENTARY ON CHANNEL ISLANDS CONSERVATION PROJECT WINS 2019 SYLVIA EARLE OCEAN CONSERVATION AWARD
SANTA MONICA, CA– 06/14/19 – The documentary film Protecting Blue Whales and Blue Skies is the 2019 winner of the Sylvia Earle Ocean Conservation Award. The award, presented each year by the MY HERO International Film Festival, honors a filmmaker whose work highlights people working to protect the world's oceans. Filmmaker Michael Hanrahan accepted this year's award at A Night of Heroes - Making Waves in Global Education, a benefit for The MY HERO Project's Media Arts Education Program. The event was held June 8 at Moss Theater at New Roads School in Santa Monica.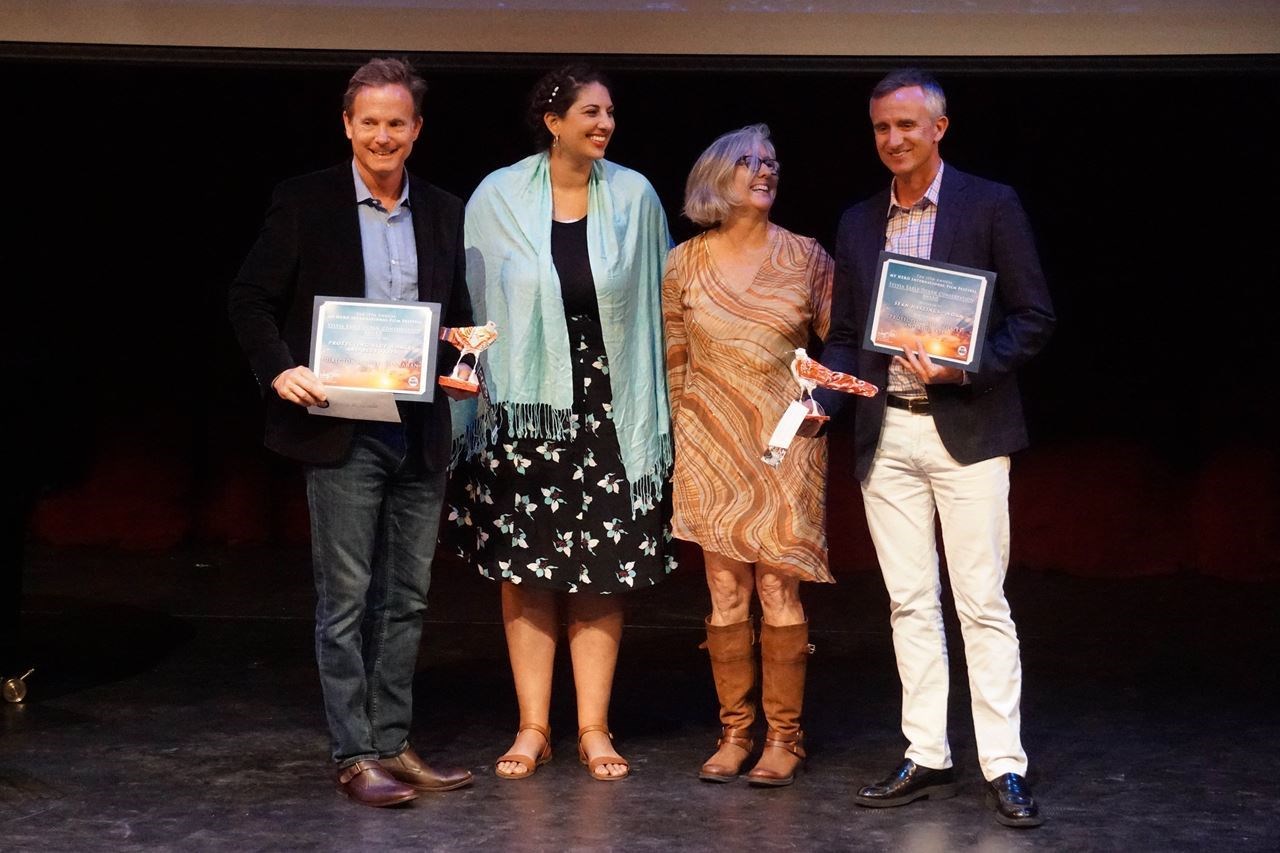 Filmmaker Michael Hanrahan (L.) and Sean Hastings (R.) of the Channel Islands National Marine Sanctuary - NOAA accept the 2019 Sylvia Earle Ocean Conservation Award from One World One Ocean representative Shauna Badheka (Center L.) and MY HERO Media Director Wendy Milette (Center R.).MY HERO
The short film shows the efforts of local government agencies, non-profits and private industry as they work together to solve the problem of whales being struck by fast-moving ships in the Santa Barbara Channel. The channel is a key migration path and sanctuary for the Blue Whale, which was once on the brink of extinction. Shipping companies are asked to voluntarily reduce their speed in the area to allow the whales a chance to get out of the way. Slowing the ships also reduces air pollution caused by the vessels and decreases the impact of noise.
Hanrahan, a former lecturer and underwater camera operator for Jean-Michel Cousteau, teaches Environmental Media Production for the Blue Horizons program at the University of California at Santa Barbara's Carsey-Wolf Center. A documentary filmmaker of 25 years, he uses his marine science and filmmaking degrees to call attention to challenges facing the world's oceans.
"Everyone at Earth Media Lab is excited to be recognized for our part in communicating the important message of protecting whales from ship strikes in the Santa Barbara Channel," said Hanrahan. "Our clients, the Protecting Blue Whales and Blues Skies partnership, have done hero's work in bringing this important issue to the public eye. These creative solutions to our most pressing environmental challenges are what will give us all the determination, stamina, and hope to keep fighting the good fight."
Channel Islands National Marine Sanctuary is part of the National Oceanic and Atmospheric Administration (NOAA). The sanctuary encompasses 1,470 square miles around California's Channel Islands and provides protection to the area's natural and cultural resources. Historic shipwrecks and artifacts are left in place to allowing nature to thrive in these manmade reefs. The organization releases condition reports with the status and trends in the area pertaining to water quality, living resources, habitat, maritime archaeological resources and the human activities that affect them.
The Earle Award is named for Dr. Sylvia Earle, a marine biologist, explorer and author of more than 200 publications. Earle, who was Time Magazine's "Hero for the Planet" and dubbed "Her Deepness," by the New York Times, has led more than 100 expeditions. The award comes with a $500 prize, which is sponsored by MacGillivray Freeman Films' One World One Ocean campaign.
"NOAA is under such attack and underfunding with the current administration," says Barbara MacGillivray, of MacGillivray Freeman Films. "I like their work in the Channel Island Marine Sanctuary being noticed and also like the activism portrayed in working with the shipping companies in such a positive and creative way to reduce noise, air pollution and whale strikes by voluntarily and significantly reducing their speed."
Watch now: Protecting Blue Whales and Blue Skies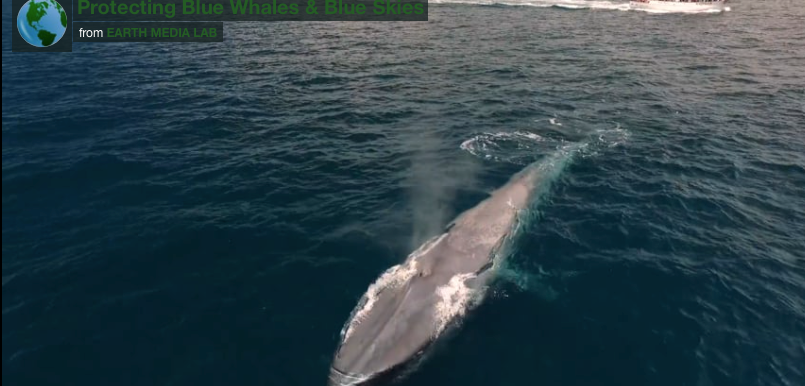 Protecting Blue Whales and Blue Skiesby Michael HanrahanThe MY HERO Project (myhero.com) is a 501(c)(3) organization with a mission to shine a light on the world's heroes through stories, music, art and short films. Submissions of short films are currently being accepted for the MY HERO International Film Festival. Filmmakers of all ages and experience levels are encouraged to apply. Submit your film today.
Page created on 6/7/2019 6:10:48 PM
Last edited 6/18/2019 11:10:05 PM