"My name is Abdul-Baha, my identity is Abdul-Baha, my qualification is Abdul-Baha,
my reality is Abdul-Baha, my praise is Abdul-Baha."
This is the very first picture I saw of him. He had a worn and beautiful face, snow white beard, and wore a long, brown gown and a white turban, and spoke in Persian. I was very small when I saw his picture, about six years old, and I didn't know who he was, but looking at his picture I could imagine myself cuddling and placing my face against his coat, feeling the wool scratch my skin and the smell of a traveler.
And this is the very first story I read about 'Abdu'l-Bahá:
On this day, looking out the window, Reverend Ives was astonished to see a group of some thirty "noisy, not too well dressed… urchins[children], but spruce and clean, enter the house." He followed them upstairs where 'Abdu'l- Bahá greeted them, one by one, with smiles and laughter. The last one was a dark colored boy and when the Master saw him, His face lit up with a heavenly smile, and He exclaimed: "Here is a black rose!" Everyone present was impressed with a feeling of wonder, which increased when 'Abdu'l-Bahá, distributing a handful of chocolates to each child with a kind word, picked up a particularly dark chocolate and "without a word, but with a humorously piercing glance that swept the group, laid the chocolate against the black cheek. 'Abdu'l- Bahá's face was radiant… and that radiance seems to fill the room." The children looked with real wonder at the colored boy as if they had never seen him before. "As for the boy, himself… his eyes fastened with an adoring, blissful look upon the Master…For the moment he was transformed. The reality of his being had been brought to the surface and the angel he really was revealed."
The story is of his visit to New York, where he came at a very old age, after being an exile and a prisoner for more than forty years from his childhood. It took place in 1912, when black children weren't allowed to enter the houses of white people, so it is hard to imagine the full impact of his kindly gestures. There are many anecdotes about his life, and all are filled with love and example.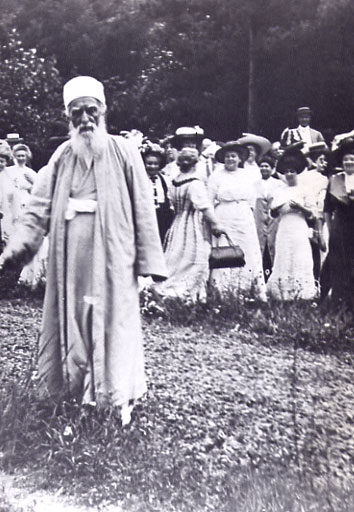 He was born in Teheran, Iran, on May 23,1844, to the name 'Abbas Effendi on the same night that the Báb (see My Hero Story) declared His mission. He was named 'Abbas after his grandfather, but during his life he took for himself the title of 'Abdu'l-Bahá, which means the "Servant of the Glory" in Arabic, and this is how he wanted to be known and remembered. His father was Bahá'u'lláh, "The Glory of God" (see My Hero Story), the founder of the Bahá'í Faith, and He appointed him as His successor and interpreter of His teachings after His death. In the Bahá'í Faith there is no priesthood and no tradition that the leadership should pass from father to son. It was the spirituality of 'Abdul-Bahá for which he was chosen. He accompanied his father throughout all his exiles and imprisonments, that span for more than forty years and took him from Persia to Turkey and the Holy Land in the city of St John of Acre ('Akka), near Haifa, that was a prison city, where he died on November 28, 1921, loved by many people of many religions and races, including his jailers. He entered the prison as a young boy and left as an old man. Of his imprisonment he said:
"Verily the prison is my paradise and the chains my necklace; my balance (or testing) is my redemption (or salvation) and the castle is my fortified safety, for this imprisonment is in the path of my Lord and it is my salvation, my joy, my gratitude and happiness. Verily, in calamity the face of Abdul-Baha shineth and through hardship joy is attained by this servant in all conditions."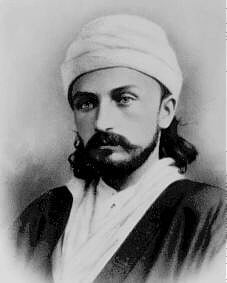 He didn't go to school, but he wrote many books, tablets and prayers, explaining his father's mission and teachings, answering many questions that worried his followers and clarifying many issues. Of special interest is the book "Some Answered Questions", where he talks about the Messengers of God and their powers and condition; explains some Christian subjects; and talks about the origin, the powers and the condition of man. Another great book is "Paris Talks", where he talks about the need for spirituality; how to reach world peace and what is our duty within it; the evolution of matter and the soul; pain and sorrow; and the connections between the East and West. You can find both books in the Bahá'í library links bellow.
He loved to tell jokes and stories, below you can find a link to some of those stories. He was constantly asking the people he met "Are you happy?", "Are you happy?".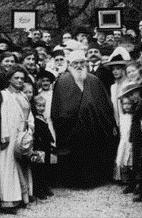 He was liberated by the Young Turks Revolution in 1908 and although he was already very old and sick he decided to visit America and Europe to spread the word of the teachings of his father and visit the new Bahá'ís that lived there. His visits are impressive, he gave many daily talks, at homes, churches, universities, and other organizations, with little or no rest in between and traveled to many cities in Europe and from coast to coast in the US in a short period of time. All his talks were free, and although he wasn't a rich man, he covered all his expenses, and even gave many contributions to worthy causes. The Bahá'ís wanted to help him travel more comfortably, but he refused to travel with what he considered unnecessary commodities and always traveled with the poorest. Remember that at that time to go to America you had to travel by boat during many weeks and go from city to city by train. Of his travelings he said: "This is a most happy visit. I have crossed the sea from the land of the Orient for the joy of meeting the friends of God. Although I am weary after my long journey, the light of the spirit shining in your faces brings me rest and reward."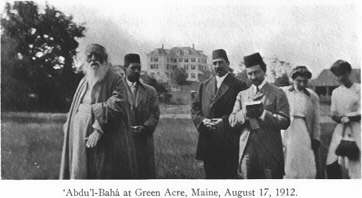 Finally, and not less important, his life and his actions were a testimony to his beliefs and inspired everyone who came across him.
"…look at me, follow me, be as I am; take no thought for yourselves or your lives, whether ye eat or whether ye sleep, whether ye are comfortable, whether ye are well or ill, whether ye are with friends or foes, whether ye receive praise or blame; for all these things ye must care not at all. Look at me and be as I am; ye must die to yourselves and to the world, so ye shall be born again and enter the kingdom of heaven. Behold the candle, how it gives light. It weeps its life away drop by drop in order to give forth its flame of light."
Page created on 8/27/2011 4:22:49 PM
Last edited 1/9/2017 4:26:18 PM