Amelia Earhart
by
Bobbijo from Lincoln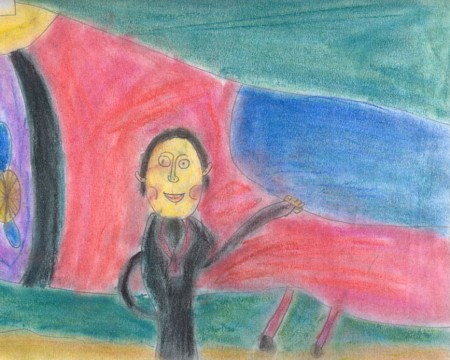 Do you know who Amelia Earhart is? Here are some facts. She was born on July 24, 1897 in Atchison, Kansas. Her parents' names were Amy and Edwin Earhart. In 1919, Amelia attended Columbia University and studied medicine. However, in 1920,she dropped out of college and moved to California. In California, Amelia herd of a woman pilot who gave flying lessons. She began flying in Los Angeles, in 1921, when she was 24year old. Her flying instructor was Neta Snook. Neta bought Amelia her first plane, it was called "Kenner Air star". Since she had family problems, she had to sell it in 1924. Then she moved back to the East, that is were she took employment as a social worker. Four years later, she returned to aviation and bought an "Avro Avion" airplane. Amazingly she was the very first woman to ever fly solo-return transcontinental flight. Ever since then, she continued to set and break her own speed and distance records in a plane, in competition events, as well as personal stunts promoted by her husband George Palmer Putnam.
The evening of May 20, 1937, she stepped into a red and gold, single engine plane. As she looked over the sunset horizon, a wind blew in from the South West. It would be a wonderful flight. With a breath of confidence she revved the engine and prepared the plane for take off. She was set upon a journey that would make her the first woman to fly across the Atlantic Ocean alone. On the early morning of July 2,1937, Amelia was expected to land on Howland Island. But she never did.
In the last radio contact with her, she was lost. Her life was characterized by a solid determination to force the public to accept women aviators. They admired the accomplishment of women an aviators. She and her fellow female pilots not only set records, but they changed the world.
There's one sure way to end the dispute about where she was lost. Find the plane. "It's got to be out there. One of us will find her," Prymark said.
Page created on 5/28/2007 12:00:00 AM
Last edited 5/28/2007 12:00:00 AM
The beliefs, viewpoints and opinions expressed in this hero submission on the website are those of the author and do not necessarily reflect the beliefs, viewpoints and opinions of The MY HERO Project and its staff.