Annelies Marie Frank
by
Morgan from Michigan
Anne Frank's diary inspired many people. She was born on June 12th, 1929 in the German City of Frankfurt. She had a Mom (Edith Frank), Dad (Otto Frank), and a sister, Margot Frank. Anne Frank moved many times. She moved to her Grandma�s house then to hiding from the Nazis. She went into hiding around 1942. Her Mom, Dad, and sister had to go into hiding with other people who were Jewish. Her family was in hiding for about two years.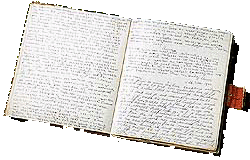 There were many major events in Anne Frank's life, from living a good life as a young girl, to hiding from the Nazis for two years. She had one big problem in her life, which was she had to hide from the Nazis. When Hitler became governor she had to go into hiding because he didn't like the Jews. When they were found (two years later) they were sent to harsh concentration camps. She had a big major accomplishment, which was when she made a diary about hiding from the Nazis and when she went to the concentration camps. The Diary made her famous and inspired many people. Her Diary is now at the Holocaust Memorial Museum.
Anne Frank demonstrated lots of heroism by writing her diary. She hid from the Nazis for twenty five months (two years and one month) with friends and family. She showed many people to be brave and have courage. She also showed heroism by writing a diary about her life hiding and at concentration camps. Her journal is around the world for people to see what she did.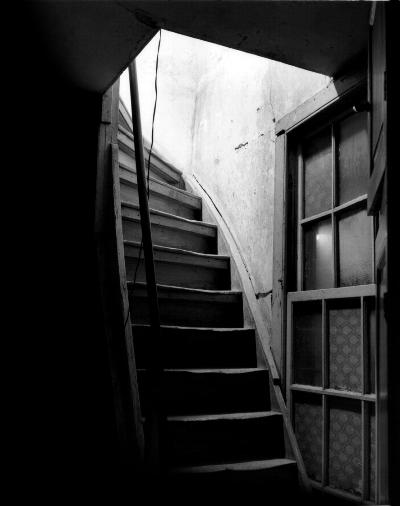 Anne Frank had many positive characteristics about herself. She had a lot of courage to go into hiding with her family and friends. I also think that she had bravery to face going to the concentration camps. I think she was brave by being without her parents. (Anne Frank inspired people too). She inspired them by writing her journal to many people that had thoughts and feelings about her. A quote that Anne Frank once said was, "And finally I twist my heart round again, so that the bad is on the outside and the good is on the inside, and keep on trying to find a way of becoming what I would so like to be, and could be, if there weren't any other people living in the world."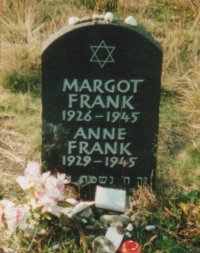 Anne Frank died in March of 1945. She died of typhus at Bergen-Belsen, a concentration camp. Anne Frank's parents were not there to say good-bye. I think that is very sad. I think she was very strong.
I think the lesson that she teaches to everyone is to be brave. I think she taught everyone to not be afraid and to look for the best in everything. I think she also inspired everyone, by writing her diary. I think that touched a lot of people's hearts. I think she also was very confident. I think she was confident by believing in herself. I think she knew that she was going to go to the concentration camps, but, she stayed strong. Anne Frank was very strong and brave, that is why she is my hero.
Page created on 3/16/2007 12:00:00 AM
Last edited 3/16/2007 12:00:00 AM
The beliefs, viewpoints and opinions expressed in this hero submission on the website are those of the author and do not necessarily reflect the beliefs, viewpoints and opinions of The MY HERO Project and its staff.