Ally Carter
by
Kailee from Billings
"Don't get it right, get it written."
IT'S A BIRD!!!! IT'S A PLANE!!!! NO, IT'S SUPERMAN!!!!!!!!!
Well I'm sorry to disappoint you, but Superman is just a fictional character. But how cool would that be, to have someone swoop down and rescue you from an oncoming semi, or save you from some evil "bad guy"? We all have our heroes in our lives, but they're not Batman, Spiderman, The Green Lantern, or, as I mentioned earlier, Superman. They are just comic book characters. The real heroes are everyday people, like your father, your favorite author, or a doctor that saved your grandmother's life by performing a miracle surgery at the last minute. These people are the real thing, and they deserve their shining moments. Some people will even say that they don't have a hero in their lives. I would be one of those people, but since my English grade depends on this, I had to find one.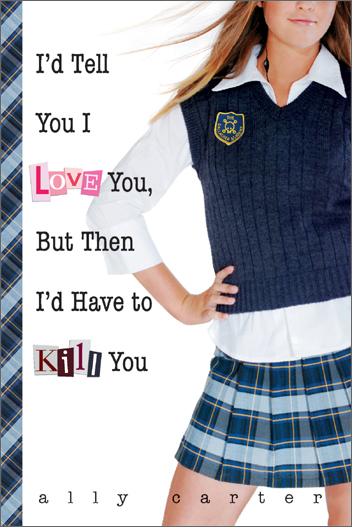 I decided to choose an author as my hero. Her name is Ally Carter, or as you may know her, the author of the Gallagher Girls series. She writes incredible books that are craved by thousands, upon thousands of readers. Her name, "Ally Carter", is actually her pen name. To her family and friends, she is known as Sarah Fogleman. Ally, or Sarah, was born on January 1, 1974. She graduated from Cornell University and Oklahoma State University. She has written a few books and is currently living in the Midwest working on the fourth book in the Gallagher Girls series. She is very supportive of young people who want to write. On her website, www.allycarter.com, she has posted a page full of useful tips just for aspiring writers to help them along this path they've chose.
My dream one day is to write books, and I hope I'll be as popular as Ally. She has inspired me to write, and all I did was read a few of her books. It seemed so amazing how she was just a normal person, then she started to write and she was a hit! Some of her novels became New York Times Bestsellers, and that's exactly what I want to accomplish. It would also be exciting to have fans write to me and ask questions, and beg for a sequel to one of the books I hope to write someday. My excitement was overflowing when she released her newest book, Don't Judge a Girl by Her Cover, and that's exactly what I would want from my readers. I was especially thrilled to learn that Ally posted those tips online, too. I started right away.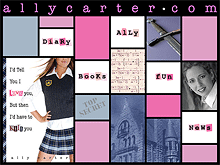 Well, as it turned out, I did have a hero of a sort. I just had to realize it. I now believe everyone has a hero in their lives; you just have to look a little deep sometimes. A hero is just someone you can look up to that has a positive influence, someone you are inspired by to go after your dreams. My hero wasn't some character out of a comic book. She's real, and is definitely a gifted person, but in other ways than Superman.
Page created on 10/30/2009 12:00:00 AM
Last edited 10/30/2009 12:00:00 AM
The beliefs, viewpoints and opinions expressed in this hero submission on the website are those of the author and do not necessarily reflect the beliefs, viewpoints and opinions of The MY HERO Project and its staff.
Extra Info
Books written by Ally Carter: I'd Tell You I Love You, But Then I'd Have to Kill You (Gallagher Girls, #1), Cross My Heart and Hope to Spy (Gallagher Girls, #2), Don't Judge a Girl by Her Cover (Gallagher Girls, #3), Cheating at Solitaire, Learning to Play Gin, and Heist Society. (Heist Society is Ally's newest book. It's about a girl whose family is a business of thieves, but the main character, Kat, wants to leave it all behind. This book will be coming out on February 9, 2010, so check it out!)
Bibliography
Carter, Ally . "Ally." [Online] Available http://www.allycarter.com/ya_ally.php.
Barnes and Noble. "Heist Society by Ally Carter." [Online] Available http://search.barnesandnoble.com/Heist-Society/Ally-Carter/e/9781423116394/.
Goodreads. "Ally Carter." [Online] Available http://www.goodreads.com/author/show/56224.Ally_Carter.
Spiegel, Bill. "As Ally Carter, Fogleman is a Popular Author.." [Online] Available http://magissues.farmprogress.com/ksf/KS12Dec07/ksf053.pdf.