Arthur Compton was born on September 10th 1892. He was born in Wooster, Ohio. Arthur's father was Elias Compton, professor of Philosophy and Dean of the College of Wooster. His mother was Otelia Compton. He had two brothers named Karl and Winston and also had a sister named Mary who was a Christian missionary. He was the youngest child of them all. When he was a child he was very involved with the church where his family went.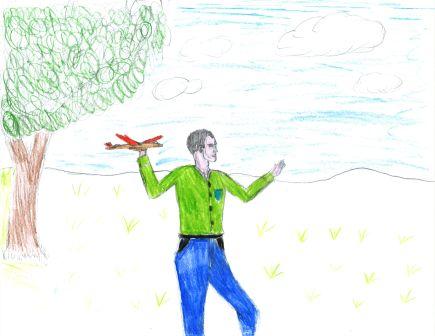 When he was ten, he wrote an essay on the evolution of elephants and as a teenager he became interested in science and started doing research. In his younger teens he was designing and building model airplanes and making his own theories on flight. At seventeen he published three articles on airplanes and aeronautics. The same year he built a 27-foot glider and flew in it successfully! Wilbur and Orville Wright made the first flight December 13th 1903, just five years before Arthur built and flew his glider. One of the articles he wrote was "Comparison of Wright and Voisin Aeroplanes," Scientific American, February 1909.
Arthur Compton was not your typical "bookworm" teenager. He was an excellent tennis player. He liked aeronautics, astronomy and photography. He also enjoyed glassblowing and playing the mandolin.
Arthur Compton's role model in his early life was his dad, who motivated him to study science. His dad said "Your work in this field may become a more valuable Christian service than if you were to pursue a religious career." Based on all of his accomplishments, his dad was right. His mom was a Mennonite with deep religious beliefs that guided Compton during his childhood.
Arthur Compton went to Wooster College where his father was Dean. He got excellent grades and was noticed for his knowledge in astronomy, philosophy and theology. He received the philosophy prize for his work. He graduated in 1913 at 21. He got his masters degree from Princeton University in 1914. He obtained his doctorate degree from Princeton University in 1916 when he was only 24 years old! He received the Porter Ogden Jacobus Fellow. The fellowship awarded the graduate student of "highest scholarly excellence".
Arthur got married to Elizabeth Charity McCloskey, in 1916, after completing his doctorate degree at Princeton University. Elizabeth was a college classmate at Princeton. They had two sons. Arthur Allen was born June 12, 1918 and John Joseph was born May 17, 1928. Arthur Allen was dedicated to the American Foreign Service and John became a Philosophy professor at the Vanderbilt University in Nashville, Tennessee. Arthur's wife was an enthusiastic and active partner in all of his professional activities, whether these were in the research laboratory or on journeys to the most distant parts of the earth for field measurements.
After Arthur got his doctorate degree he pursued a career in science and teaching. He became a towering figure in the science and education community. In1916-17 he worked as an Instructor in Physics at the University of Minnesota. The next two years he worked as a Research Engineer for Westinghouse Electric. During this time he also worked with the United States Signal Corps developing airplane instruments. In 1920-3 he was Head of the Department of Physics at Washington University in St. Louis, Missouri where he performed experiments measuring the effect of matter on light. 1922-5 he was Chairman of the National Research Committee on X-Rays and Radioactivity. In 1923 he was appointed Professor of Physics at the University of Chicago. In 1927 he became Vice President of the American Association for the Advancement of Science. In 1929 he is appointed the Charles H. Swift Distinguished Service Professor at the University of Chicago. From 1929-32 he was Councilor of the American Optical Society. 1931-4 he was the Director of the World Survey of Cosmic Rays. From 1931-41 he was the Research Associate of Cosmic rays at the Carnegie Institute of Washington. 1932-24 he was President of the University of Chicago Settlement. 1933 he becomes Vice President of the American Physical Society then in 1934 he becomes President. In 1941 he is Chairman of the National Academy of Science Committee to Evaluate the Use of Atomic Energy in War. 1942-5 he was Director of the United States Government's Plutonium Research Project, part of the Manhattan Project. From 1945-53 he is the Chancellor of Washington University. In 1950-5 he was the General Chairman of the World Brotherhood. From 1961-2 he was Professor-at-Large at Washington University and the University of California at Berkeley.
Arthur Compton had several role models in his middle life; one of them was Robert A. Milikan. Arthur admired him because he was a very competitive scientist. Another role model was O.W. Richardson because of his knowledge in: magnetism, electron and quantum theory, spectroscopy, X-rays, and atomic structure. Last but certainly not least is Einstein. Einstein was his role model because Compton's calculations were based on Einstein's theory of special relativity. He also admired his humanitarian interest. Arthur and Einstein actively tried to create a peaceful world.
He became famous in 1927 when he received the Nobel Prize in physics for his discovery of the Compton Effect. The development of the first atomic chain reactor occurred when he was the director of the Metallurgy laboratory of the University of Chicago. His research contributed to the decision to build the atomic bomb.
During his lifetime Arthur received 7 Fellows, 10 Awards and Medals, 22 Honorary Doctorate of Science from Universities including Ohio State University, and 46 Memberships. He also received 24 Foreign Honorary Academic Memberships or Fellows from 20 different countries. He received the Medal of Honor of the Theodore Roosevelt Association and elected Ohio Teen Age Hall of Fame.
In 1901 when Arthur was a nine years old the first Nobel Prize in Physics was awarded to Wilhelm Röntgen for his discovery of X-rays. When Arthur was eleven years old the Wright brothers successfully flew an airplane for the first time. In 1905 Albert Einstein published the Theory of Relativity and made famous the equation, E = mc2. In 1908 Arthur is sixteen and J W Geiger and W Müller invent the geiger counter to detect radiation. On April 6th 1917 President Woodrow Wilson declared war on Germany and the United States entered World War 1. The war ended November 11th 1918. In 1927, the year Arthur won the Nobel Prize in Physics, Eduard Haas III invents PEZ candy. On December 2nd 1941 Enrico Fermi under the direction of Arthur Compton succeeded in creating the first controlled nuclear reactor as part of the Manhattan Project. December 7th 1941 Japan bombed Pearl Harbor. Arthur would later direct the production of Plutonium used for the Atomic bombs dropped August 6th and 9th in 1945 on Japan.
Arthur was not your usual "bookworm" scientist. He was charming, friendly, and modest. He was the first one to develop a college course that combines science and human responsibility. During his Nobel award acceptance speech he made reference to Marco Polo who was my world hero.
In 1945 Compton went back to Washington University in St. Louis as a chancellor. He improved the science department and the medical school. Compton was a very good teacher and was very friendly and enthusiastic making his classes fun and interesting. He always shared his knowledge with his students. Between 1954 and 1961, as professor of Natural Philosophy he wrote, and taught lectures to many groups and as always he was part of boards and committees.
In 1961 he was trying to divide his time between Washington University, the University of California, at Berkeley and Wooster College. His plans were cut short by a stroke. He died on March 15, 1962 in Berkley California. He was buried in Wooster, Ohio. The Wooster College offers a scholarship in his honor.
Compton was a hero primarily because of his contribution to science and education. He won the 1927 Nobel Prize in Physics, for his "Compton Effect". His studies proofed that electromagnetic radiation has properties of waves and particles. His test proved the existence of "Photons". His discovery became a decisively important stimulus for the development of the quantum mechanics. He found experimental proof for the accuracy of Einstein's light quantum hypothesis. In 1941 Compton was appointed Chairman of the National Academy of Science Committee to evaluate the use of atomic energy. He helped to develop the reactors necessary to produce the plutonium needed for the atomic bomb. He appeared in the cover of "Time" magazine in January 13, 1936. Arthur Compton's contributions to science and humanity are impressive and extensive.
One of the craters on the moon is named after Compton. He helped General Electric make the fluorescent light bulb. He also created a more gradual speed bump. He wrote the book "Atomic Quest" in 1956 which describes the activities of the scientists that participated in the Manhattan Project during World War II.
Page created on 5/13/2011 12:00:00 AM
Last edited 5/13/2011 12:00:00 AM
Bibliography
The Nobel Foundation. "Arthur H. Compton Biography." [Online] Available http://nobelprize.org/nobel_prizes/physics/laureates/1927/compton-bio.html.
The American , Institute of Physics. Arthur Holly Compton.
Bookrags Staff. "Arthur Holly Compton Biography." [Online] Available http://www.bookrags.com/biography/arthur-holly-compton/.
Soylent, Communications. Arthur H. Compton.
High Beam, Research. "Arthur Holly Compton." [Online] Available http://www.encyclopedia.com/topic/Arthur_Holly_Compton.aspx.