A.J. Cunder
by
Sky from Quakertown, New Jersey, United States
"I extend a warm thank you to all my readers, whose hearts and minds give Arius and Guardus a home. Without you, Farahdin is nothing more than a word on a page."
"The Silver Talon" is about the journey of a young man named Arius, and his dragon through a once happy land. Who is the author of this book? The author of this amazing fantasy is A.J. Cunder. A.J. Cunder was sixteen when he started to write the first copy of the book that would make him famous. A.J. loves fantasy, which inspired him to create a book that people could enjoy and go through a journey with the characters.
In my opinion a hero should be someone that has a dream and can achieve it with hard work. A hero should be a leader, someone you can look up to, and teach you right from wrong. A person that has these qualities should be kind to everyone they meet. A hero is a special person with a heart of gold who believes in everything they do no matter what people say. A.J. Cunder can do anything he tries, because he has faced a challenge that proves you can do anything you set your mind too no matter what the cause.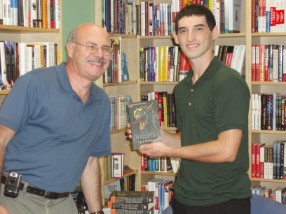 A.J. Cunder is now eighteen and has had type 1 juvenile diabetes since the age of one and a half years old. Diabetes is not a disease that you can catch from anybody else. My name is Sky, and I also have diabetes so I find it inspiring that he wrote a whole book. Half of the proceeds are going to an organization called JDRF (Juvenile Diabetes Research Foundation). That is one thing that makes him a hero in my eyes. Besides the fact that he has diabetes, A.J. was only sixteen when he thought of his first draft. He was sitting on the couch watching TV when he thought of this amazing book. Now it is very known to many people. A.J is also a student to Seton Hall University, and is a black belt in Tae Kwon Do. A.J. has studied Italian for four years, and is in the University's Honor Program.
A.J. Cunder is my hero because he is very intelligent and has achieved something remarkable even though he has diabetes. He is involved in many activities and is also a good student. Being a hero is not something anyone can do. He reaches all my expectations in being a hero, and I will always look up to him.
Page created on 1/7/2011 12:00:00 AM
Last edited 9/2/2021 10:37:52 PM
The beliefs, viewpoints and opinions expressed in this hero submission on the website are those of the author and do not necessarily reflect the beliefs, viewpoints and opinions of The MY HERO Project and its staff.