It's the 1920's, America is still getting used to the decline of the Industrial Revolution and recovering from the horrors of World War I. The field of aviation is still rather new to society, not to mention male-dominated. But the world's in for a surprise, as aviation unknowingly welcomes a future legend into its abode. Her name: Amelia Earhart. The world may not know it yet, but this ambitious young aviator is about to become one of the most famous heroes of the sky, paying a large price as she goes. Amelia Earhart, truly the most eminent pilot of all time, is a hero for her undisputed valiance, strong-willed determination, and her established status as an accomplished influence among aspiring pilots.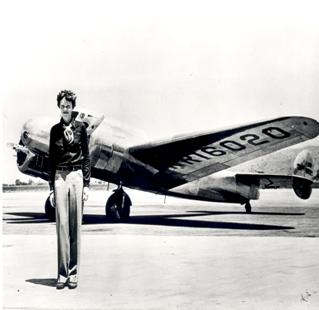 First and foremost, Amelia was bold and daring; she reached heights no woman had ever reached before, showing her determined and courageous side. Back in the 20's and 30's, America, like the rest of the world, was still very prejudiced and sexist, as women were not as credited as men. So the arrival of Miss Earhart into the field of aviation took many by surprise: "Although Earhart's convictions were strong; challenging prejudicial and financial obstacles awaited her. But the former tomboy was no stranger to disapproval or doubt. Defying conventional feminine behavior, the young Earhart knew she had to fly" (CMG Worldwide). Nobody likes being faced against all odds, but Earhart took the bull by the horns and her tough attitude turned the odds to her favor. If you truly love something, you'll pursue it and grapple with all your might, no matter what the cost, exactly as Amelia did. She was determined to break sexist barriers and stereotypes to fulfill her dream of becoming a pilot. In addition, Earhart attempted to fly around the world, twice: After crashing her plane in Hawaii on her first attempt around the world, engineers were able to repair her plane and the perseverant Earhart got back in the cockpit. Crashing on her first try seemed to have made her even more determined for another shot at glory. She wanted to make her mark on history and did just that, after beginning the ill-fated journey that cost her and co-pilot Fred Noonan their lives. On her second shot at the round-trip affair, she and Noonan flew over the Pacific Ocean and vanished, never to be seen again; like an apparition – here one moment, gone the next. It was this nobility and valiance and her willingness to risk everything for her passion that makes her such an inspiration. Courage is greeted with such a high price, especially in young Amelia Earhart's case.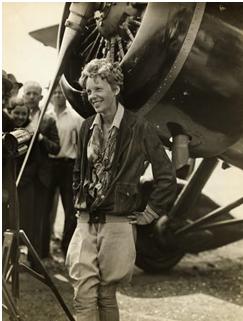 Although well-known for her mysterious disappearance, Earhart is influential not only for her bravery and devotion, but for the numerous accomplishments she achieved during her lifetime as well. Besides breaking the women's altitude record, breaking the speed record, being the first to fly from the Red Sea to India, from Mexico City to Newark, and from Los Angeles to Mexico City: Earhart is infamous for being the first woman to fly solo across the Atlantic. Few had done it before her, and others were certainly stunned at such a major accomplishment for all of womankind. This shows just how bold she was; how brash. And to be the first woman to do so, she cleared the runway for many to come. And amidst her many accomplishments, society awarded Amelia for what she had done for the field of aviation: "Congress awarded her the Distinguished Flying Cross - the first ever given to a woman. At the ceremony, vice president Charles Curtis praised her courage, saying she displayed 'Heroic courage and skill as a navigator at the risk of her life'" (CMG Worldwide). That goes to show how much of an impression she had made on the world, to receive such a truly honorable and prestigious award. As well as relating back to her unfathomable courage, it also adds to the long list of accomplishments she has been credited and furthers her status as an influence to those who wish to take to the sky.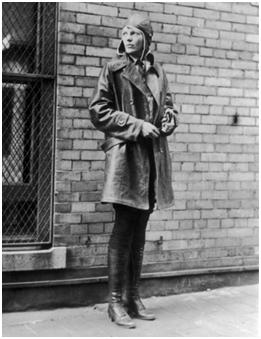 Amelia Earhart truly was, and is to this day one of the most legendary aviators of all time with a dramatic climax that ended her short, yet ambitious life. We can all follow in Earhart's footsteps to pursue what we love with devotion and bravery whether we aspire to be pilots or writers, actors or bakers. Hit the world hard with all you've got, make a lasting impression no matter how hard the toll; if you love it, it's worth it. As Miss Earhart once said, "Flying might not be all plain sailing, but the fun of it is worth the price." She was accurate, as this can be described as the story of her life: Adventurous, perseverant, and accomplished. And if there wasn't a price to be paid, would there still be heroes? It's safe to say that Amelia Earhart is the definitive hero of the sky.
BIBLIOGRAPHY
Unkown Author. "Earhart, Amelia." [Online] Available http://www.worldbookonline.com/wbdiscover. 2010.
Bilstein, Roger E.. "Earhart, Amelia." [Online] Available http://www.worldbookonline.com/advanced/article?id=ar171340&st=amelia+earhart. 2010.
CMG Worldwide. "Amelia Earhart: The Official Website." [Online] Available http://ameliaearhart.com/. 2006.
Page created on 5/26/2010 12:00:00 AM
Last edited 5/26/2010 12:00:00 AM