Amelia Earhart
by
Clayton from Johannesburg
To me a hero is someone who can do things I couldn't even think of being able to do, like Michel Phelps. I don't think I'll ever swim as fast as him, but I could also use that as a goal and try really hard to swim that fast. A hero is patient and has plenty of self-control. A hero is brave and not afraid of much and determined to do what they dream of doing. A hero doesn't give up. They believe in themselves when no one else does and will try until they get it right. I chose Amelia Earhart as my hero because she's done almost everything on my list. She makes me want to try harder; she was brave; she was determined; and she never gave up.
Amelia Earhart was born on July 24, 1897, in Kansas. As a child she was known for her fearlessness. Some of her favorite things to do were collect bugs or kill rats with a rifle. When she went on an airplane ride for the first time, she knew that it was for her. So she bought a yellow biplane called the Canary and started taking flying lessons.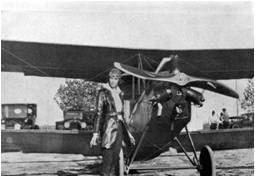 In 1922 Amelia flew to the height of 1400 feet, a world record for the highest a woman had ever flown. She was the sixteenth woman in the world to get her pilot's license. She was the first lady to fly across the Atlantic Ocean although she was only a passenger. Then in 1932 she was the second person and the first lady to fly across the Atlantic Ocean solo. Then she wrote two books about her adventures and toured the United States giving lectures, and founded an organization for woman pilots called the 99 Club. She set even more records in her plane. She was the first woman to fly a round trip solo around the U.S.A., the first person to fly from Hawaii to California, and the first person to fly from Mexico to the eastern coast of the U.S.A.
In 1937 she decided to fly around the world, but unfortunately she disappeared over the Pacific Ocean, 3 quarters around the world! On January 5, 1939 she was pronounced legally dead, 2 years after her disappearance.
Amelia Earhart has taught me to believe in myself when not many people do and to keep believing in myself.
Page created on 4/7/2010 12:00:00 AM
Last edited 4/7/2010 12:00:00 AM
The beliefs, viewpoints and opinions expressed in this hero submission on the website are those of the author and do not necessarily reflect the beliefs, viewpoints and opinions of The MY HERO Project and its staff.