Amelia Earhart
by
Khanh from Portland
Even though many women wouldn't attempt to fly at the time, Amelia Earhart changed that and became the first woman aviation pioneer. Amelia was out to set daring new records of flying. In 1920, she took her first flight. Even though it was only 10 minutes, Amelia knew she was destined to be a pilot. She signed up after hearing of a woman that gave flying lessons. After that, Amelia became the first woman to fly with an altitude of 14,000 feet! She also flew across the Atlantic Ocean with the record time of 14 hours and 56 minutes!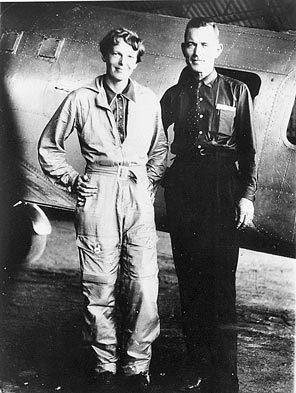 Amelia Earhart planned her biggest adventure that had lasted in history forever. Unfortunately, she didn't expect it to be her final flight. It all began on June 1st, 1937 when she and her navigator, Fred Noonan, departed from Miami, Florida. With many stops along the way, the both of them arrived at Lae, New Guinea on June 19th. They had flown 22,000 miles and had 7,000 more miles to go. Nineteen hours into flight, Amelia and Fred got a message saying gas was running low. People believed that they veered off course and ran out of fuel.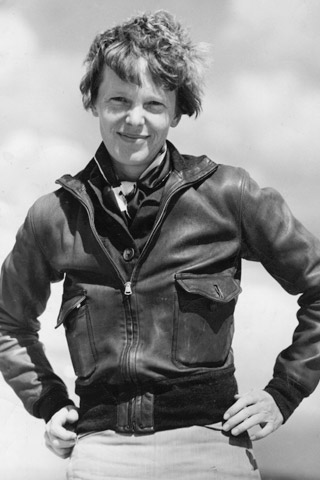 Amelia Earhart journeyed on a rocky road during childhood. Amelia had lived with her grandparents for most of her childhood because her father was continually searching for a career. Even after the family was reunited when she was 10, Edwin, her father kept struggling to find a job. This was the reason that caused the family to move around so much and Amelia attended a couple of different schools. In 1915, the family got separated and Amelia and her sister, Muriel, went to live with friends in Chicago. Her father not being able to take care of the family led Amelia to be independent.
  Amelia and was homeschooled until she was 12. She went to Hyde Park High School in Chicago. Amelia Earhart really dedicated herself to school. She received excellent grades. She graduated in 1916 at Hyde Park High School. When Amelia Earhart was 19, she became a nurse and served at a military hospital. Then, she went to college to be a doctor.
 Amelia Earhart was born on July 24, 1897 in Atchison, Kansas. Amelia died on July 2, 1931 but she was declared legally dead on January 5, 1939. She was the first woman to fly around the world and with that, she showed the women that they can do anything they put their mind to! Amelia Earhart achieved anything she desired, despite of big obstacles. That is why she is my hero!   
Page created on 2/23/2012 12:00:00 AM
Last edited 2/23/2012 12:00:00 AM
The beliefs, viewpoints and opinions expressed in this hero submission on the website are those of the author and do not necessarily reflect the beliefs, viewpoints and opinions of The MY HERO Project and its staff.