Albert Einstein
by
Nicolas from Dax
My hero is Albert Einstein, a famous physicist known internationally.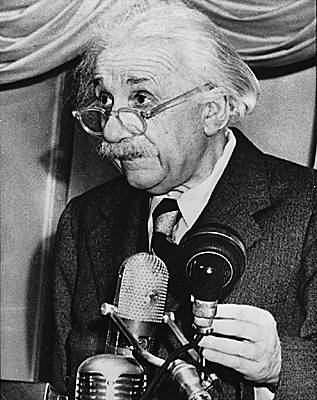 He was born on March 14th in 1879 in Ulm (Germany). He died in Princeton (USA) on April 18th in 1955. During his childhood he had problems at school. He was good at maths but he got bad results in all other subjects because he may have been dyslexic. Einstein knew a difficult start but then, he published theories about relativity which have revolutionized the physics world. In 1905 he wrote the famous formula E=mc² which made him famous. Ten years later, in 1915, Einstein completed his theory of relativity and in 1921 he was awarded with the Nobel Prize in physics. He was also a defender of peace and he fought for that during the First World War. In 1933, he left Germany to go to the USA because Hitler took the power. His formula allowed to build the atomic bomb so during the Second World War he helped the Americans to complete it before the Germans. He regretted his action for the rest of his life. He died on April 18th in 1955 because of an aneurysm rupture. He was and remains an icon of science. His QI was equal to 162. It's incredible when we know the average is of 100.
He is a hero because he always defended his ideas in physics even if everybody said he was wrong and after he became famous and he used his celebrity to defend peace in the world.
He inspires me because I'm good at physics at school and I like it. I admire this man for his intelligence and his rebellious spirit and all his pacific ideas.
Page created on 4/9/2015 12:00:00 AM
Last edited 4/9/2015 12:00:00 AM
The beliefs, viewpoints and opinions expressed in this hero submission on the website are those of the author and do not necessarily reflect the beliefs, viewpoints and opinions of The MY HERO Project and its staff.