Alice Catherine Evans
by
Jabari from Las Vegas
She is one of the reasons why women scientists are respected by men. Men thought that she couldn't do anything because she was a woman but she showed them that it doesn't matter. Alice Catherine Evans was born in 1881 on a farm in Pennsylvania and died from a stroke in 1975. Evans and her brother also survived one of the leading causes of death in the 1900s which was called the undulant fever.
The reason why Evans became a bacteriologist was because she wanted to help people but she first had to get her degrees, even though she couldn't afford enough money for college. So she took a basic course in agriculture college to receive her bachelor's in degree in science. Then she got a scholarship to the University of Wisconsin to receive her masters degree in science. When she first started everyone thought that she wasn't going to make it as a scientist but all she cared about was to find the disease that caused undulant fever because she didn't want other people to feel the pain and the thought that you were going to die.
My hero is important to me because she was willing to help people no matter what the cause. Plus, she always stood up for the rights of the people and the women. What she did changed the way everyone thinks about women, and even men, because she found out what caused the undulant fever and found the vaccine for it and that's the reason how no one today gets undulant fever anymore - because of the time and effort it took her to make the vaccine since she was alone, plus she also had to make more of them which took about 4 years to do. She also had to do her other work or she would get fired.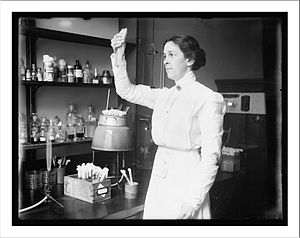 You may not know it yet but after reading this you will find out that Evans is a hero because of all that she has done. She is the reason why undulant fever is wiped out from America and the reason why scientists check the milk and cheese products before people use them. She helped many people but even after she died she still didn't get any credit, even though she did the whole thing by herself - and that's what makes her an unsung hero.
Page created on 5/27/2016 7:08:46 PM
Last edited 1/7/2020 7:23:23 PM
The beliefs, viewpoints and opinions expressed in this hero submission on the website are those of the author and do not necessarily reflect the beliefs, viewpoints and opinions of The MY HERO Project and its staff.