One sometimes finds what one is not looking for.
A hero is a person who inspires you to work at being the best you can be. A hero can be anyone who you look up to and cause you to follow in their footsteps. They motivate you to work at achieving success to be the person you want to be and to work for the good of all humanity. Heroes possess character traits such as courage, intelligence, determination, and other outstanding qualities that set them apart from others. Anyone can be a hero, they just need to have inspired you to achieve your personal best. Alexander Fleming is a lifesaver who saved countless lives with his discovery of the world's first bacteria killer.
Alexander Fleming was born on August 6th, 1881, in Scotland. He was the youngest of four children, but he had four other siblings from his father's first marriage. However, his father was old at the time Alexander was born. When Alexander, known as Alec, was seven, his father died tragically. Although Alec didn't have the most prestigious or impressive schools early in his life, he was able to attend the Royal Polytechnic Institute, in London. His brother, Tom, had a tremendous influence on Alec, as he convinced him to follow down the career path to becoming a physician. He was accepted into St. Mary's Hospital, in London, where he had the option of becoming a surgeon. However, Alexander's rifle club influenced him to join the research department, rather than be a surgeon. This led Alec into the field he is most remembered for, bacteriology. He became the assistant to the school bacteriologist, and won several school awards in the field. He married Sarah McElroy in 1915.
When World War I broke out in 1914, Fleming served in the Medical Corps. This experience was the greatest influence on him. While in service, he witnessed countless soldiers die from infections in wounds. However, the medicine being used to try to treat these infections was hurting the soldiers more than the bacteria. Fleming was inspired to try and find a way to kill the bacteria more effectively. He stated that the antiseptic medicine was killing soldiers because it couldn't kill bacteria that were deep in a wound. The antiseptic also killed beneficial agents as much as the bacteria. He began to experiment with different substances, including one called staphylococci. When he went on vacation in 1928, he left the experiments at his lab. When he returned, he found a fungus growing in one of the cultures. However, the fungus had killed all the harmful staphylococci around it. Fleming then began testing his new discovery on other substances. He found that it killed many Gram-positive pathogens such as pneumonia. He later named the substance penicillin.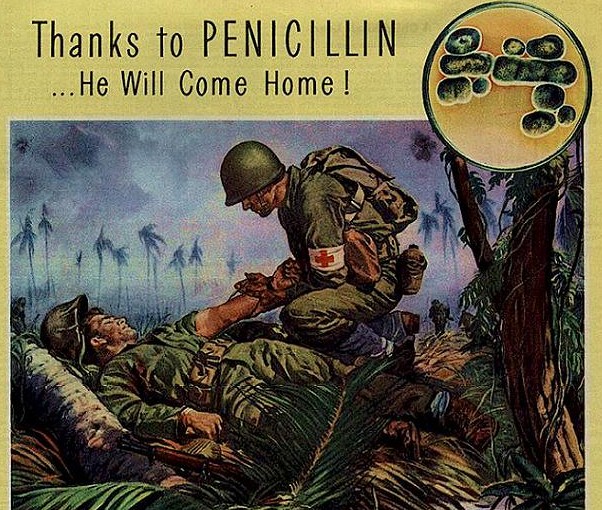 However, Fleming soon found penicillin had its flaws. Harvesting the penicillin was extremely difficult, as well as growing the fungus to make it. Penicillin also took a while to kill the bacteria, meaning it wasn't too effective. After finding it wasn't working well, Fleming abandoned penicillin. Not long after, however,Howard Florey and Ernst Chain began to research and mass produce penicillin. They made so much, in fact, that they used penicillin to cure all the wounded soldiers on D-Day. The pair, along with other doctors like Norman Heatley, managed to purify and stabilize penicillin. This turned from a not very useful drug into something quite practical. Fleming was very impressed by their work and tried to get any chemist who could make penicillin to try and distribute it to the public.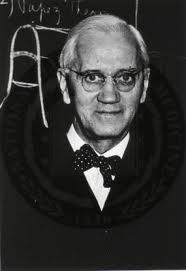 Fleming's discovery of penicillin marked the beginning of modern antibiotics. However, he also cautioned for penicillin to not be used unless there was a legitimate reason for its use. This is because Fleming noticed that if penicillin wasn't used in a great enough quantity and for not enough time, the bacteria would become resistant to it. By the 1940's, Fleming's work had attracted attention, and he was awarded for his discoveries. He was knighted in 1944, and he received the Nobel Prize of Medicine in 1945, which he shared with Florey and Chain. Fleming died tragically of a heart attack in 1955, in London. However, his discovery still revolutionized the medical world. Even though today, penicillin is becoming an obsolete drug, it was and still is vital to the development of modern antibiotics. He also was an inspiration to other major inventors, who went on to develop new medicines. That is why Alexander Fleming is my hero.
Page created on 10/20/2010 12:00:00 AM
Last edited 10/20/2010 12:00:00 AM
Extra Info
-Alexander Fleming's son, Robert Fleming, is also a medical practitioner.
-Fleming's wife, Sarah McElroy, died in 1949. He married Amalia Koutsouri-Vourekas in 1953.
-A statue of Fleming stands in front of Madrid's primary bullring, because his penicillin saved so many bullfighters lives.