Anne Frank
by
Jennifer from Fremont
I simply can't build my hopes on a foundation of confusion, misery and death... I think... peace and tranquillity will return again.
The special hero that I chose is Anne Frank since she was an amazing and strong- determined character. Anne was born on June 12, 1929 in Frankfurt in Main, Germany and is the second child of Otto Frank and Edith Frank-Holländer. Her older sister is Margot Frank and is three years older than Anne and their family is Jewish and German. Since they were a Jewish family, the Nazis were looking for them. The Jews were forced to wear uniforms with yellow stars (over 6 years old people) on it and had times that they can come out of their houses and on to the streets.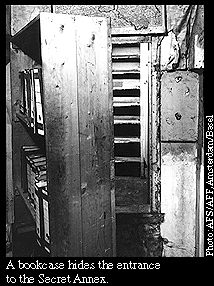 Later on the Nazis will capture them. So, the Frank Family hid in a secret annex, which was behind Mr. Otto Frank's bank company. The annex had a bookcase in front of the hiding place like a door. Also, the Franks had to share the hiding place with Van Pels and later on shared the annex with Fritz Pfeffer, a dentist. So, they have a doctor, who can keep everyone's health conditions. The three families had been in the tight spot since 1942- 1944 and they were very tired since they cannot flush the toilet every time since the toilet pipe is connected to the warehouse.
Mainly, during the time hiding in the Secret Annex, Anne, Margot, her sister, and Peter , the other family's son, who was hiding with them, studied English, Math, Geography. After dinner, the family had to burn the food scraps to avoid people from thinking that there is someone living upstairs. At night, they had to sleep in hard bunk beds and add chairs to make the bed extend out.
After two years of hiding, they were found and sent to a concentration camp. In those years of hiding, Anne made a journal about the hiding and about her own family. In Anne's, diary she always wrote the journal to Kitty, and signed it with her name Yours, Anne. She is always my hero since she is a wonderful and fantastic writer and told the nowadays people that the Nazis treated the Jewish badly.
Page created on 3/31/2008 12:00:00 AM
Last edited 3/31/2008 12:00:00 AM
The beliefs, viewpoints and opinions expressed in this hero submission on the website are those of the author and do not necessarily reflect the beliefs, viewpoints and opinions of The MY HERO Project and its staff.
Related Links