Anne Frank
by
Katherine from Chicago
"The best remedy for those who are afraid, lonely or unhappy is to go outside, somewhere where they can be quiet, alone with the heavens, nature and God.
My hero is Anne Frank. She was a amazing person, because she inspired a lot of people with her diary. As a little girl, she loved going to school. She loved reading books. On Anne Frank's 13th birthday she received her first diary that she named (kitty), and starting that day Kitty would become her first best friend that she can express her feelings without anybody telling her something bad. In the diary, she wrote every single day to tell Kitty what happened in her day. She would talk to Kitty like it was a real person. She enjoyed talking to her diary. When you read The Diary of a Young Girl there is a part of it she wrote when she had her first love. She fell in love with a young adult that was 15 years old, and his name is Peter. I think that Anne Frank is a awesome person.
Anne Frank was born on June 12, 1929. She was a German-born Jewish girl from the city of Frankfurt. She wrote in her diary while her family and her four friends were hiding in Amsterdam during the German occupation of the Netherlands during World War II. Here she needed to share everything with everybody. She would eat potatoes for breakfast, lunch, and dinner. I think that if this happened to a kid right now I think they would turn crazy. A kid of this age is always wanting to go outside and loves eating candy. I think what Anne Frank has gone through makes her amazing. How can she survive with only potatoes? Sometimes their friends would bring them food but sometimes they didn't have a chance to bring food because sometimes soldiers would be looking at the building and some would stay until late. Anne Frank and her family needed to save some of the food and not waste any. The food that they brought needed to be shared by each family. Anne Frank family would wake up at 5:00am and start doing breakfast later. After they finished eating Anne Frank's mother and sister and her would start cleaning before the people came to work. It is amazing how many things she needed to do as a child.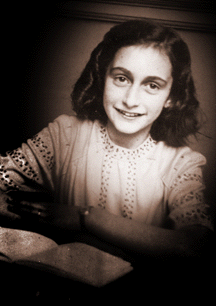 In that place that Anne Frank was hiding that's the place she got her first real love. The name of the special person was Peter. His job was that he needed to watch what happened outside, so Anne would go up to the place he was that it was the attic. They would talk about things but they started being friends then after a few days they started to get in love then Anne would go upstairs more and stay more with him. One time she got in trouble with her father because he didn't want her to be a lot with Peter. Since that day and more than a week she didn't see him. She received her first kiss and it was incredible how she expressed how she felt so that you can even feel what she feels. This is a little piece of how she got in love with Peter.
Anne Frank suffered a lot in the world. Anne Frank is my hero because she changed the way the I think about how we want more and there are people around us and we even know that they need more than us. I would think that i was the only one that would be having problems and when i read her book i kept thinking every time that I read it why I was being so selfish because the only thing that i would care about was how it would make me feel. Until one day I said to myself how do other people feel? And the only way that I would find my answer is to stop being selfish, and I still don't have the whole answer but I know that one of these days I'm going to find my answer. This that way that Anne Frank inspired me.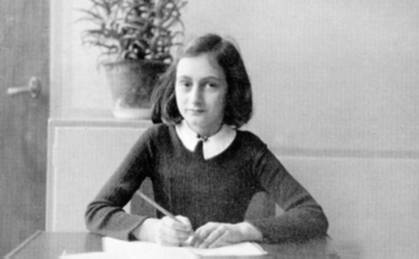 In conclusion all the beautiful things and information that I wrote about Anne Frank explains everything about how I appreciated the wonderful things that she did. Anne Frank taught me a lot of stuff that I didn't know and also it changed that way that I would think about a lot of stuff before, and now when I think that past I said to myself why I didn't do the right thing? But I know that God knew why I didn't do the right thing. This is my hero project. If you get in Anne Frank's shoes you can feel exactly how she felt about when she passed her horrible life but I think that I learned something really special that nobody can give and that is that Anne Frank changed my life and that is a wonderful thing to learn from this young girl that didn't deserve to die. From the sky Anne Frank can see all the people that read her diary and can see how her feelings that she wrote changed people's thinking and lives, and I'm of of those persons. Now that I look back to my hero project I know that I expressed all my feelings about how wonderful I feel about Anne Frank. This is the end of my story about my hero. I hope you enjoyed my feelings. THE END
Page created on 6/24/2008 12:00:00 AM
Last edited 6/24/2008 12:00:00 AM
The beliefs, viewpoints and opinions expressed in this hero submission on the website are those of the author and do not necessarily reflect the beliefs, viewpoints and opinions of The MY HERO Project and its staff.