Anne Frank
by
Dhanisa from Victoria
"Everyone has inside of him a piece of good news. The good news is that you don't know how great you can be! How much you can love! What you can accomplish! And what your potential is! "
A YOUNG GIRL WITH EXCEPTIONAL Thought
Anne Frank was an extremely bright, inquisitive child, who went through unimaginable and extremely unjustifiable events. Anne Frank was born on June 12th, 1929, in Frankfurt, Germany. Because she was Jewish, the Nazis made her spend about two years in hiding, without ever giving her a chance to step outside, even once. Anne, just thirteen, didn't give up hope though. Sure she had her moments of despair, but faith always overtook that desolate despair. During her confinement in the room she named, "The Secret Annex," Anne kept a diary into which she channelled her thoughts and emotions during those two years.
After the Nazis seized power in 1933, Anne's family moved to Amsterdam. As soon as they were able to, Anne and her sister Margot began attending a public Jewish school. They were both smart girls, Anne in a more literary manner and Margot in mathematics. On June 1942, as the second world war raged, Anne received a diary for her birthday from her dad. Jews were also beginning to be sent to death camps during this time, so this was also the year Anne and her family moved into hiding.
Anne, and her family, who consisted of her mother, father, and sister, shared the tiny enclosed hiding space with four other people. They stayed in the secret annex continuously for about two years. On August 1994, Anne and her family were discovered by an anonymous tip. Because of their youth, Anne and Margot were separated from their parents and sent to a concentration camp. Anne left behind her diary at the secret annex, probably hoping to return and get it back one day.
Anne spent a page of her diary writing about hate. She said, "It's not to be denied nor acted upon either, for the good of the community." That demonstrated her exceptional capability to understand things far beyond her age, as she would have been only 13-15 when she wrote that. "When I write, I shake off all my cares," she stated once in her diary. Another one of Anne's numerous quotes, "Think of all the beauty still left around you and be happy," really touched me. This certain one really affected me because that completely contradicted to her current life when she wrote it, and yet, still she was able to find enough beauty still left around and be happy.
Anne Frank showed amazing capability of handling things that were thrown at her. That is one of the reasons Anne Frank is my hero, because of her courage.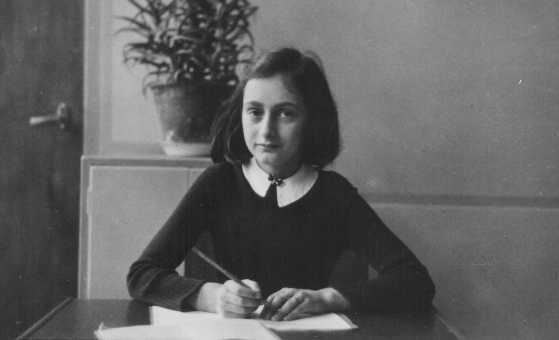 Anne Frank has been a role model to many people throughout the days, and given them courage because of her diary. Sadly, Anne passed away on March 15, 1945, just weeks before the British liberated their camp! Around six million people died at the German camps. Anne's father, Otto, returned home to find that he had lost his entire family to the Nazis. Anne's diary was found in the secret annex and, once her father read it, it was decided that it should be published. "I simply can't build my hopes on a foundation of confusion, misery and death... I think... peace and tranquility will return again," was one of the many famous quotes found in Anne Frank's diary. Peace and tranquility did return as she had predicted, which is why it's heartbreaking how Anne didn't get to experience it. I think she deserved more after waiting for that moment for more than two years holed up in the "Secret Annex." Anne Frank is my hero because she went through her unstable, difficult life without losing hope or faith, even in the bleak despair of darkness.
Page created on 10/25/2011 12:00:00 AM
Last edited 8/25/2021 3:49:45 PM
The beliefs, viewpoints and opinions expressed in this hero submission on the website are those of the author and do not necessarily reflect the beliefs, viewpoints and opinions of The MY HERO Project and its staff.
Extra Info
Anne, like any other normal human being, often argued with her mother. Because she talked to him more, Anne was closer to her father than her mother. She stated that she really looked up to her father in her diary too. Furthermore, she expressed how she and her sister got closer in the annex. Her father observed Anne's closest friendship was with Bep Voskuijl, a young typist, and that Anne shared her first kiss with the workers at the annex. Anne, although holed up in a small, confined, space, still lived her life to the fullest. I think she is an inspiration because she demonstrates how we can still make new friends in the most desperate of times, when we need them most, and is an excellent example to those who have lost hope.