Imagine this; you live a happy, freeing life, to an extent. Then, in a blink of an eye, everything you know is jeopardized, and you're forced to go into hiding. Although that may never happen to you, that doesn't mean it hasn't happened in the past. Take Anne Frank for example, a twelve- year- old Jewish girl living during the Holocaust, forced to hide out in the back of an old, abandoned building, in fear the Nazis would take her and her family to a concentration camp.  In her time there, she was forced to live with two other families as well, including a boy she had a crush on.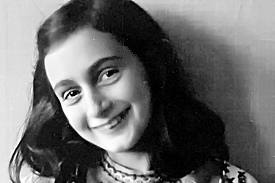 Cramped in a tight space with hormones on full speed, how did Anne survive those hellish two years? Well, she knew that if she yelled at anybody, it endangered everybody in the "Secret Annex" as Anne called the place they hid. She knew that things could be much worse, and didn't even complain when food supply was short. She was just a pleasant, calm person. In the Secret Annex, Anne experienced things she had never before, such as her first crush, first kiss, starting to develop, and many more. And all that despite the fact that she could not so much as step, let alone look, outside in almost three years.
Every living moment in the Secret Annex she knew that at any time, the Nazis could come and take her and her family, but that never faltered her. She stayed brave and strong until the end. The day when they came for her. An anonymous tip was given to the Nazis, and Anne and her family were taken to separate concentration camps. Anne and her sister never saw anyone in her family again.
Anne Frank died of typhus (a common sickness in concentration camps) when she was only fifteen. Her father, Otto Frank, did however escape from the camps. A girl who Anne had befriended had escaped and told her father the news. Her father was devastated, of course, but he remained strong, just like Anne herself. He then found Anne's diary and had it published on June 25th, 1947. "If Anne was here right now, she would be so proud," he says.
Anne Frank is my hero because she's very easy to relate to, since she was just twelve years old when she first started to hide out in the Secret Annex. As I've said many times before, her personality is one of the main factors that consider her a hero. I mean, can you imagine what she had to go through? No matter, she stayed calm and pleasant, even when her crazy family drove her to the edge. And her struggle was so great, so her story is even greater. I admire her deeply and that's why she's my hero.
Page created on 2/3/2012 12:00:00 AM
Last edited 2/3/2012 12:00:00 AM