Abraham González
by
Alonso González
Abraham González Casavantes (*Guerrero, Chihuahua, 4 de julio de 1864 - †Cañón de Bachimba, Chihuahua, 7 de marzo de 1913). Fue un destcado político y revolucionario mexicano, el principal líder antireeleccionista y jefe del Maderismo en el Estado de Chihuahua. Ralizó su educación superior en la Universidad de Notre Dame, en Indiana, Estados Unidos. Después de que terminó su carrera unibversitaria se dedicó al comercio.
Al llevarse acabo el fraude electoral en las elecciones de 1910, Abraham González pasó a la clandestinidad y a preparar la lucha revolucionaria en Chihuahua, fue el quién integró a la revolución a líderes como Francisco Villa y Pascual Orozco, y se convirtió al estallar la Revolución Mexicana en el líder político de la lucha en su estado natal y en uno de los principales consejeros de Francisco I. Madero.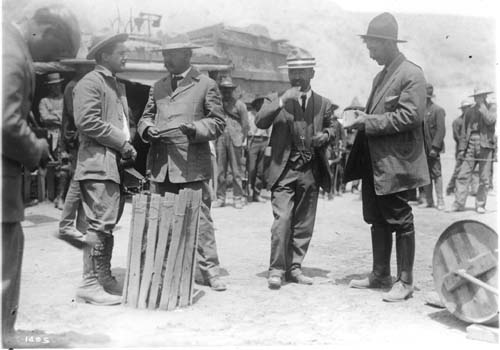 Cuando la revolución derrotó finalmente al ejército federal en la Toma de Ciudad Juárez, como parte de los acuerdos de paz, Abraham González se convirtió en Gobernador de Chihuahua el 10 de junio de 1911 y luego fue electo Gobernador Constitucional del estado tomando posesión el 4 de octubre de 1911, solicitó licencia el 31 de octubre del mismo año para asumir apartir del 6 de noviembre la Secretaría de Gobernación, donde permaneció hasta febrero del año siguiente en que regresó al gobierno para tratar de solucuonar los problemas itnernos del estado, donde los elementos cotrarevolucionarios seguían desestabilizando el país, y ese mismo año lograron dividir al Congreso del Estado y destituir a Abraham González como gobernador, sin embargo unos meses después tales decretos fueron invalidados y volvió a ocupar el Poder Ejecutivo del estado.
Al estallar la insurrección armada de Febrero de 1913 y la Decena Trágica, Abraham González permaneció en el gobierno de Chihuahua, desde donde trató de ayudar al Presidente Madero, sin embargo al ocurrir la renuncia del presidente y vicepresidente la insurrección armada se extendió a Chihuahua, donde el Jefe de la Zona Miliar, Gral. Antonio Rábago ocupó la legislatura local, la obligó a destituir a González y a nombrarlo a él mismo, Rábago aprehendió ilegalmente a Abraham González y le comunicó que sería trasladado a la Ciudad de México, sin embargo al ser traslado en ferrocarril, la mañana del 7 de marzo de 1913 en el Cañón de Bachimba fue bajado y se le aplicó la Ley Fuga, siendo asesinado por la espalda por las fuerzas federales.
Page created on 6/15/2006 12:00:00 AM
Last edited 6/15/2006 12:00:00 AM
The beliefs, viewpoints and opinions expressed in this hero submission on the website are those of the author and do not necessarily reflect the beliefs, viewpoints and opinions of The MY HERO Project and its staff.