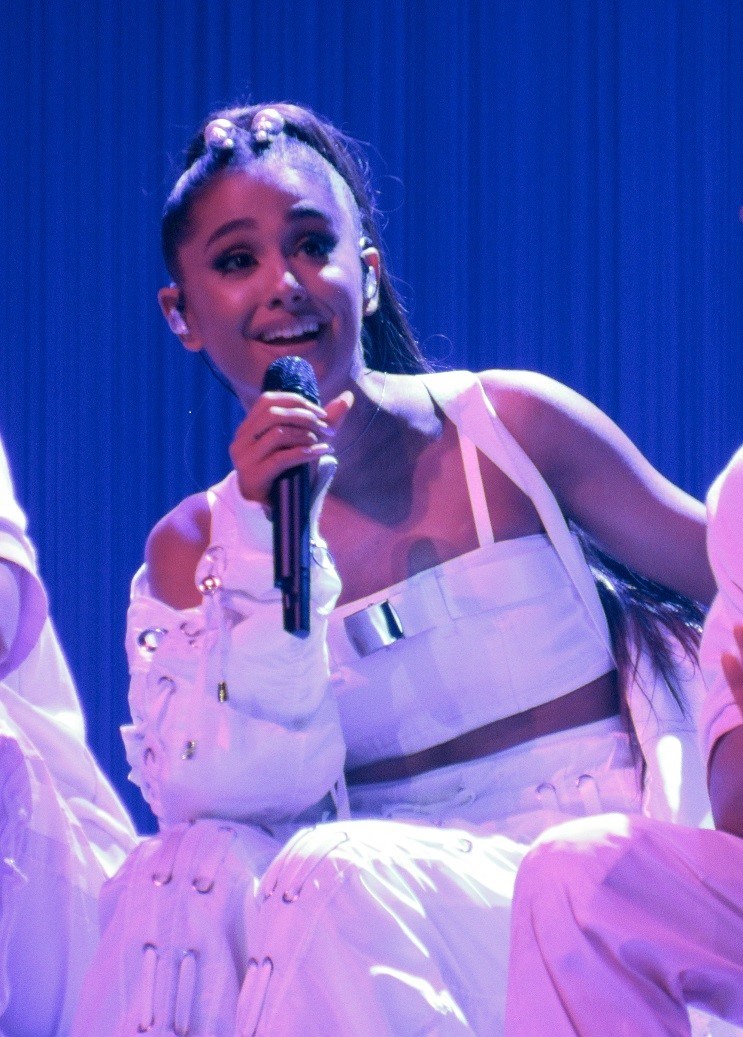 Ariana GrandeWiki CommonsAriana Grande-Butera was born on June 26, 1993. She was born in Southern Florida, Boca Raton. She grew up in Florida with her mother, Joan Gande, and her brother, Frankie Grande. Her father, Edward Butera, and her mother split when she was young . Her brother Frankie is very supportive towards her.
Ariana Grande first got her role of Charlotte on the Broadway musical called "13". From there she auditioned for the role of Cat Valantine on Victorious. During the filming of Victorious she was making music. It was a hit show, but sadly it was canceled. Rumored was that her co-star Victoria Justice was going on tour & without her the show could have not been going. Fans were bummed, Ariana was also sad, she enjoyed filming. ICarly also a hit show was over, director of both shows, Dan Schneider, decided to make a show with Ariana Grande and Jennette McCurdy which is called Sam and Cat. She is also in a nickelodeon movie, Swindle, as Amanda Benson. She is currently on tour with Justin Bieber. She is a POP, R&B and POP ROCK artist. Ariana has a album coming out very soon, it's going to be released on September 3rd 2013. Ariana's hit right now is "The Way" featuring MacMiller.
Ariana is American-Italian. She is half Italian descent (half Sicilian and half Abruzzese). She was born and raised in Boca Raton, Florida . She was raised and grew up in Florida with her brother Frankie and her mom Joan. Her father abandoned her and her family when she was a little girl. She lives in Venice, California, with her grandparents and mother. She is really caring when it comes to family. She has a warm heart, she loves her family, first comes her family then comes her fans. She always tweets about her fans and how she cares about them as if they were part of her family. She gave her fans 3 different names, the first one is Arianators, the second one is AA (Ariana Army), and the third one is Tiny Elephants. She is a caring person, she likes to say hi and smile at random people on the street but she hates it when people don't say hi or smile back, it's kind of rude. She loves all kinds of people except the ones that are rude, disrespectful, thieves, abusers, people that curse out in public and the mean bully kind of people. Ariana doesn't like trouble and she doesn't like anyone who can hurt somebody or that they can cause a person to commit suicide . She is easy to get along with as long as you're not bad and don't get on her bad side. She is a really good influence on young people.
Ariana inspires lots of young teens and kids. Parents also love Ariana because she encourages young kids and teens to stop bulling others, to be active, to listen etc. She is such a great person and a great influence. On twitter when she and Victoria Justice were arguing on twitter lots of Arianators started sending hate to Victoria Justice. As soon as Ariana saw all the hate she tweeted "Guys don't send hate to other people - really no one deserves to get hate on" , then she immediately erased the whole conversation because she knew arguing and fighting through twitter was not a good thing and was a bad influence. Ariana isn't like other stars; when she inspires kids/teens she does it from inside her, she listens to her heart, which tells her to set a good influence, like One Direction, Miley Cyrus, Demi Lavato or any other famous person that their manger tells them what to say to be inspirational. She really is a true inspiration. The words she says, something about the way she says it makes it so inspirational. I actually got inspired by her. I used to look at the world as a joke but what's above the tree if we can't see without a ladder, you have to look closely to see what's on top of a tree. Same goes for the world. You have to look closely to see what's the world really like. She inspires not to be judgmental, not to be a bully, not to be rude, cussing just makes you an uglier person. Just saying one word, be nice. Listen to your parents and be the best you can. All those inspirational things she said made me look at the world better and become a better person. I know there are way more people she has inspired. She is a young adult that so many people look up to her for her work and her inspirational quotes. So many parents think she is a inspirational person in this generation since its pretty messed up. We need more people like Ariana to inspire and be a good person. She has probably saved many lives without knowing. She is such a great person!
She saved my life once and I know she will do it again. She knows her rights and wrongs, she tries to be the best she can everyday. She had one of her fans die because of bullies so she wrote an article about bulling after an Arianator had passed away. Ariana likes to give advice to people about their bad times or about relationships. She cries when her fans tell her personal stuff she thinks its cute how they trust her. She has also motivated a lot of people. She always tells everyone that ask her i wanna be this but I don't know what to do, Ariana always tweets them "Do what feels good in your heart, it's your life, your decision, it's what you want to be. Don't ever let anyone put you down just follow your heart don't listen to anyone who is just gonna put you down, listen to the voice inside that is telling you what you really want to be and listen to that voice."

Lots of people like her for her work and others like her because she is a good influence and she motivates people. In my opinion she is the best. I like her for everything she does. She is my hero because she helps me get though as much as I can, she helps me out through twitter. She is such a helpful person and that is why i picked her to do this report. She is my hero .
Page created on 8/30/2013 12:00:00 AM
Last edited 7/20/2022 11:07:57 AM