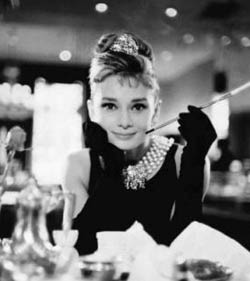 Audrey Hepburn once said, "It's that wonderful old-fashioned idea that others come first and you come second. This was the whole ethic by which I was brought up. Others matter more than you do, so 'don't fuss, dear; get on with it.'"  Hepburn did in fact live by that 'old fashioned' idea. She acted in ways that would help other people and herself second. Audrey Hepburn was born in Brussels, Belgium to a Dutch Baroness and an English- Irish banker on May 4th 1929. She attended boarding school in England until World War 2 forced her family to relocate to Holland, where they had very little food or supplies. After the war, problems with malnutrition hindered Hepburn's dreams of being a ballerina. She did not let this stop her, as she soon became one of the most iconic actresses in American History, winning her first Oscar at the age of 24.  Not only was she an icon on the big screen, she led the way for women to become individuals and dedicated the last part of her life to helping children. Audrey Hepburn, a symbol of grace and elegance, overcame the adversity that faced her, navigated Hollywood with the courage to question cultural views of women and worked with altruism to help less fortunate children as the ambassador of UNICEF.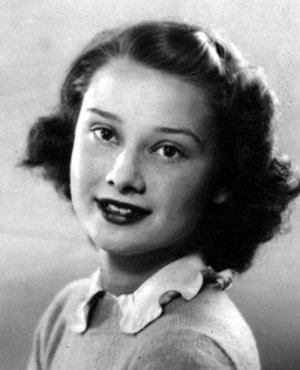 Audrey Hepburn suffered through the hardships of living in a war torn country, but she emerged strong and overcame that incredible adversity. The Hepburn family moved to Holland in an attempt to escape the war, but was unsuccessful: "Hepburn and her family lived with German threats, bombings, rationing, poverty, and disease. Her oldest brother, Alexander, disappeared in 1941 while fighting for the Dutch army. Her other brother, Ian, was a member of the Dutch resistance and was eventually deported to Germany to work as forced labor in a munitions factory in 1942. Several relatives were shot for helping the Dutch underground." (Audrey Hepburn, Salmon). Hepburn lived in constant fear, as war surrounded her. She and her family lived with little food and supplies, and this experience helped her relate to the children that she met and helped in impoverished countries. Some of her dreams were hindered because of complications related to the war: "Hepburn's dreams of being a prima ballerina were crushed when she was told that she was too tall and had begun training too late in life. At age twenty-one, Hepburn signed a three-picture studio contract with Associated British Pictures Corporation (ABPC). She appeared in brief roles in six pictures in 1950 and 1951." (Audrey Hepburn, Salmon). Hepburn's greatest dream at the time was squashed, but she did not let this discourage her. She soon landed a movie contract and her height, and 'waiflike look', both things that hindered her became her trademark look. In talking about her experiences, she once said: "Your soul is nourished by all your experiences- it gives you baggage for the future and ammunition if you like." Audrey Hepburn treated her hardships not as ammunition, but as minor roadblocks on the journey to achieve her dreams.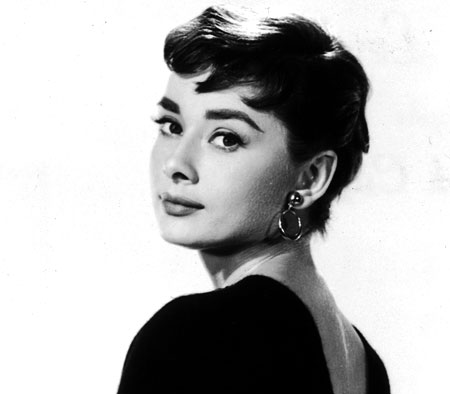 Audrey Hepburn courageously questioned what the 'ideal woman' should be like, and challenged the status quo of style and individuality. Hepburn became friends with French designer, Hubert Givenchy, who helped her discover her own style "Hepburn initiated an entirely different look in 1953 with her slender figure, as there was no one like her in films. The biggest female stars at the time were voluptuous women like Marilyn Monroe and Elizabeth Taylor. Additionally, Hepburn's knowledge of fashion led her to dress to emphasize her slenderness. She never wore anything that she did not approve or had not altered, leading the way for a more individual look. Hepburn and Givenchy's influence on fashion focused on the idea that a woman should find her own look and not become a slave to ever-changing fashions." (Audrey Hepburn, International Dictionary of Films and Filmmakers). Hepburn pioneered the idea of individual style, leading women to focus less on what the fashion of the time was and more on what was right for themselves and their body. She was unlike any movie star of her time, therefore showing women that they didn't need to conform to what society thought was acceptable. She not only challenged the ideas of fashion, but the way women perceived themselves: "Hepburn gave women the possibility of a dignified, comfortable look in which intelligence and wit matter as much as physical beauty."  (Audrey Hepburn, International Dictionary of Films and Filmmakers).  Hepburn countered the ideas of the time by suggesting that one's inner qualities were just as important as how they looked. She empowered women to portray as intelligent, strong and kind people. This idea was revolutionary in the sense that the eras stars mostly relied on their own physical beauty instead of the things that really made them role models and powerful women.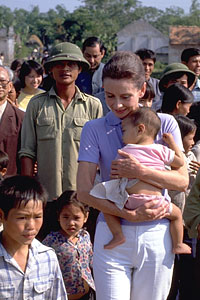 As the ambassador of UNICEF, Audrey Hepburn acted with incredible altruism, the principle of unselfish concern for the welfare of others . "Hepburn worked in the field, nursing sick children and reporting on the suffering she witnessed. Her last plea proved most moving; Hepburn had traveled to Somalia in the fall of 1992, and her sad but hopeful account galvanized the world's response to the dreadful famine and warfare." (Audrey Hepburn, Encyclopedia of World Biography). Hepburn took action to make the lives of these poor children better by not only sharing their stories but actually going into the places she was needed and nursing these kids. Hepburn did not take the job lightly. There was a glamorous side to the position, but she did not care about this part, she directly impacted these children's lives and made calls to action to give them further assistance. The position may have been the most important role of her career: "A former recipient of UNICEF relief aid, she considered her role as UNICEF special ambassador one of the most important in her life" (Audrey Hepburn, International Dictionary of Films and Filmmakers).  When Hepburn and her family were trapped in Holland, UNICEF provided the family with supplies that helped them get through the dreadful time. She understood what these children were going through and knew the importance of her role not only in the organization but in the kid's lives. She was not only providing them with necessities, but with hope. Hepburn wanted to make a difference in the lives of these children that were going through similar situations as she did. She put their needs in front of hers, taking grueling trips to third world countries, and devoting the last part of her life to her most important role.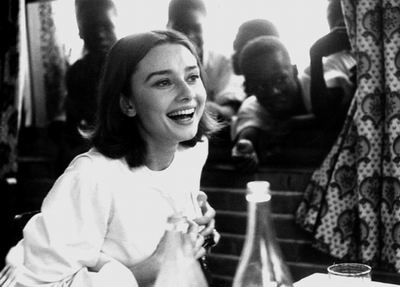 "As you grow older, you will discover that you have two hands, one for helping yourself, the other for helping others." Audrey Hepburn again described her passion for helping others. Audrey Hepburn became an icon not only for her style and beauty, but because she overcame such adversity and acted with courage and altruism. Audrey Hepburn inspires me to help others before I help myself. She is an inspiration to women across the world to create their own individual style and not crumble under the pressures of your culture's ideas about what a woman should dress or act like. Hepburn not only accomplished so many great things in her life, but she stayed true to her values and never strayed from what she believed was right. I do not admire Audrey Hepburn because of the amount of awards she has won. She is my hero because of her values, values that we could all live by. What a difference we could make if we all embraced the idea that one of our hands is to help others. What a difference we could make if we lived by the values demonstrated by Audrey Hepburn.
"Audrey Hepburn."
Encyclopedia of World Biography
. Detroit: Gale, 1998.
Gale Biography In Context
. Web. 20 Mar. 2012.
 

"Audrey Hepburn." International Dictionary of Films and Filmmakers. Vol. 3. Gale, 2000. Gale  Biography In Context. Web. 21 Mar. 2012.

 

Hepburn Ferrer, Sean. "Audrey Hepburn Children's Fund." Audrey Hepburn Children's Fund. Web. 24 Mar. 2012.

 

Salmon, Virginia L., and Salmon Virginia L. "Audrey Hepburn." Great Lives From History: The Twentieth Century (2008): 1.Biography Reference Center. Web. 26 Mar. 2012.
Page created on 4/19/2012 12:00:00 AM
Last edited 4/19/2012 12:00:00 AM