Audrey Hepburn
by
Taylor from Riley
"As you grow older, you will discover that you have two hands, one for helping yourself, and one for helping others." ~Audrey Hepburn
Audrey Hepburn is an inspiration to me for several different reasons. She suffered through starvation, depression, divorces, and miscarriages, yet she still made something amazing out of her life. She did ballet in her younger years, then had a fairly short but busy acting career, and in her last years she became a UNICEF Goodwill Ambassador. Audrey is a hero to me because although she fought through hardships as a child, she followed her dreams, and helped change the lives of many people in a positive way.
In Audrey's childhood she had many struggles due to World War II, but she fought through despite them. Audrey was born on May 4, 1929 in Brussels, Belgium. In May of 1940, when Audrey was eleven, her mother sent her and her two half-brothers to live in The Netherlands with her grandpa to be safe from the Germans during the war. During this year she used the name "Edda van Heemstra," because "Audrey" would give away her British heritage.
By the time Hepburn was fourteen she was really loved ballet. Soon this would be a way for her to help give her family some money. In the winter of 1944, Germans blocked all the paths to food and fuel. Her small family was all but starving, and Audrey wanted to help. She learned how to make flour out of tulip bulbs. In the article "Audrey Hepburn Anorexia," she states, "The only thing I knew was that I had to take care of them (family), so I devised this outlandish plan to make money." Audrey decided to give ballet lessons to other young girls. By the year 1945 the war had finally ended. Hepburn moved to Amsterdam to take ballet lessons at Ballet Rambert. In order to be able to afford schooling there, she worked part-time as a model. After a while Audrey was told that her "fairly tall build and poor nutrition during the war" (The Life of Audrey Hepburn) would prevent her from become the great ballerina she aspired to be. So she decided to dive into acting. In 1951 Audrey had a few minor acting roles. A few of the films she was in were Roman Holiday, War and Peace, The Nun's Story, and Breakfast at Tiffany's. There were many things going on in Audrey's personal life during her time as a very popular actress. In 1952 Audrey became engaged but they decided to call the engagement off because they knew their jobs would keep them apart. On March 30, 1954 Hepburn won an Oscar award. On September 24, 1954 Audrey Hepburn married Mel Ferrer. She became pregnant in March of 1955 but had a miscarriage, and then in 1959 she broke her back falling off a horse and had another miscarriage. In 1960 Audrey's first son, Sean Ferrer was born. Audrey was married to Mel for fourteen years when they decided to get a divorce. Mel was said to be too controlling of Audrey and was jealous of her success. In January of 1969 Audrey married again to a man named Andrea Dotti. On February 8, 1970 she had her second son, Luca Dotti. In 1974 Audrey had another miscarriage. In 1974 Audrey divorced Andrea Dotti due to the fact that he was having affairs with younger women.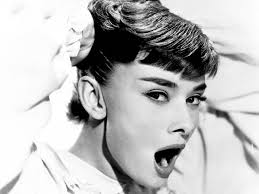 Near the end of her life Audrey wanted to help children in need. Her acting career was basically at an end. Audrey states that she, "sought to give other children the help she had received as a child," (Audrey Hepburn's Fashionable Life in Rome). In 1988 Audrey became a UNICEF Goodwill Ambassador, traveling around the world to help children in need. In the article, Audrey's Hepburn's Fashionable Life in Rome, her son states that his mother's house in "the Swiss countryside became the home base she returned to in order to rest and recharge before setting off once again for Africa, Latin America, or Asia to perform the humanitarian missions to which she dedicated the last period of her life." Basically Audrey just wanted to help people around the world who were suffering. To me that shows how much of a hero she is. After her intensely busy and exhausting life, she decides that instead of just retiring she wants to dedicate the end of her life to helping those in need. Sadly, on November 1, 1992 Audrey learned that she had a very rare form of cancer. She died just a few months later on January 20, 1993.
Overall, you could say that Audrey Hepburn had an amazing life. After nearly starving during World War II, being married twice, having several miscarriages, and suffering through anxiety, depression, and poor nutrition, she still pushed on despite her difficulties. That's what makes her a hero to me. She always pushed on and even helped others who were struggling along the way. No matter what life threw at Audrey she never let it stop her, and I think that is what makes a true hero.
Page created on 9/29/2015 12:00:00 AM
Last edited 9/29/2015 12:00:00 AM
The beliefs, viewpoints and opinions expressed in this hero submission on the website are those of the author and do not necessarily reflect the beliefs, viewpoints and opinions of The MY HERO Project and its staff.