By comparing the two pictures above, one might have a hard time believing the two women in the photos are the same person. The picture on the right unveils a glamorous, elegant, perfectly polished movie star. In contrast, the picture on the left reveals a more natural woman cradling a starving child with a distressed face expressing sorrow, exhaustion, love, and disappointment. The photos illustrate two exceedingly diverse sides of Audrey Hepburn. Audrey Hepburn exemplified not only a successful and talented movie star, but a loving humanitarian whose actions spoke louder than her words. Hepburn sacrificed her own time and life to help others through her work with UNICEF. She had an impact on the world, and she used that influence to open the eyes of many who were incognizant of the tragedy going on in the world. Her actions left marks on the hearts of the ones she touched, and inspired people to use their own strengths to help others overcome their weaknesses.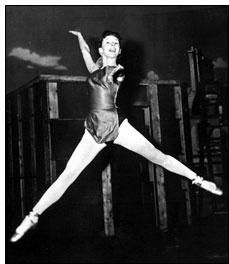 Audrey Hepburn was born on May 4, 1929 in Brussels, Belgium. She and her family were greatly affected by World War II when the German's invaded Poland. Hepburn and her mother escaped to Holland in hopes of a safer living area. Holland was eventually attacked too, and young Hepburn was surrounded by her dying relatives. She watched her mother struggle to stay alive, and they had almost nothing to eat which made life very hard for them. Audrey Hepburn was a talented ballet dancer, and she would dance in shows to raise money for the Dutch war effort. This extra practice came in handy when she and her mother eventually moved to England where she was discovered dancing. Dancing helped launch Audrey Hepburn's acting career, and she went on to star in many great movies and became one of our most adored actresses. In 1954, Hepburn won an Academy Award for her performance in the film Roman Holiday. Audrey Hepburn's acting career came to an end in 1989 after her last film, Always. She then began to focus only on her humanitarian work with UNICEF. In 1988 she was named the organization's Goodwill Ambassador. She traveled to places such as Somalia and Ethiopia, tending to the needs of starving children living in poverty. Audrey Hepburn died from abdominal cancer in January 1993. She may always be remembered for her charming role in the film Breakfast at Tiffany's, but she should also always be admired and respected for her work with UNICEF.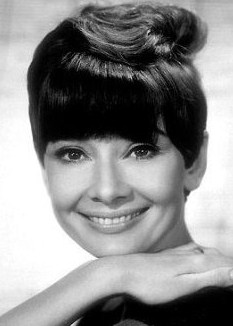 Despite the glamour and glitz that surrounded her, all Audrey Hepburn wanted was to help the less fortunate, especially children. She could have spent her time in the Hollywood scene as most actresses of her era did, but instead she sacrificed her own time and life to helping change not only the lives of others, but her own. She devoted the last five years of her life to UNICEF, which "works for the survival, protection, and development of children in more than 150 countries and territories around the world" ("About Us, What Does UNICEF Do?"). Hepburn could have spent her time retiring in comfort and luxury; instead she helped save children in places of extreme poverty. She once said, "I must admit to you that the magnitude of the task that UNICEF has undertaken sometimes overwhelms me, and I am saddened and frustrated when I stop to think of what we cannot do-like save the world overnight-or when I have to deal with the cynics of this world who argue, Is it morally right to save the world of children who will only grow up to more suffering and poverty due to overpopulation?" (Ferrer, 197). Audrey Hepburn wanted nothing more but for children in need to be protected and to thrive. She didn't just talk about the aid the famished needed, she actually went out there and did what she felt needed to be done. She is a prime example of someone who both talks the talk and walks the walk. Audrey Hepburn was a mother figure and cared for all the children she visited. She was named a Goodwill Ambassador in 1988, and "Instead of using the title for travel privileges and charity balls, Hepburn worked in the field, nursing sick children and reporting on the suffering she witnessed" ("Hepburn, Audrey" (1929-1993)). Audrey Hepburn sacrificed her own time, to instead, witness horrible tragedies of her worst fear. Although she saw things that would haunt her forever, she found joy and comfort in helping underprivileged children.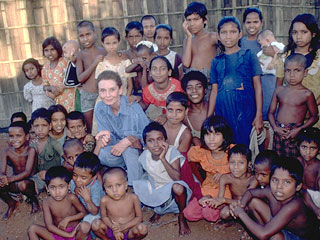 Because of her fame as an actress, Audrey Hepburn had a worldwide influence. She used her fame to inform and remind people of the nightmare innocent children live in every day. She was often asked what exactly she did for UNICEF. She answered proudly,
"Clearly, my task is to inform, to create awareness of the need of children. There is unhappily a need for greater advocacy for children. You do not have to be a "financial whiz" to look into so many little faces with diseased, glazed eyes and to know that this is a result of critical malnutrition, one of the worst symptoms of which causes corneal lesions resulting in partial or total blindness. It costs 84 cents a year to stop a child from going blind-the price of two vitamin A capsules" (Ferrer, 194).
She proved to many that the simplest things could make a big difference. Just 84 cents and you could save a child's eyesight. She also pointed out that "Forty thousand children still die every day-280,000 a week. No natural calamity be it flood or earthquake has ever claimed as many children's lives-and this happens every week mostly in the silent emergency of preventable diseases" (Ferrer, 197). She also made the point that the problems involving these poor children can be solved. It costs nearly nothing to vaccinate and protect children from diseases that they so often die from. Hepburn was widely admired and had a strong voice that people listened to. She did not use this voice to promote skin products, like we often see other celebrities do, instead she used this voice to create the awareness of more important things, such as the importance of all children. She once said in a speech to members of the United Nations staff, "So today I speak for those children who cannot speak for themselves, Charles Dickens once wrote, "In their little world, in which children have their existence, nothing is so finely perceived and so finely felt as injustice." Why, when the way and the low-cost means are to safeguard these children? It is for leaders, parents, and young people to remember their own childhood and come to the rescue of those who start life against such heavy odds" (Ferrer, 199). Hepburn showed the genuine care she felt for these children by using her voice to tell the world about their needs. She was like a guardian angel always watching over them. She made sure that before she left this world there were others to watch over them like she did. Audrey Hepburn set an example of how one person could make a difference. She was so devoted to changing the lives of these struggling children, and she made sure that she was not the only one who cared.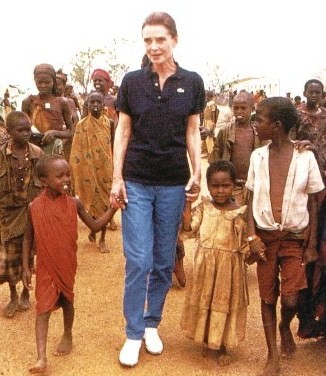 Audrey Hepburn embodied the expression "actions speak louder than words" beautifully. She set a perfect example of what a hero does to leave their mark on the world to inspire others in the future. She showed the importance of every child. She simply adored children and she watched as they died due to inhumanity. Biographies of Inspirational and Famous People noted that, "While memories of fear, deprivation, and cattle cars full of deportees populated her dreams for the rest of her life; Hepburn utilized her experiences in ministering to the world's starving children, many of whom did not know that the beautiful woman was a movie star" ("Audrey Hepburn Quotes"). It didn't matter that Audrey Hepburn was a movie star; suffering children benefited from her warm embrace, kind words, and sweet contagious smile. Audrey Hepburn could relate to all the children she visited, because before her easy life of fame she too was surrounded by dying loved ones and had no food. "I was one of the tens of thousands of starving children to receive aid from UNICEF, immediately after our liberation" (Ferrer, 195). Hepburn experienced malnutrition when she and her mother were greatly affected by World War II. Audrey Hepburn overcame her own struggles, instead of leaving them in the past after she got through them. She re-visited those haunting memories through the nightmares of others. She took her bad experience, and turned it into a positive influence in others' lives. Inspirational influences' actions, like Hepburn's, are what make the world a better place today.
Audrey Hepburn once said, "Remember, if you ever need a helping hand, it's at the end of your arm, as you get older, remember you have another hand: The first is to help yourself, the second is to help others" ("Audrey Hepburn Quotes, Think exist"). Audrey Hepburn tended to use her second hand more than her first. She sacrificed her last years to stand by a reality that she believed needed to be changed. She used her worldwide influence to promote the changes she felt needed to be made, and she did all this after having experienced the horrid reality firsthand. She conveyed, "The United Nations will have shown the world that only through corridors of tranquility can children be saved, that only through peace can one man survive, with dignity and a future. A future in which we can say we have fulfilled out human obligation. Together there is nothing we cannot do" (Ferrer, 201). Audrey Hepburn had a dream of a world without starving children, and she helped with the metamorphosis of many children's lives so they could have a peaceful childhood. Due to Audrey Hepburn's heroic actions, her vision is ongoing and she left this world a better place than how she found it.
Page created on 5/20/2010 12:00:00 AM
Last edited 5/20/2010 12:00:00 AM