Audrey Hepburn
by Kate from Peterborough
Audrey Hepburn is my Hero because, though she began life as a privileged child, her parents divorced and she resided with her mother in Holland, which would soon be hit very hard by the Second World War. Rather than shrink from the hardships, she began working for the resistance in Holland. During this time she was also struggling to pursue the art of ballet. After the war ended Audrey applied her skills to the performing arts becoming a very successful stage and film figure. Instead of retiring with wealth and fame in her later years, she dedicated herself to working with UNICEF and promoting the welfare of children around he world.
Audrey Hepburn was born on May 4, 1929 in Brussels, Belgium. Her mother was a Dutch baroness and her father a wealthy English banker. After Audrey's parents divorced, she moved to London with her mother where she attended a private school for girls. Later, when they returned to the Netherlands, she continued to attend private school. While vacationing with her mother in Arnhem, Holland, Hitler's army took over the town. During the Nazi occupation Audrey and her mother fell on hard times. Audrey suffered from depression and malnutrition. She was in constant danger, and witnessed horrible crimes against humanity. In the following quote she explains, "We saw young men put against the wall and shot, and they'd close the street and then open it and you could pass by again...Don't discount anything awful you hear or read about the Nazis. It's worse than you could ever imagine." She also was continually working for the resistance.
Three years after the liberation, in 1948, Audrey and her mother moved back to London, were she went to a ballet school on a scholarship and quickly began a modeling career. After being seen modeling by a producer, she was asked to perform in a part in the European film Nederlands in 7 Lessons. Audrey earned immediate distinction in the United States with her role in Roman Holiday in 1953. This film turned out to be a huge success, winning an Oscar for Best Actress. This gained her enormous popularity and more roles. From 1967, after 15 years in film, she acted only occasionally. She spent most of her time with her family and began working with UNICEF. Audrey was appointed as a special ambassador to UNICEF and became actively involved in campaigns to advance conditions for children around the world. After returning from Somalia in 1992 Audrey developed colon cancer. The disease proved to be untreatable. On January 1993 Audrey Hepburn died in Switzerland at age 63.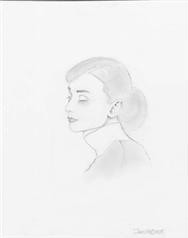 Audrey Hepburn inspires me because she had such a fierce drive and determination to help other people no matter what situation she was in. She was a brilliant actress and dancer as well as a humanitarian devoted to the betterment of the quality of life. She has received countless awards, including Golden Globes, Academy Awards, Certificate of Merit for UNICEF Ambassadorship, the Lifetime of Style Award (given by the Council of Fashion Designers of America) and the Living Legacy Award (given by the Women's International Centre for "Stunning contributions to humanity and enduring legacies" given posthumously in 2000) as well as many others.
Page created on 4/8/2009 3:02:07 PM
Last edited 4/8/2009 3:02:07 PM
Related Links