"For beautiful eyes, look for the good in others; for beautiful lips, speak only words of kindness; and for poise, walk with the knowledge that you are never alone." -Audrey Hepburn
"Happy girls are the prettiest girls," (Audrey Hepburn).  It takes a strong person to always be happy, and Audrey Hepburn serves as a tremendous inspiration to all who strive to be a positive force.  She was born on May 4, 1929 in Brussels, Belgium.  Her father was an English-Irish investor and her mother was a baroness from the Netherlands.  When she was only eight years old, her father abandoned their family.  Shortly after this trauma, the effects of World War II began to seep into the only life that young Audrey had ever known.  Growing up within the raging violence and discrimination of World War II, Audrey Hepburn fought tirelessly to succeed, demonstrated an iron immunity to the typical corruption of Hollywood stardom, and ultimately proved her worth as a noble humanitarian and role model to all.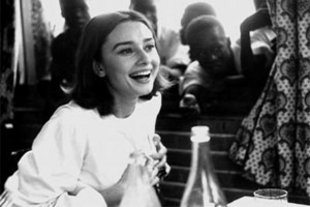 Audrey Hepburn's youth could be described as a very tough childhood that forever shaped her.  In her struggles, enduring the calamities of World War II, she suffered physical along with emotional damages that would stick with her for the rest of her life, "The once chubby Hepburn was whittled down by a diet that sometimes consisted only of flour made from tulip bulbs; nonetheless, as a fledgling ballet dancer, she sometimes carried messages for the Resistance in her toe shoes. Many years later she politely refused to make a movie of The Diary of Anne Frank as she felt the young Jewish girl's experience of World War II too closely mirrored her own," (Encyclopedia of World Biography).  This diet that 'whittled down' Audrey actually caused her extreme malnutrition. This malnutrition later contributed to the incredibly emaciated figure she maintained throughout her acting career. Because of this early malnourishment she could no longer gain or maintain a healthy weight at a normal rate for the duration of her life.  As she, "studied ballet with Marie Rambert and Olga Tarassova" (Dictionary of Women Worldwide: 25,000 Women Through the Ages), she bravely brought news to and from Resistance officials, once again proving her stunning young vigor.  As strong as Audrey was, her recollections of World War II were always a reminder of her fear filled past. She proved her perpetual terror for those overwhelming memories by declining that role in The Diary of Anne Frank. She was always haunted and humbled by the trials she went though as a child and later turned these misfortunes into useful qualities with the help of her amazing perseverance. Audrey Hepburn not only was an eternal optimist but she was also a very grounded movie star. Even once being praised, " 'If there was a cross between the salt of the earth and a regal queen.then she was it,' " (Encyclopedia of World Biography). A fellow actress referred to her as 'the salt of the earth'.  Audrey was known for her simplicity and down to earth personality, for treating everyone with dignity and respect; and as one would gather, is not the usual description of an A list Hollywood celebrity attitude.  Thus the reason she soon became so respected for her kindness.  Mentioned to also be as elegant as a 'regal queen', Audrey was noted to unceasingly reveal her beauty in a modest and classy manner.  Through her determination and humility in times of despair and prosperity, Audrey Hepburn led a life full of strength, happiness, and love.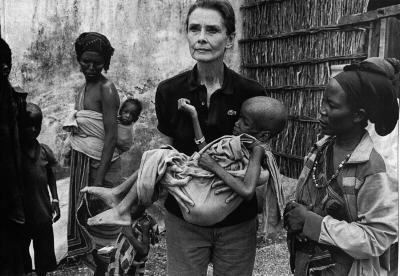 Hepburn demonstrated her compassion by volunteering her time and effort to help needy people.  Audrey Hepburn, ".was named a Special Ambassador for UNICEF and devoted much of her free time to charity,"(Women's International Center) beginning mainly in 1988.  She gave up much of the lifestyle she could have been lavishly living, to aid children around the world suffering from starvation and disease.  Much of her work dealt directly with kids in dire need.  Putting her own health and safety at risk and, "instead of using the title for travel privileges and charity balls, Hepburn worked in the field, nursing sick children and reporting on the suffering she witnessed," (Encyclopedia of World Biography).  Audrey not only sacrificed her free time, but also put her own well being into the path of sickness and infection to assist impoverished children.  This is a remarkable display of character because Hepburn did not have to put herself in danger to help those kids.  Her generous donations would have been more than enough to cure and feed many, but Audrey was not satisfied with just giving her money or her image to support the cause.  She did not rest until she donated herself and her own time to really make a difference. Being the marvelous fashion and movie icon she was, Hepburn was never obligated nor expected to give back to those children in such a personal form of generosity.  Barely into her sixties Audrey was diagnosed with colon cancer. But even her own illness did not stop her from giving back: "Hepburn devoted the last years of her life to her UNICEF work, travelling to war-torn places like Somalia to visit starving children," (Marx, New York Times). Audrey Hepburn died on January 20, 1993, but up until the very end she still donated her dear time. Her tremendous selflessness was encouraging to many and a great example. She proved time is the most precious thing one can give to a worthy cause.
Audrey Hepburn stayed grounded and true to herself through her astonishing success in Hollywood, as she gave up the glamour of the industry to become a renowned humanitarian.  Her humanitarian work was not to help or gratify the vanity of her career and image, as so many 'stars' are fond of doing today.  It was to ultimately satisfy the undying desire Audrey had to be become the leading advocate for starving children around the world.  Similar to the unfortunate situation she once had to go through herself.  Audrey got through the hard times in her life and turned those negative experiences into positive traits that made her the wonderful person she was.  Hepburn could have let those horrific experiences define her but she did just the opposite. She used them to make her stronger and more determined.  There are often choices in life that lead us to choose between what is right and what is simply easier. What makes Audrey such a hero to me is that she chose the right path and not the easy one. She could have become a self-righteous actress and pessimistically blamed the world for her own previous hardships.  Not having to worry about financial security because of her celebrity status, it would have been very easy and even anticipated of her to act and live out her life that way.  But she did not.  Against all odds she overcame and never took the selfish route. "Happy girls are the prettiest girls," was something Audrey herself once said, and she meant it to the core.  Even after all she had gone through as a child and the temptations to become otherwise, she chose to be happy and grateful.  Always with a smile on her face, perseverance within her soul and love in her heart. For that Audrey Hepburn truly deserves the title of hero.
Work Cited

"Hepburn, Audrey (1929-1993)." Encyclopedia of World Biography. Ed. Suzanne M. Bourgoin. 2nd ed. Detroit: Gale Research, 1998. Student Resource Center - Junior. Gale. DEL NORTE HIGH SCHOOL. 26 Mar. 2012
        "Hepburn, Audrey (1929-1993)." Dictionary of Women Worldwide: 25,000 Women Through the Ages. Ed. Anne  Commire and Deborah Klezmer. Vol. 1. Detroit: Yorkin Publications, 2007. 864. Gale Virtual Reference Library. Web. 26 Mar. 2012.
"Women's International Center Lovingly Dedicates Living Legacy Awards 2000 to 'The Fairest Lady'". Online. Katz,   Ephriam. 26 March. 2012. <http://www.wic.org/bio/ahepburn.htm>
"Audrey Hepburn,

Alternate Name:

 
Edda van Heemstra Hepburn-Ruston, Edda Hepburn".
Rebecca Flint Marx, Rovi. Online. 27 March.

2012. <
http://movies.nytimes.com/person/31869/Audrey-Hepburn/biography

> 
Page created on 4/19/2012 8:50:06 PM
Last edited 4/19/2012 8:50:06 PM