Audrey Hepburn
by
Gabbie from Newark
Audrey Hepburn was born on May 4, 1929 in Brussels, Belgium. With her parents divorced, her mother and her moved to London where she went to a all girls private school. When her mother and her were taking a vacation in Arnhem, Holland, Hitler's army took over the town. Audrey suffered from depression and malnutrition. After the liberation, Audrey went back to London to attend a ballet school on a scholarship and later began her modeling career. With her grace and elegance she thought she found her niche in life. She was spotted by a movie producer and was signed to a speaking role in the 1951 film, Young Wives' Tale as Eve Lester. She headed to America to see if she could get better roles. Her role in Roman Holiday (1953) turned out to be a success as she won an Oscar for Best Actress. As her popularity grew, the more roles she was getting. One of the reasons for her growing popularity was the fact that she was so elf-like and had class, unlike the sex-goddesses image of the time. Hepburn was diagnosed with appendiceal cancer in 1992. On January 20, 1993, Audrey Hepburn died in Tolochenaz, Switzerland from the cancer.
Audrey Hepburn was a 1950's movie and fashion star. She is know for her great acting skills. Her most famous roles in movies are Breakfast at Tiffany's, Charade, and Wait Until Dark. She appearing in several British films and starred in the 1951 Broadway play Gigi. She's been nominated for four Oscars and won an Oscar Best Actress in a Leading Role for Roman Holiday (1953). Hepburn remains one of few people who have won Academy, Emmy, Grammy, and Tony Awards. Her last film was Always (1989)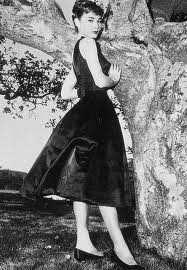 Hepburn earned her place in the International Best Dressed List Hall of Fame in 1961. Being a lady in the 1960's she didn't have the typical "House Wife" look, she kept her style simple with clean. Her timeless style has influenced the fashion world long after her death. Her huge eyes, long legs, and bold eyebrows gave her a natural girl look. In the movie Breakfast at Tiffany's, Hepburn wore a LBD( Little Black Dress) designed by Hubert de Givenchy, she made the LBD the thing to wear at cocktail parties. She's influenced the fashion industry they use her name as an adjective ("That's so Audrey"). Even after 19 years after her death she's influencing the fashion, movie, and the humanity industry.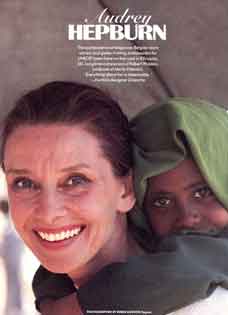 In the 1960s Audrey retired from films to spend more time with her family. She devoted the final years of her life to UNICEF. In 1989 Audrey was appointed Goodwill Ambassador of UNICEF (United Nations Children's Fund). Audrey went to Thailand, Guatemala, and other 3rd world countries to see how the children were doing and how many needed medicine. Audrey Hepburn had four miscarriages, that's why she cared about her children, and other children so much. "She knew better than anyone else that the recompense for such work lies in the eyes of those in need of succour," Sir Peter Ustinov wrote. It is they who bring it home, in all its simplicity, that such work is worthwhile.
I personally love Audrey Hepburn. She was a great actress and a beautiful lady. Not only did she have beauty on the outside, but she was a great person on the inside. She had the right amount of sass and class. Devoting her final years of life to UNICEF and her children, overcoming hard times, she came out on top. Audrey Hepburn is, quite simply, my idol. She's so iconic, from the way she dressed to her great acting skills. My favorite movie with her in it is Charade. She can pull off playing any part perfectly. She's a great role model for women everywhere on how to act and dress.
Page created on 10/8/2012 12:00:00 AM
Last edited 10/8/2012 12:00:00 AM
The beliefs, viewpoints and opinions expressed in this hero submission on the website are those of the author and do not necessarily reflect the beliefs, viewpoints and opinions of The MY HERO Project and its staff.