Audrey Kathleen Ruston (Hepburn)
by
Abi from Philadelphia
''For beautiful eyes, look for the good in others; for beautiful lips, speak only words of kindness; and for poise, walk with the knowledge that you are never alone.'' -Audrey Hepburn
Audrey Hepburn was an AMAZING PERSON. She was an actress, humanitarian and a fashion icon. She was born on May 4th 1929 in Ixelles, Brussels, Belgium. Her father was Joseph Victor Anthony Ruston. Her mother was Baroness Ella van Heemstra, who was the daughter of baron Aarnoud van Heemstra. Years after her parents divorced and her dad left, Audrey found him in the 1960s and she stayed in touch with him until he died. Since Audrey's family traveled between countries she spoke English, Dutch, French, Spanish and Italian.  

After World War II Audrey and her mom moved to Amsterdam. In 1948 she was on the screen for the first time on Dutch in seven lessons. She then got a job as a part-time model. In 1951 she got little roles in the films One Wild Oat, Laughter in Paradise, Young Wives' Tale and The Lavender Hill Mob. Audrey was offered a minor role in the movie Monte Carlo Baby which was also being filmed in French (Nous Irons a Monte Carlo). Audrey her first starring role in the film Roman Holiday. Some of Hepburn other famous movies are Breakfast at Tiffany's, Sabrina, My fair Lady and Funny Face.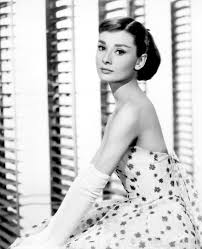 Audrey was appointed Goodwill Ambassador of UNICEF. She was also given the Presidential Medal of Freedom by president George W. Bush. Remember how I said Hepburn was a humanitarian? A humanitarian is a person who seeks human welfare A.K.A a person who helps other people in the world and a good doer. Actually, you could be a humanitarian. Have you ever given anything to a food drive? Have you donated money for people in need? Then you are a humanitarian. Audrey went to places all over the world to help communities and kids, the first place she went was Ethiopia. She ended going to a lot of places and she helped a lot of people.
In late September 1992 Audrey started to get ill. She went to her doctors and they did an operation on her. They found out she had cancer but when the surgeon did another operation he said the cancer had spread too much for it to be removed. The cancer had spread too much because when she first started to get sick, Audrey had refused to go home so she could help the people in other Countries.
She was 63 when she died but she was and is still a huge icon in the world. She was an amazing actress, a WONDERFUL humanitarian and an awesome person.
Page created on 5/20/2014 12:00:00 AM
Last edited 5/20/2014 12:00:00 AM
The beliefs, viewpoints and opinions expressed in this hero submission on the website are those of the author and do not necessarily reflect the beliefs, viewpoints and opinions of The MY HERO Project and its staff.