Audrey Hepburn
by
Josie from Riley County
Audrey Hepburn is a very well known actress but she had also done a lot of work with charity and UNICEF in her later days. She was also an ambassador for UNICEF and a mother of two sons. She was very big on family and always tried to put her family first. After years of acting, Audrey Hepburn never forgot where she came from, whether she was on the stage or helping children in need around the world.
Soon after she took up acting she was cast in the Broadway production of Gigi at the age of twenty- two. Her first movie role was two years later in the film, Roman Holiday. During her career she won twenty-three Academy Awards. Twenty-one of her awards were for acting, one was for her charity work and one was for Outstanding Individual Achievement. Although she loved acting and was a very loved actress, she gave up acting fairly young. Her last starring role was in 1981 in the movie "They all laughed." (Awards)
When Hepburn was thirty-one she had her first son with her then husband Mel Ferrer. After she gave birth to Sean Ferrer she quickly cut back on acting. Some years later in an interview Sean says "...She (his mother) wanted to be with family. She wanted a private life. And she couldn't bear the thought she might fail as a mother. It was that important to her." Although she did act in a few more movies her career pretty much ended with motherhood. She also has another son named Luca Dotti, he was born in 1970 from her second husband, Andrea Dotti.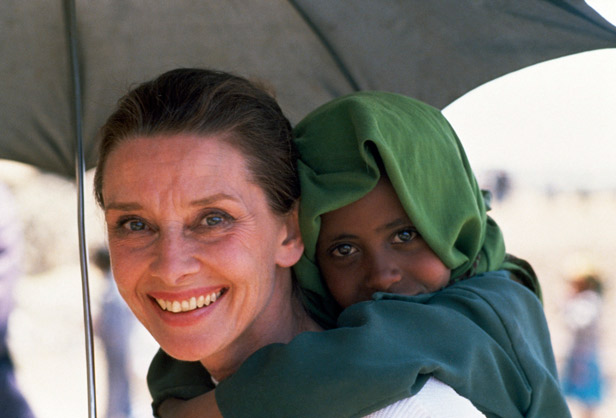 Later, Audrey started her own charity for children in need. The charity was founded in 1994 and named "Audrey Hepburn Children's Fund." Audrey was young when World War II was ending but, having grown up during the war she hadn't gotten the medical attention she needed or as much food as she should have. That's when she was first introduced to UNICEF, UNICEF is an organization that helps children in need. This event made a big impact in her life. And probably is the reason she made a lot of her decisions in life. Later she became an ambassador for UNICEF and traveled the world to help give vaccines to kids in need. The places she went included Turkey, Venezuela, Guatemala, Ecuador and more. She received the Presidential Medal of Freedom for her work; it is the highest civilian award anyone can get (Unicef).
Audrey Hepburn lived a very successful and very busy life. Although most people know her for her acting, her work with UNICEF and her charity is what she felt was her biggest accomplishment. Although she loved her two sons dearly and enjoyed being a mother, she loved helping people and being a part of UNICEF even more. It was obvious she loved helping others.
Page created on 10/10/2016 12:00:00 AM
Last edited 10/10/2016 12:00:00 AM
The beliefs, viewpoints and opinions expressed in this hero submission on the website are those of the author and do not necessarily reflect the beliefs, viewpoints and opinions of The MY HERO Project and its staff.