Angelina Jolie was born June 4, 1975, in Los Angeles, California. She grew up in Los Angeles. She is no stranger to the film industry. She is the daughter of Academy Award winning actor Jon Voight. Her is mom Marcheline Bertrand, who was a model. Her parents got divorced while she was a baby. She has one brother named James Haven Voight. Angelina did a lot of traveling with her mother and brother. One of the reasons she traveled a lot was because she was a professional model! She lived in so many nice places like London, New York, and Los Angeles. She went to Lee Strasberg and studied theatre. In 1993 she landed a small role in the movie Cyborg 2, she was very excited for people to know her name. And that was when she was young. Now she's a beautiful, 34 year old mother of six and has wonderful life helping people in need.

The reason why I choose Angelina Jolie as my hero is because she tries her best to help people who don't have as good a life as she does. While she was filming a movie called "Tomb Raider" in Cambodia she became aware of the worldwide humanitarian crises. She later turned to UNHCR for more information about this crisis. In a few months she visited refugee camps around the world, to learn about the condition these people are living in. in February 2001, she went on her first field visit. She had a mission: in 18 days she went to Sierra Leone and Tanzania to see how the refugees lived and how she could help them. When she saw what they were living in she was so shocked she couldn't put it into words. After she went back home she went back to Cambodia for two weeks and later met with Afghan refugees in Pakistan, and she donated $1 million! Everybody was so grateful that a wonderful celebrity would even care about them. She even insisted on covering ALL the costs related to her mission and shared the same basic working and living conditions as UNHCR field staff on all of her visits. She was then named a UNHCR Goodwill Ambassador on August 27, 2001. She said she would never forget that day. Over the years she has donated million of dollars. Over the time Angelina became more involved in promoting humanitarian causes on political level. She has attended World Refugee Day regularly, and while she was there she met Condoleezza Rice in June 2005.

Angelina Jolie became so interested in helping people that she wanted to help kids too. She decided to adopt kids. On March 10, 2002, Angelina adopted her first child, Maddox Chivan; he was only seven months old. Before he was adopted he lived in a local orphanage. He is originally from Cambodia. When she adopted Maddox she was married to Billy Bob Thornton, but after the divorced she got full custody of Maddox.
Jolie again adopted a beautiful six month old girl from Ethiopia, Zahara Marley on July 6, 2005. She also was in an orphanage. Specifically from the Wide Horizons for Children orphanage in Addis Ababa. When they took her to the United States she had to be hospitalized right away for dehydration and malnutrition. Brad Pitt, who is her boyfriend, was there when she signed the papers and got her daughter Zahara.
Angelina then gave birth to her own child with Brad Pitt whose name was Shiloh Nouvel. She was born May 27, 2006. Jolie decided to sell the first pictures of Shiloh through the distributor Getty Images herself, rather than allowing paparazzi to make these valuable photographs. People magazine paid more that $4.1 MILLION. But being Angelina Jolie, all the money she made with these pictures she gave to a charity.
She adopted ANOTHER child on March 15, 2007 he was three years old. He was a boy from Vietnam, Pax Thien. He was abandoned at birth at a local hospital. He was initially named Pham Quang Sang. Before his mother died she suggested a name for her son, Pax.
A couple months later, people were saying she was pregnant and she confirmed it! She was expecting twins. She gave birth to a boy named Knox Leon and a girl Vivienne Marcheline. They were born in France on July 12, 2008. The first images of the twins went to Peoples magazine and sold for $14 million. It was considered the most expensive baby pictures ever taken! But all the money went to the Jolie/Pitt Foundation.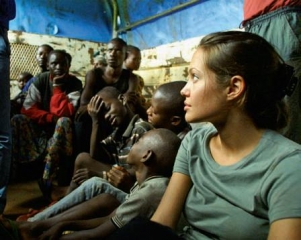 Angelina Jolie doesn't think about herself, but instead does so much to make peoples lives better, which is why I chose her as my hero. She wants the world to be a better place and I think she will make it a better place if she keeps on doing what she's doing. She has inspired a lot of people, even celebrities, to do better, and know that if you do at least something to help someone out even if it is to give clothes or toys to charities. The smallest things to us are the biggest thing to little kids who don't have what we have and would do anything to have a better life. That's why Angelina Jolie is my hero!
Page created on 5/5/2009 12:00:00 AM
Last edited 5/5/2009 12:00:00 AM