Angelina Jolie
by
Rachel from Billings
My hero is Angelina Jolie. Not only is she a famous actress and a mother of six, she is also the Goodwill Ambassador for the UN Refugee Agency. I have always been interested in philanthropy, and I admire the work that she has done. By using her celebrity status she is able to help more people than the average person. Angelina represents a sense of hope to the refugees.
Angelina was born on June 4th, 1975, in Los Angeles California, to Jon Voight and Marcheline Bertrand, whom were both actors. Being born into wealth and privilege helped Angelina get accepted into the Lee Strasberg Theatre Institute, at the age of eleven. In high school, Angelina overcame many obstacles, as she was constantly being criticized for her unusual features and lifestyle. The stresses from school and her family caused her to harm herself by cutting. For awhile, this action was therapeutic to her. In the end Angelina was able to pull herself together, finish her theatre studies and graduate from high school.
Having starred in over thirty movies, Angelina has received numerous awards. Although her acting abilities were highly regarded, she was not considered an international success until starring in Lara Croft: Tomb Raider. This film opened Jolie's eyes to the ongoing struggles within the third world countries, beginning her devotion towards humanitarianism. That year she donated exactly one million dollars to the Afghan refugees and insisted on paying her own way and living in the same conditions as the UNHCR field staff. Following this act she was named the UNHCR Goodwill Ambassador in August of 2001.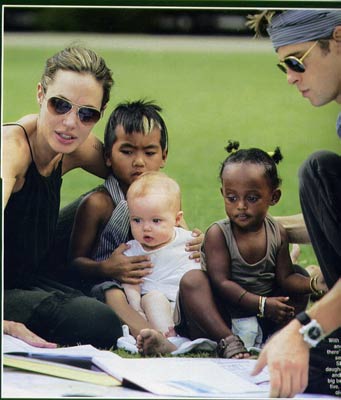 I am inspired by Angelina because of her work as an ambassador, and that she has chosen to adopt three children from war torn countries. She has brought greater awareness to the circumstances and lives of these people. In the year 2005 Angelina was the recipient of the Global Humanitarian Award by the UNA-USA. Later that year, she founded the National Center for Refugee and Immigrant Children, a facility that offers free legal-aid to children. In addition she donates a portion of her salary to these causes, that she personally believes in.
At the young age of thirty-three years old, she has contributed a majority of her adult life to helping others. Angelina is a strong, dedicated woman that saw a need and generously responded by giving her time and financial support. She is giving hope to these countries by investing in the futures of these children. Being politically involved, she is taking a stand for what she truly believes to be a noble cause. I feel that others should follow in her acts of selflessness and make a difference.
Page created on 1/4/2009 12:00:00 AM
Last edited 1/4/2009 12:00:00 AM
The beliefs, viewpoints and opinions expressed in this hero submission on the website are those of the author and do not necessarily reflect the beliefs, viewpoints and opinions of The MY HERO Project and its staff.