by
Nora from Romeoville, Illinois
My Hero Abraham Lincoln
Abraham Lincoln is my hero because he has done a lot of wonderful things. I picked him because he did things like passing the Emancipation Proclamation. I can appreciate how President Lincoln freed the slaves. Abraham Lincoln did what someone else would have not done.
When Abraham Lincoln was young, he sacrificed himself by working on farms. Abraham Lincoln worked in fields, splitting rails for fences and worked at a store in new Salem to buy food. This was to help his dad. Abraham Lincoln sometimes enjoyed working but he would have rather gone to school. Abraham Lincoln worked hard for his dad because his mother had died in 1818. After Abraham Lincoln worked for a very long time he went to school for no less than 2 years. At least he knew how to read and write. Since Lincoln had a job, he started to buy books. He was selfish when it came to books because he didn't let his sister or brother use them. He was scared that they were going to rip it up.
Then as Abraham Lincoln grew older he moved to Illinois. That's when he began going to school. Then once he started school then he was going for a career. When Lincoln was going for the career that is when he met a Whig legislator who was a lawyer there and they became really good friends.
Lincoln became John's law partner. Then Lincoln had the confidence to believe he could become a lawyer with the help of John. He had the confidence to become lawyer on his own. When he became the president then had the responsibility to sign the Homestead Act in 1862. He awarded 65 acres of land to those settlers who agreed to farm the land for five years. That meant that he was helpful to those settlers who got there to protest for slavery. A lot of settlers were so thankful for what he had given them. Lincoln loved going outside looking at the crops which started growing little by little. They brought buckets full of corn to Abraham Lincoln to thank him.
Then Abraham Lincoln became a leader by signing the Emancipation Proclamation declared to forever free slaves from the Confederacy. After the slaves were free they then worked for Lincoln even though he didn't want them to. Lincoln tried paying them for what they had done for him. He was defeated several times throughout his political career. He also got his name "honest Abe' because of his sincere efforts to pay off his earlier debt which took several years. Even though Lincoln was put down he kept on with his career. Lincoln went through sad and difficult times but he went on. That is why he is called honest Abe.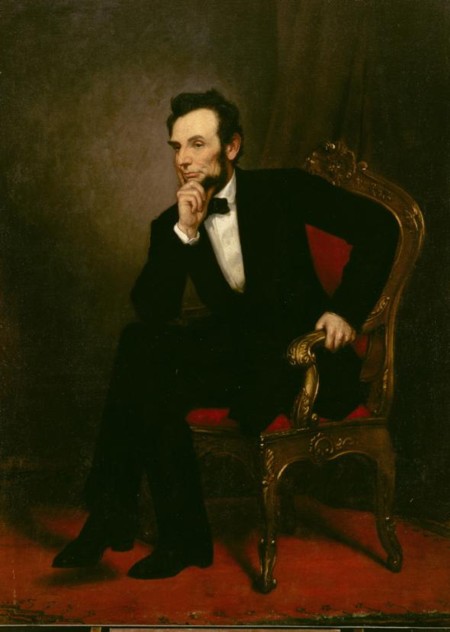 Then Lincoln had the passion to think when he was getting ready to reason with a man, that he spent 1/3 of his time thinking about what he was going to say. Whenever Lincoln gave a speech he thought twice about what his speech was going to say, and if it was worth giving the speech about the Emancipation Proclamation. That speech helped those who were trying to free the slave. That's how they got freedom for life. That is when he defeated slavery by making it illegal. The speech was so long but true.
The one thing that Lincoln gave back was to free the slaves. Those slaves that were freed were so thankful. He freed the slaves because he knew it was right.
That is why Abraham Lincoln is my hero. These are all the reasons why Abraham Lincoln is my hero: because he has sacrificed something, he was a leader, when it came to things that were important he was selfish, he had the honor, he had confidence, Lincoln was responsible and finally he abolished slavery. Abraham Lincoln did what someone else wouldn't have done for people. Those are all of my great reasons why Abraham Lincoln became my hero.
The day's Abe lived
February 12, 1809: Abraham Lincoln born in Hardin County Kentucky near Hodgenville
October 5 1818 Mother Nancy hanks Lincoln die of milk sickness
April- June Serves as a captain of volunteer company in Black Hawk War
August 6 1832: Loses bid for Illinois state legislature
August 4, 1834: Elected to Illinois State Legislature at age 24
April 12, 1837: Forms law partnership with John T. Stuart
Autumn 1840: Becomes engaged to Mary Todd
November 4 1842: Married to Mary Todd in an Episcopalian
May 18, 1860 Receives nomination for president at republican convention in Chicago
November 6, 1860: Lincoln elected 16th president of the United States
April 15, 1861 Lincoln calls for a temporary militia of 75000 solider
May 20, 1862 Homestead Act signed into law
April 14 1865: Lincoln fatally shot by John Wilkes while attending play at Ford's Theater, Washington D.C.
April 15, 1865 Lincoln dies at 7:22 a.m. from complications
Page created on 6/3/2007 10:14:49 AM
Last edited 6/3/2007 10:14:49 AM
Extra Info
ABRAHAM LINCOLN
I LOOK AT ABE WITH HIS BIG TALL HAT
I CAN HEAR HIS LONG GREAT SPEECH
I CAN SEE PEOPLE WORKING IN THE FIELDS.
ABE DOES NOT HAVE A PREJUDICE AND HE IS THE
GREATEST HERO HE COULD BE
I CAN SMELL THE STRONG SMELL OF COLOGNE
I CAN HEAR PEOPLE SCREAMING "WE'RE SAVED!"
AND SHAKE ABRAHAM LINCOLN'S SOFT HAND I CAN FEEL ABEAHAMS LINCOLN STRONG SUIT ABRAHAM LINCOLN CAN SEE THE CROPS GROWING THAT IS WHY ABRAHAM LINCOLN IS MY SUPER HERO