The American Civil War was a tough time for the entire country. It was a time where a great leader was needed, and the perfect man for this job was Abraham Lincoln. Lincoln worked hard at whatever he did and it all started when he was a kid. Being born to a near poor family, Abe was able to turn himself into a hard-working and determined individual. This makes it no surprise that he was capable of leading a nation as the president of the United States. Lincoln deserves to be called a hero due to his determination and his great rise from a poor family into an incredible president.
Lincoln's life started small. He was born in a log cabin and was forced to move houses several times. As a kid, he was greatly opposed to slavery and remained so for the rest of his life. He worked hard, doing the chores previously done by his mother who died from a disease when he was young. As he started his political career, Lincoln decided to run for a seat in congress. After facing some minor failures he was nominated to become president. And he was voted in as sixteenth president of the United States. He was also married to a woman by the name of Mary Todd. During his term, civil war broke out and he knew it was unavoidable. He remained leader of the country and he never gave up on it. Losing was not an option for him. After a well deserved Union victory (Lincoln's side), Lincoln was tragically shot by a man by the name of John Wilkes Booth, a southerner who deeply despised Lincoln as most other southerners did. Lincoln did amazing things for this country, and it started with his determination towards everything he did.
Lincoln had his way of working hard and never giving up. For example, when he was a kid, he would walk two miles just to go to school and learn things like writing and math. This showed that he wanted to be successful and do something with his life. Despite the inconvenience, he still had the determination to learn and do great things. It was things like this that caused him to be such a great leader when it came to the Civil War. In a time that was tough for most Americans, Lincoln never gave up and didn't let anything get in his way. Lincoln proved that he had a great mindset and that he was determined to make things happen.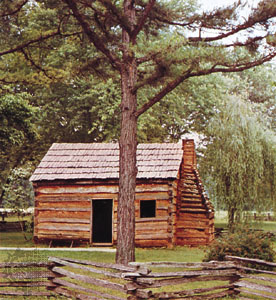 It was amazing enough that he had the determination he did, but he had to live with little to nothing from the moment he was born. He was born in a log cabin. The chores, previously done by his mom before she died, now fell on the shoulders of little Abraham. This shows he achieved his goals by being able to come up from nothing. Being one of the only people in the family who learned at school, he proved he can do anything if he put his mind to it. A lot of people would consider it difficult to be a president even if you weren't born in log cabin. Lincoln was able to prove that anything is possible.
Abraham Lincoln, sixteenth president of the United States, proved that you can do anything you set your mind to, and that a little determination can get you very far. He never gave up and he achieved great things compared to how he began his life. Lincoln was an amazing president, and taught people a lot about accomplishing your goals, which makes it very much ok to call him "a hero".
WORKS CONSULTED
"Abraham Lincoln." Encyclopedia of World Biography. Vol. 9. 2nd ed. Detroit: Gale, 2004. 415-418. Gale Virtual Reference Library. Gale. DEL NORTE HIGH SCHOOL. 28 Jan. 2010.
"Lincoln, Abraham." UXL Encyclopedia of World Biography. Ed. Laura B. Tyle. Vol. 6. Detroit: UXL, 2003. 1150-1154. Gale Virtual Reference Library. Gale. DEL NORTE HIGH SCHOOL. 28 Jan. 2010.
"Lincoln, Abraham (1809-1865)." Presidential Administration Profiles for Students. Student Resource Center-Gold. Gale. DEL NORTE SCHOOL. 18 Jan. 2010.
Holzer, Harold. "Lincoln, Abraham." World Book Student. World Book, 2010. Web. 18 Jan. 2010.
Page created on 2/21/2010 12:00:00 AM
Last edited 2/21/2010 12:00:00 AM