Anne Lindbergh
by
Tierani from Montana
My hero, one full of perseverance and grace, was one of the all time greats in American history. She was a flier that was filled with motivation and dedication, even though she was the first women to perform such a duty at the time. Anne Morrow Lindbergh, one of the best-known fliers ever recorded, happens to be my hero. Her devotion was remarkable and her accomplishments were very impressive. Many women (and some men too) will remember her skill and technique for many many years to come.
Anne Lindbergh was born on June 22, 1908 in Englewood, New Jersey to a father that was a lawyer and to a mother that was all for women getting an education and was a brilliant also a poet. Anne had first earned a Bachelor of Arts degree at Smith College in New York in the year of 1928. In the year of 1929 she married a man who was a known pilot himself, Charles Lindbergh. Since Charles Lindbergh was a pilot, most of Anne's time was spent flying, she served as his co-pilot, charted air routes for commercial fliers. She joined Charles on historical explorations, and was also the navigator of the glider or plane at many times. Anne also helped out with Pan America's airmail service, which was another historical mark for women pilots across the states.

Anne Lindbergh was awarded the Hubbard Gold Medal in 1934 for completing 40,000 miles of exploratory flying with her husband. Being awarded with the Cross of Honor of the U.S. Flag Association for her ability to survey transatlantic air routes, Anne had a knack for flying just like her husband had. But Anne had more to her, she was more dedicated and in love with flying that she simply couldn't only be a pilot. Anne wanted to do more, she wrote books about her endeavors and had them published as well. She was the very first women flier in all of America's known history and will always be known as a legend. Morrow Lindbergh was the first woman of her time to get her pilot's license as well. Her accomplishments are too extraordinary to ever be topped, she was one very goal oriented woman!
She has inspired me to strive and be whatever I want to be. Not only men can become pilots but women can as well. Anne has motivated me to go for my dreams and really try hard to become anything I want because women are just as strong and have as brave of hearts as men. Flying might be a dangerous job, but it has been a dream for mine for a while and she has really shown through all of her work that to become a pilot you simply need strong will power. Anne had more to her than many women do nowadays, she was not only talented at one thing, but she was a writer as well which has helped me realize that I can be more than one thing as long as I stay focused. Everything she has accomplished has inspired me to become a greater person, and make an impact on society just like she had back then when women were only housewives and did not do what they wanted.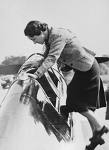 To me, Anne Lindbergh should be many young girls' hero. She was brilliant and very extraordinary especially when it came to flying. Anne was one to never give up and become something great that people would remember for doing something amazing, something that many women during the time never dreamed of doing. Anne Morrow Lindbergh is an all time great, and should be recognized to many females as the one who would put "I can do anything a man can do, maybe even better" to the test and did it better than many males could possibly even imagine doing in a million years.
Page created on 5/22/2009 12:00:00 AM
Last edited 5/22/2009 12:00:00 AM
The beliefs, viewpoints and opinions expressed in this hero submission on the website are those of the author and do not necessarily reflect the beliefs, viewpoints and opinions of The MY HERO Project and its staff.