Alexander Medved
by
Roman from Smorgon, Belarus
Olympics Hero from Belarus
Practically everyone has an idol. We need an idol to admire him and to be his fan. While you are at school you are an ordinary person, just a teenager. Someone is good at biology, another is brilliant at history. But idols are people who are loved by the millions. Who doesn't have a dream to be popular with many people? During our lives we can change our likes and dislikes. At first we like or even love one thing then we are fond of another, which we find more perfect. But every idol gives us something new, teaches us something useful. In some way our lives consist of the lives of our idols. The most important thing is to teach someone to tell the difference between good qualities from bad qualities.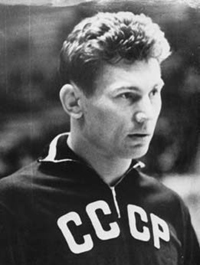 My hero is Alexander Medved. He is a heavy-weight wrestler. When a schoolboy, he was tall and clumsy. Then he did his best, trained hard and became a champion. For the first time he had success in 1959 when he took part in the II Championship of the peoples of the Soviet Union. In 1961, at the USSR Championship, Alexander Medved won his first gold medal and became a champion. At that time, the period of great victories at the European championships, the Olympic Games began. Alexander Medved is a three-time Olympic champion (Tokyo, 1964; Mexico, 1968; Munich, 1972). He is a seven-time world champion, three time European champion, nine-time USSR champion, and three-time winner at the championship of the Soviet Union (1963, 1967, 1971). Alexander Medved has got a lot of honorary titles and rewards. He created a lot of scientific works on sports, and has published 2 books. Today competitions in honor of Medved are held every year. Alexander Medved is the vice-president of the Belarusian National Olympic Committee, President of the Belarusian Wrestling Federation, and an academician of the Russian Public Science Academy. He is an honorable citizen of the city of Minsk.
My hero is fond of hunting. His favorite sports are wrestling, basketball, football and tennis. I know that he likes classical music.
In my opinion Alexander Medved is a pride of, not only Belarus, but of the whole world. People all over the world should know what real strength is. Man can achieve that aim, if he really wants to achieve it.
I believe that there are still "bears" ("medved" means "bear" in Belarusian) among the Belarusian people.
Page created on 8/7/2008 9:50:14 AM
Last edited 1/6/2017 11:40:25 PM
The beliefs, viewpoints and opinions expressed in this hero submission on the website are those of the author and do not necessarily reflect the beliefs, viewpoints and opinions of The MY HERO Project and its staff.