Adam Nelson
by
Jake from Mission viejo
"Maybe if they did full-contact poker."
It only takes 30 seconds for a record to be broken, Adam Nelson proved this true when he threw one of the top ten best shot-put throw in the 2004 Olympics. I first noticed Adam Nelson when i started throwing shot-put and looked up the world record. I noticed Adam because he threw the third best and the best throw in the world. I really like Adam Nelson not just as an athlete but as a person too. He is an avid participant in the world anti doping agency, and donates to many charities. As an athlete he is a really intense competitor. he has a pre throw ritual where he takes his shirt off and throws it as far as he can and then steps in and throws. I am currently a high schooler who throws and plays football and i would like to be an athlete just like Adam Nelson.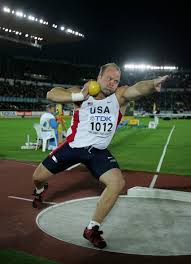 I would like to become a professional athlete. i realize this probably wont happen, and if it doesn't I would like to become an athletic trainer. An athletic trainer helps prevent and heal sports related injuries, such as sprains and pulls. The reason i relate Adam Nelson to a career in athletic training is because he works hard every day to do what he loves and i want to do that as well. To become an athletic trainer you need to have a four-year degree in sports medicine, which is usually followed by an internship at a certified athletic training clinic. After your internship you need to become a fully licensed athletic trainer to be hired by a clinic. According to the occupational handbook website, the average salary range for an athletic trainer is around $40,000 per year. A similar career would be an exercise physiologist. The outlook for athletic trainers is 19% which is above average.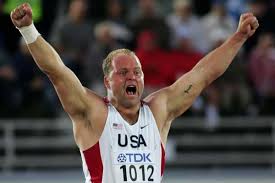 Adam Nelson has always been a good thrower. in high school at the Lovett School in Atlanta, Georgia. He was a letterman in both throws and football. He graduated from Lovett High School in 1993 and went on to Dartmouth College, where he continued to play track and field. He won the NCAA mens shot-put title in 1997 as a senior with a throw of 64 ft. 4 1/2 in.. He still holds the Dartmouth shotput record with a throw of 65 ft. 3 in. He also played football at Dartmouth as a linebacker and defensive tackle. He was the first freshmen to ply on the Dartmouth team. Prior to 1993 freshmen were not allowed to play on varsity football team at ivy-league schools. After Dartmouth Adam proceeded to the Olympics where he placed first in the 2000 Olympic trials, and was favored to win the gold in the real event. He came in second after coming three inches short of first place. Four years later at the 2004 Athens games where he won silver but was later awarded the gold when the man in front of him was tested positive for doping. Nowadays Adam Nelson is an advocate for the world anti doping agency.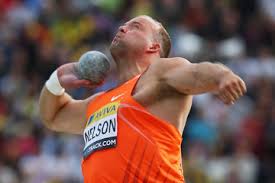 Adam Nelson contributes to society by helping the world anti doping agency. He is an avid speaker at conferences and donates thousands of dollars each year to their organization.
In high school i plan to take steps towards my career by taking a sports medicine class junior and senior year, as well as playing on the track and field team each year. In college i will get my degree in sports medicine and hopefully play track and field as well. After college i hope to get hired and maybe even open up my own agency for athletic trainers. I'm compelled to follow these goals because of my role model Adam Nelson.
Page created on 6/19/2015 12:00:00 AM
Last edited 6/19/2015 12:00:00 AM
The beliefs, viewpoints and opinions expressed in this hero submission on the website are those of the author and do not necessarily reflect the beliefs, viewpoints and opinions of The MY HERO Project and its staff.