Annie Oakley
by
Huckleberry from Victoria
On August 13th 1860 a little girl by the name of Phoebe Ann Mosey was born. She was the sixth of seven children, but early in life she distinguished herself for being a tomboy. While her sisters played inside with dolls Annie went with her father to the woods to watch him trap and hunt. In the winter of 1865 a blizzard struck when her father was taking grain to a local mill; he didn't return until midnight. Hands frozen and voice gone he died of pneumonia and overexposure to cold just one year later. Eight year old Annie, who always showed an interest in shooting, reached for his gun above the fireplace and shot her first small game, a squirrel. When she was just nine her mother sent her to a poor farm where she was lent out to a local family as a servant. At their house she was both mentally and physically abused, just two years later she returned to the poor farm and received a formal education.
When Annie returned to her family at the age of fourteen, she found them in very bad shape. Her Mother had remarried and her husband had died again leaving her with yet another child. Annie soon started hunting game and selling it to local hotels and restaurants. By the time she was fifteen Annie had earned enough money to pay off the mortgage on the family farm.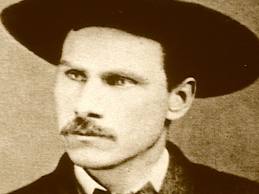 By her late teens Annie was barred from entering turkey shoots because she had won so many of them. A hotel owner who bought her game set up a match for Annie with a shooter by the name of Frank Butler who performed in a duo that toured the vaudeville circuit. The hotel owner bet Butler he couldn't beat local and Frank said it would be the easiest money he ever made. That is until he saw his opponent "I almost dropped dead when a slim little girl in short dresses stepped up to the mark with me, I was beaten the moment she appeared" he later said "for I was taken off guard." Annie reportedly beat him in twenty-five shots where she didn't miss once. Butler may have lost the competition but he soon gained a wife and they married on the 23 of August 1876.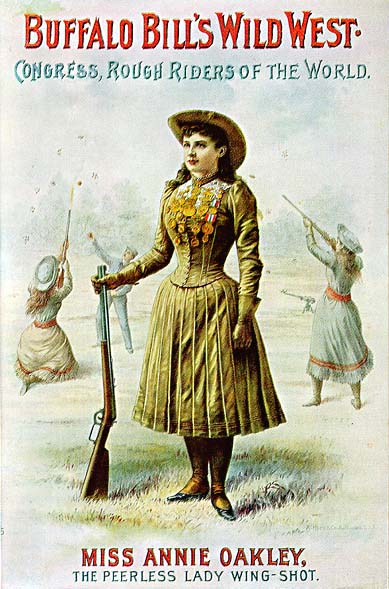 1882 was the first year when Annie and Frank appeared together when his regular assistant became ill, around this time she took the stage name Oakley. At a performance in 1884 Annie befriended chief Sitting Bull. Sitting Bull was impressed with Annie's shooting. Although she was only five feet tall she was always sure of herself onstage. Annie agreed to meet Sitting Bull and after many long conversations he adopted her. In his mind she replaced his daughter who he lost after Little Big Horn. He gave her the name Little Sure Shot.
After a brief period on their own the Butlers joined Buffalo Bill's Wild West Show. This was a big turning point in Annie's career for the first time she was the one with her name on the poster as a champion marks-woman. For a decade Annie and Frank traveled with Buffalo Bill; Annie rising up into international fame.
At the beginning of WWI Annie offered to organize a group of female shooters to fight, but she was turned down. Annie felt a need to do her part however, so she traveled to war camps to perform shooting demonstrations. She felt deeply that women should participate in whatever was going on in the country as well as men.
Annie was a big supporter for a woman's right to carry a gun both for sport and self protection. She taught more than 2000 women how to use guns and changed the image of women in the public eye. Her work for charity was done quietly and is often overlooked. She showed great compassion for widows, orphans and young women. Most of the shooting she did later in life was to raise money for charity. There are also suggestions that she funded college for twenty young women throughout her life.
In my opinion Annie Oakley was a hero. She saved her family at a young age, and overcame great barriers to become something that was typically a man's career. She succeeded in a man's world and people loved her for it. She might not have said she was a women's right activist but she was. She gave a great deal of money to charity and helped many people. She was incredibly charismatic and met many of the world's most important figures. She continued to beat records up into her 60's.
Annie Oakley died on November 3rd 1926; her husband died just eighteen days later.
Page created on 10/20/2011 12:00:00 AM
Last edited 10/20/2011 12:00:00 AM
The beliefs, viewpoints and opinions expressed in this hero submission on the website are those of the author and do not necessarily reflect the beliefs, viewpoints and opinions of The MY HERO Project and its staff.

Bibliography
Edwards, Bess. "Annie Oakley's Life and Career." [Online] Available http://www.annieoakleyfoundation.org/bio.html.
Stephen G., Del Sordo. "Annie Oakley." [Online] Available http://www.dorchesterlibrary.org/library/aoakley.html.
A&E, Telivision Networks. "Annie Oakley Biography." [Online] Available http://www.biography.com/people/annie-oakley-9426141.