Alice Stokes Paul
by
Andrea from Parker
"I never doubted that equal rights was the right direction. Most reforms, most problems are complicated. But to me there is nothing complicated about ordinary equality. " -Alice Paul
When I turn eighteen years old I will be able to vote. This may seem like an obvious statement, but if Alice Paul and her fellow protesters did not have as much courage and determination as they did during the Women's Rights Movement in 1916, I might not have the freedom to vote. Alice Paul was a woman of strength and bravery even when faced with many trials and tribulations. While growing up, her mother had always said to her, "When you put your hand to the plow, you can't put it down until you get to the end of the row." She certainly took this to heart with the suffragist movement. Even after imprisonment, she did not give up her belief in equality between men and women. Today, American women enjoy rights that Alice Paul made possible with her determination, intelligence, and spirit.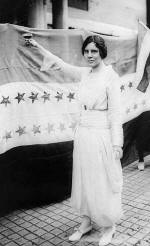 In 1916, thirty-one year old Alice Paul, founded the National Women's Party and began lobbying congressmen for a Constitutional amendment giving women the right to vote. To show their determination to President Woodrow Wilson, Alice and other supporters of women's rights picketed outside the White House. Burly men attacked the picketers while police stood by and watched, doing nothing to help the women. The police then arrested Alice and some of her companions and placed them in dark, dismal prisons. Abused and mistreated, the prisoners suffered greatly. When the imprisoned suffragists went on a hunger strike, the prison's doctors forced tubes down their throats and brutally force fed them. Throughout all this, the women remained strong and eventually were released. After seventy-two long years of fighting for women's rights, the Nineteenth Amendment passed on June 4, 1919, giving women the right to vote.
Alice Paul is my hero because she stood up for what she knew was right, even in the face of angry mobs and imprisonment. She is an inspirational person for both men and women alike in the pursuit of human rights. Alice Paul became a prisoner and suffered for the freedom of all women, present and future. Without her determination, American women might not have the rights and privileges that they do today. Thanks to my hero, I will have the privilege to help elect our future leaders. When I vote for the first time in 2014, I will remember Alice Paul at the polls.
Page created on 3/6/2011 12:00:00 AM
Last edited 3/6/2011 12:00:00 AM
The beliefs, viewpoints and opinions expressed in this hero submission on the website are those of the author and do not necessarily reflect the beliefs, viewpoints and opinions of The MY HERO Project and its staff.
Extra Info
Resource:
Carol, R., Myers, K., and Lindman, Dr. J. "Alice Paul: Feminist, Suffragist, and Political Strategist." Alice Paul Institute. Alice Paul Institute, Inc., 7 January 2009. Web. 19 October 2010.
http://www.alicepaul.org/alicepaul.htm