Antonio Paulino
by
Valerie Paulino from California
My hero is my grandpa, Antonio "Tony" Paulino. He was born in Manila, Philippines. In May 5, 1963, he was happily wed to my grandma, Rosita Paulino. Then 3 years later, they had a baby boy named Ronald Paulino, who is now my dad. In 1984, my grandparents came here to the United States. A couple months after my grandparents came here to the United States, my dad followed. Then 28 years later, 3 months before my parents got married, my parents had a son named Arron Angelo Paulino, who became my grandparent's first grandchild. 3 years had passed, and my parents had a young girl who was named Valerie Rose Paulino, who was my grandparent's youngest grandchild. Then 15 years later after my grandpa came to the U.S., he decided to be a deacon.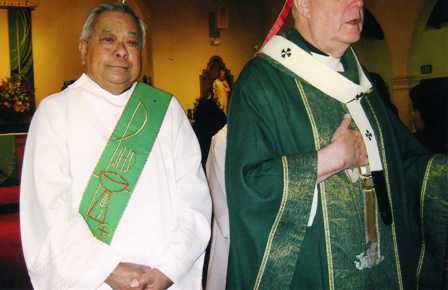 On June 26, 1999, he was ordained as a deacon at Saint Mary's Cathedral in San Francisco. For 12 years, my grandpa has been a deacon. He has served in many churches and is now one of the people who are assigned to the archbishop. He is someone who helps the archbishop when he needs assistance in church, transportation, etc. He is also one of the deacons who are moved from church to church when one is in need for a deacon for a mass. He is still very active in participating in such that he is part of the SFO organization. He is very loyal in what he does and he is very dedicated in his work.
He is a person of faith to me because he has devoted his life to being involved with our religion. Throughout my lifetime, he was the one who introduced me to Catholicism. He taught me what there was to know about Catholicism and what I wanted to know about our religion. If I had a particular question on this subject, I would not hesitate to ask him any questions I had because he would always give me a great answer plus a little more information just to make sure I got the concept. I am proud to say that he is my hero of faith and I am always proud to call him, "My Grandpa."
Page created on 3/29/2012 12:00:00 AM
Last edited 3/29/2012 12:00:00 AM
The beliefs, viewpoints and opinions expressed in this hero submission on the website are those of the author and do not necessarily reflect the beliefs, viewpoints and opinions of The MY HERO Project and its staff.