Aung San
by
Jeneve from Columbia, Maryland
Have you ever about read the Founding Fathers from your country and wondered how they would get to that position? Have you ever wondered how they struggled in order to achieve their dreams? Bogyoke Aung San was a Founding Father of Burma. In 1948, Colonial Burma got freedom from Great Britain (www.answers.com). He struggle many years for the Burmese people in order for that to become a reality. His dream of a free Burma came early in his life.
Bog-yoke Aung San was born on February 13, 1915 in Magwe in a small town. His family already fought for freedom from Great Britain. In 1942, he married Khin Kyi when he was the War Minister and they had four children: 2 boys and 2 girls. His youngest daughter was a leader of the NLD (National League for Democracy) and won the Nobel Peace Prize (answers.com). He and his family fought for Burma and wanted to have freedom or peace in Burma. They wanted to make Burma a better place and they wanted to have equal right for their people. He was interested in politics. In college he was elected to the executive committee of the university student union, and soon became magazine editor of the university Student Union at Rangoon University in 1936. He was interested in politics and he was elected to be president of Rangoon University and All-Burma Students Union. During this time he was expelled from the university because he refused to tell the University of the Name of "Hell Hound at Large" (arloo blog). Aung San was well educated and had leadership in politics. He wanted to follow his parent's path.
While he was been through all the difficulties, he was knew what his mission in life was: to free Burma from the British. He realized this when he was young because he lived with his parents who wanted to get independence from Britain, and he saw what his family was doing. What he was got into his blood. After traveling in a lot of countries, he went to Japan to get military training with his Thirty Comrades. He founded the Burmese Independence Army in Bangkok, Thailand in 1941. He got help from Minami Kikan (he was Japanese army officer). "Aung San, now Burma's knowledge political leader, led the Burmese delegation to London for independence talks with British premier Clement Attlee. On his return in February 1947, Aung San successfully negotiated the Panglong Agreement, which provided for the participation of various frontier-area peoples in the new Union of Burma, as the emergent Burmese federal state was to be called"(answers.com). Because of his hard work Aung San led the Burmese people toward independence.
Aung San was assassinated on July 19, 1947 when he and his six cabinet members were having a meeting of the Executive Council. All the people who were inside the building of Secretariat Rangoon were killed including Aung San older Ba win. People assumed that this assassination happened because of U Saw (a rival politician) and they also believed that British were involved in this assassination (bookrags.com). In my opinion, these assassinations happened because of jealousy and because U Saw wanted to take control over the country. U Saw wanted to take control of Burma and the people. He wanted to have power and wanted to take raw materials.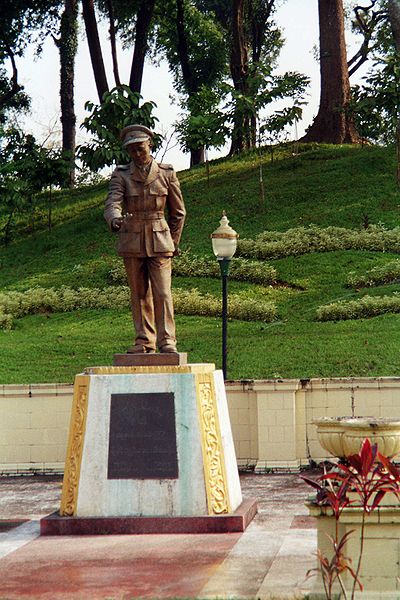 Aung San was brave and good-hearted. This person changes the world by creating peace between two nations so they wouldn't have to fight for anymore. Aung San was really important to his people and his country because he is the one who fought for independence and he struggled a lot of times, but he did not give up. He risked his life for his country and people. Because of him, we could speak in our own language and have our own culture. Even though we didn't have democracy, we were free from the British and didn't have to worry about those two things. Now we have to worry about democracy; I have a feeling that someday we'll have that too.
Page created on 4/10/2012 12:00:00 AM
Last edited 1/3/2019 10:49:39 PM
The beliefs, viewpoints and opinions expressed in this hero submission on the website are those of the author and do not necessarily reflect the beliefs, viewpoints and opinions of The MY HERO Project and its staff.