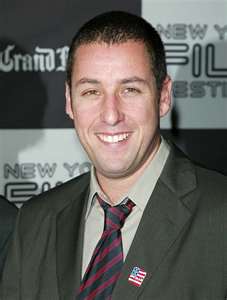 He has been nominated for an Emmy and a Golden Globe and has won people's choice for 2011 for best Actor. Actually, he has done more than that; Adam Sandler has accomplished many things. "Adam Sandler was born on September 9, 1966, in Brooklyn, New York, to electrical engineer, Stanley and nursery school teacher, Judy. When Sandler was five, the family moved to Manchester, New Hampshire, where Sandler and his older siblings, Scott, Valerie, and Elizabeth, were raised in a Jewish family in a small-town, working-class environment. For reasons elusive even to him, Sandler, by the end of the sixth grade, had become the class clown for a receptive audience of his peers and had begun to develop his hallmark humor. By the age of seventeen, Sandler was performing stand-up in clubs and at universities on a regular basis. He performed as a street musician, doing Bruce Springsteen numbers, and at the same time managed to attend classes at New York University (NYU). Before graduating in 1991 with a bachelor of fine arts degree, Sandler found his way into the entertainment industry: In 1987, his freshman year at NYU, Sandler landed a recurring role as Smitty, friend to Theo Huxtable, on The Cosby Show (1984). Sandler's first film role, two years later, was in the unreleased Babes Ahoy. However, it was his stand-up work, which he took to the clubs of Los Angeles, that gave Sandler his big break. When comedian Dennis Miller saw Sandler performing, Miller referred Sandler to Saturday Night Live creator and producer Lorne Michaels." (Great Lives from Jewish History) From here Sandler went on to make some of his most successful films such as: "Billy Madison," "Happy Gilmore," and "Wedding Singer." His biggest inspiration was "Caddyshack". "The release of the 1980 comedy "Caddyshack" proved to be a turning point in his life, and the inspiration for his famous comedy, "Happy Gilmore." He and his brother watched the movie over and over again and memorized all of the dialogue. "I have seen Caddyshack 300 times," he admitted. "It's the reason I got into comedy." (Biography Today) Adam Sandler is not only and actor, but an inspiration because he didn't let all the fame get to his head, as it would have for most actors, and also his perseverance for staying with acting even though most of his movies received bad reviews. He truly shows that if you follow your dreams, you can achieve anything.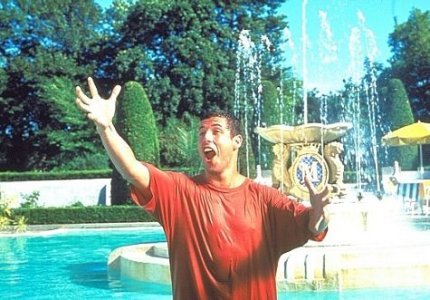 Sandler shows perseverance throughout his career even though he receives bad reviews and being slammed by critics. Sandler has many different ways of showing perseverance. "The success of these two early films helped turn Sandler into a box-office draw. Audiences enjoyed his brand of humor, but the print media generally presented him in a negative way, criticizing both his acting and his writing abilities. "When I first read a bad thing about me," he recalled, "I was like, 'Oh, that doesn't feel very good, why should I read this anymore?' " Around this time, Sandler stopped giving interviews to newspapers and magazines. He focused all of his promotional appearances on TV and radio talk shows, where he felt that his words were less likely to be taken out of context. "The press really didn't give him any respect," said his friend and fellow comedian, Chris Rock. "Everybody dissed him, and it's like, 'Now you want me to talk to you?' If I were him, I wouldn't talk either." (Biography Today) Even though a lot of movie goers hated his work he didn't give up his dream. He learned just to ignore and to persevere though it. Sandler doesn't just perservere though bad reviews but personal problems as well, like his father dying. "While Sandler is one of Hollywood's biggest stars and earns more than $20 million per picture, he is also very unpopular among some segments of the movie-going public, who find his acting wooden and his humor juvenile. Just as there are people who will go to see any Sandler movie, there are others who refuse to see any movie with him in it. "Just as the population is split between Republicans and Democrats, Coke and Pepsi drinkers, and SUV lovers and haters, so is it apparently divided over the appeal of Adam Sandler," Todd McCarthy explained in Variety". (Biography Today) As McCarthy said, Sandler has a tough time with the critics for all his movies and he demonstrates how he is determined to stick through acting. The way Adam Sandler deals with the press shows that he is determined to stick through acting. Both critics and some movie goers hate Sandler's work but he sticks with it because he loves what he does and he does not let anyone push him around.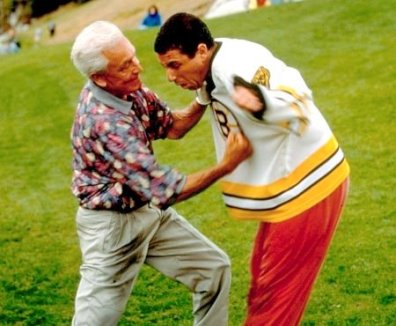 Sandler shows that if you follow your dreams, you can achieve anything. By the time he finished college, he was one of the most talked about stand-up comedians. "Sandler first performed stand-up comedy during the summer before he enrolled at NYU. While visiting his brother at Boston University, the 17-year-old took part in an open-mike night at a Boston club called Stitches. Sandler was reluctant to go on stage at first, but his brother talked him into it. "If he hadn't said to do it, I wouldn't have thought it was a normal thing to do," he acknowledged. "I would have said, 'Mom and Dad are going to get mad at me.' But, because he told me to do it and I knew that my parents respected his brain, [I figured] it must be okay." Even though Sandler's first attempt at stand-up comedy was not very funny, he immediately felt drawn to the stage. "It was the first time in my life where I said, 'All right, I think I can,'" he noted. "I became kind of obsessed with getting good at comedy"." (Biography Today) Even though he started off as an accidental comedian, he was a good one and ended up loving that job, and sticking with it even through today. He became accustomed to the media scrutiny just as a vulnerable animal adapts to its dangerous surroundings. This ability of brushing off criticism helped Sandler to become famous. Also, being the most talked about comedians has its perks. "In 1990 he was invited to audition for Lorne Michaels, the creator of "Saturday Night Live." As a longtime fan of the show, Sandler jumped at the opportunity. Michaels hired him to join the show's writing staff--a group of comedians who came up with ideas and created characters for the comedy skits that appeared on the air. The cast of the show at that time included Chris Rock, David Spade, and Chris Farley." (Biography Today) To start as a nobody and work your way up to the top is very hard to do and SNL was his big break. SNL is an extremely hard feat to accomplish, and the fact that he was picked to join the acclaimed comedian team became the biggest leap in his career. Adam Sandler went from small town class clown to become a huge comedy star in New York with the help of SNL to get him recognized, which shows that if you follow your dreams and determination you can achieve anything.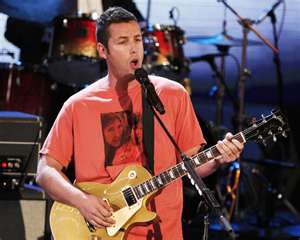 Adam Sandler never let the power of stardom change him and he always stayed true to his roots. "Part of my father having a temper led to me developing a sense of humor to calm the old man down. I never had a speech from my father [saying], 'This is what you must do or shouldn't do' but I just learned to be led by example. My father wasn't perfect. He had a temper. I took some of that. He would snap, but the older he got, he started calming down. He learned about life, but the thing that he taught my whole family was that family was the most important thing and, no matter what, if a family member needs you, you go and help them out, you get there. He just made us feel comfortable and respectful to other families, my mother also...part of my father having a temper led to me developing a sense of humor to calm the old man down. That kind of sense of humor. Sandler cared for his dad and based the movie "Click" off of his relationship with his father. The moral of the movie, "Click," is that Sandler doesn't spend enough time with his father and then it is too late. He regrets it and wants to become a family man, and gets a do-over in life with the "click" with a magical remote. "Sandler's production company "Happy Madison," shows a picture of his dad, Stanley Sandler" golfing (Gale Biography), which shows that Sandler devoted his sense of humor to entertain his father. Sandler's Religion has also played a big part in his career. In all of his movies he shows himself as being Jewish and he also wrote the hilarious "Chanukah Song" which was number one seller and downloaded song, and exhibits all the admirable things about being Jewish. Sandler always includes something in all of his movies about Judaism, whether it's "Don't mess with the Zohan," in which he plays a Jewish Israeli commando or in the movie "Jack and Jill," where he had to get his twin sister home before Chanukah. Sandler is very outspoken about his Judaism, because he is proud of his Jewish heritage. Sandler is a family man and is proud of his Jewish background. He is not caught up in all the Hollywood drama and wont be pulled away from his roots. If you take away the fact that he is a movie star, he is really grounded, just like you and me. This is one of the biggest reasons I find him to be an inspiration in my life. We share the same faith, and it's refreshing to see someone with the same religion become such a huge star, but yet stay so close to his roots and be proud of being Jewish. For so many years in Hollywood, Jews would have to change their Jewish names just to get auditions since there was so much antisemitism.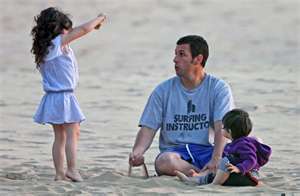 By persevering through the hardships of becoming a big star, and with the support of friends and family, Sandler has stayed on top and has emerged into one of the best comedic actors of all times. Adam Sandler has created his own film production company: "Happy Madison Productions". It is an American film/television Company founded by Sandler in 1999, which is named from a combination of his two funny films," Happy Gilmore" and "Billy Madison." These were two box office successes starring Sandler himself. The Elderly man depicted in the company's logo is Sandler's father. Sandler is an inspirational man to me, otherwise I wouldn't have chosen to write about him. He shows that you that if you set your mind to something and you strive for it, you can accomplish anything. Even after he has become the big star of today, many critics still manage to hate his work, but that doesn't bring him down as he has learned to ignore the mean comments. With the help of friends and family, Sandler makes it through the harsh words of critics and movie goers, and manages to remain grounded and be just an average guy. Sandler's fame looks to be dimming at times, however, he strives to continue creating funny films despite critics telling him to stop acting. Deep down he is a regular family man. He never wanted to be a big movie star when he was growing up, he just wanted to make people laugh and to have a family of his own one day. "Sandler married actress-model Jackie Titone on June 22, 2003. The wedding took place at sunset on a friend's oceanfront estate in Malibu, California. The otherwise traditional Jewish ceremony included Sandler's two bulldogs, Meatball and Matzoball, who wore tuxedos and carried the couple's wedding rings. 'Jackie's the finest woman I've ever met,' he stated. 'She's got it all--brains, looks, a sense of humor, and most unbelievable of all, she likes me for me.'" The couple has two daughters." If he were to stop acting he would be sad, but as long as he is with his family and being true to his faith, as well as keeping people laughing and smiling, he is happy and this is why he is an inspiration to me.
Work Cited:
"Adam Sandler (I) - Biography." The Internet Movie Database (IMDb). Web. 09 Jan. 2012. .
"Adam Sandler Biography - Facts, Birthday, Life Story - Biography.com." Famous Biographies & TV Shows - Biography.com. Web. 09 Jan. 2012. .
McDonald, Roxanne. "Adam Sandler." Great Lives From History: Jewish Americans (2010): 112. Biography Reference Center. Web. 9 Jan. 2012.

"Adam Sandler." Adam Sandler (Biography Today) (2010): 1. Biography Reference Center. Web. 9 Jan. 2012.
"Adam Sandler." Contemporary Theatre, Film and Television. Vol. 63. Detroit: Gale, 2005. Gale Biography In Context. Web. 9 Jan. 2012.