Adam Sandler
by
Nathan from Fresno
MY HERO
Adam Sandler is an American actor, comedian, screenwriter, musician, and film producer. After becoming a Saturday Night Live cast member, Sandler went on to star in several Hollywood feature films. He is the best known for his comedic roles, such as ''BILLY MANDISON'', ''HAPPY GILMORE'', ''THE WATER BOY''and ''BIG DADDY''.
Adam Sandler is my hero because when I have had difficult times such as when I got taken away from my mom, I watched some of his movies to get all the stress off my chest and mind. Sandler saved me by reminding me never put your head down, things will get better soon and always have a smile on your face, and always have good laughs. Adam Sandler is one of the only people I look up to and depend on. He is a lifesaver to anyone who's been down and depressed a lot.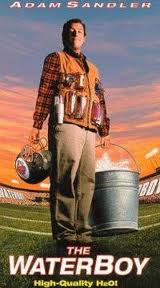 Anybody can be anyone's hero just by showing them what you do and how you do it to help or save people's lives. Sandler may look like a goofball on TV but if you pay attention to all his movies, he's really showing that there's always a funny ending somewhere in your life or if you're really angry. There's always something to laugh about in the end. Sandler saves lives not just by helping but by making them laugh and feel good about themselves. He's a hero to show the world there's always something to laugh about and to never let someone put you down. Keep your head up.
Adam Sandler is my hero and to so many others. He's a hero of laughter and a hero to change lives for people who have been hurt, who have been down into deep depression. If Adam Sandler wasn't on TV or making movies so many lives would be in danger such as mine. I don't know what I would do without Adam Sandler in this world.
Page created on 8/28/2012 12:00:00 AM
Last edited 8/28/2012 12:00:00 AM
The beliefs, viewpoints and opinions expressed in this hero submission on the website are those of the author and do not necessarily reflect the beliefs, viewpoints and opinions of The MY HERO Project and its staff.