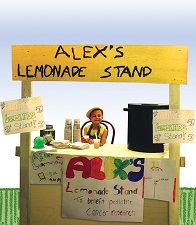 A hero doesn't have to be wealthy. A hero doesn't have to be an adult. A hero can be someone of any age. Someone as young as the age of eight can be a hero. That's exactly who Alexandra Scott was. Although Alexandra was very young, she made a greater impact on the world in her short eight year life than most people do in a lifetime. She was truly a hero to everyone. Alexandra (Alex) Scott was born on January 18, 1996 in Manchester, Connecticut. She was one of four children to her parents, Jay and Liz Scott. At the age of one, Alex was diagnosed with a cancer called neuroblastoma, which is a malignant tumor composed of neuroblasts, most commonly found in the adrenal gland. She was treated at Connecticut Children's Medical Center. While she was sick, the doctors told her she wouldn't be able to walk but Alex proved to everyone how strong she was and eventually got the strength to walk. Her mental strength and strong desire to help others showed when she started a lemonade stand, called Alex's Lemonade Stand, to raise money for cancer research. For the next four years of her life, Alex raised over $1 million for childhood cancer research (Butler). Sadly, Alex lost her battle to cancer in August of 2004, at only eight years old. To this day, many people across the country are raising money for cancer research using Alex's Lemonade Stand. A hero must possess selflessness and determination - a selfless person is someone who is more concerned with the needs of others than themselves, and a determined person is someone who has a firm goal and the perseverance and commitment to reach that goal. Alexandra Scott is a deserving hero because of her selflessness and determination to make an impact on the world while fighting for her own life.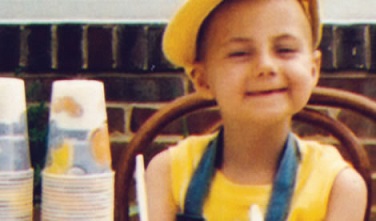 Alex demonstrated selflessness by raising money for cancer research while battling the disease herself. She channeled her selflessness into doing something to change the world. "She risks her life to save others" (The 2003 Heroes). Alex's goal was to have a lemonade stand to raise money for cancer research. She chose to work hard to raise money to help other sick people, rather than focusing on her own battle with cancer. Alex loved doing things for other people. Her mother talked about how she always loved to do things for everyone, especially having lemonade stands. "Alex loved holding lemonade stands, and she loved helping people. I remember her telling me after her very first lemonade stand that it was the best day of her life" (Manko). Alex wasn't selling lemonade to use the money for herself, she was doing it to help other people, like her, who were battling cancer as well. As her mother remembers, she loved helping others, which makes her very selfless. Alex used her selflessness to raise money for cancer research, with the goal of helping other people get better. She showed that a little bit of selflessness can change the world. Alex used her lemonade stands to show how much she cared about others, and she worked hard to help others battle the disease that would eventually claim her own life.
Along with Alex's selflessness, she also showed a lot of determination. Alex was determined to help other people, and she always wanted to make a difference in the world. When Alex was in the hospital, she received very bad news. Instead of giving up, she was determined to get over it and do something extraordinary in the end. "...Physicians told her family that even if she beat the cancer, she would never walk. That news was delivered on her first birthday. She walked, and she did a great deal more than that" (Williamson). Although Alex was told she would never be able to walk, she proved everyone wrong and, miraculously, began to walk. She was determined to not only learn to walk, but to make a difference in the world by using her lemonade stands to raise money for cancer research. When Alex started her lemonade stand, she was just hoping to get a couple of dollars to give to cancer research. She didn't know that it would turn into something bigger and better. "When 4-year-old Alexandra Scott put together her first lemonade stand back in 2000, her simple goal was to earn a few bucks to help doctors find a cure for the childhood cancer she was battling" (Manko). Although Alex was only a little girl, she wanted to do something small to help an even bigger cause. Even though she was just a young girl hoping to earn a little money by selling lemonade outside of her house, she was determined to keep doing it, because she knew she was doing it for a good cause. This little idea and Alex's determination have raised a lot of money for cancer research, and she did it all while battling her own cancer.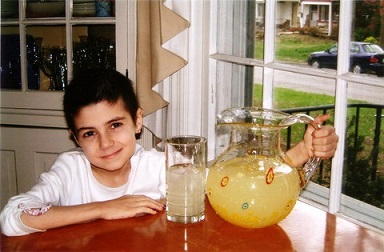 Because of Alex's selflessness and determination she has raised money for cancer research and inspired other people to do the same. At a very young age, Alex wanted to do something to help other people with cancer. Even while she was sick, she came up with the idea having a lemonade stand called, Alex's Lemonade Stand, to raise money for cancer research. Her lemonade stand idea has grown, and now other people around the world are doing the same thing. In her eight years of living, Alex showed selflessness and determination and continues to inspire people everywhere. Alex is an inspiration to everyone. "As word of her mission spread...others were inspired to hold similar sales and forward the proceeds to the nonprofit fund Alex's Lemonade Stand, which her family has set up to support cancer research" (The 2003 Heroes). After Alex's death, her legacy continues, because she inspired others to make a difference in the world. Even though Alex was very young, she showed people that you don't need to be an adult to be an inspiration to other people. One little idea can make a difference. During the eight years that Alex was alive, she did something that has spread worldwide and has inspired other people to be like her. "Today, almost 10 years after she sadly succumbed to neuroblastoma, her namesake Alex's Lemonade Stand Foundation has raised an astonishing $60 million-plus" (Manko). This amazing accomplishment from such a young child is why Alex is an inspiration to me. As the old saying goes, "When life gives you lemons, make lemonade". Alexandra Scott used her lemons to make a difference in the world. Her selflessness and determination have inspired me to think of ways that I can be more like Alex. She is truly a hero.
Works Cited
Butler, Katherine. "8 Amazing Kids Who Have Changed the World." MNN. Katherine Butler, 14
Sept. 2011. Web. 03 May 2016. http://www.mnn.com/lifestyle/responsible-living/photos/8-amazing-kids-who-have-changed-the-world/alexandra-alex-scott
Manko, Marni Prichard. "A Special Legacy: Alex's Lemonade Stand." A Special Legacy: Alex's
Lemonade Stand. Philadelphia Style Magazine, 23 Nov. 2013. Web. 04 May 2016. <http://phillystylemag.com/liz-scott-talks-daughter-alexandra-scott-alexs-lemonade-stand>.
"The 2003 Heroes for Health Awards. Courage. Compassion. Acts of extraordinary caring."
Good Housekeeping Dec. 2003: 66+. Student Resources in Context. Web. 29 Apr. 2016.
Williamson, Kevin D. "The lemonade menace: armed agents of the state protect us from children
everywhere." National Review 25 Apr. 2016: 23+. Biography in Context. Web. 4 May 2016.
Page created on 5/18/2016 12:00:00 AM
Last edited 9/24/2018 4:51:10 PM