Alexandra Scott
by
Natalie Dybczak from San Diego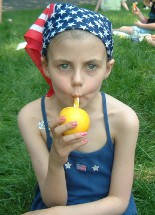 A little girl with a dream to help others in the simplest way became known world wide. Making a choice to hold a lemonade stand to raise money for cancer research should have been the least of her worries, but Alex never did anything for herself if it didn't help others too. Alexandra Scott, born January 18, 1996, was a friendly girl and had smile that could brighten up a room. At a very young age, Alex was diagnosed with neuroblastoma, a form of childhood cancer. After many treatments, her doctors told her she might never be able to walk again. This determined little girl proved them wrong. Once released from the hospital, she got to work on her campaign and set a goal to raise $100,000 for cancer research. Alex rallied friends and strangers to raise the money. In doing so, Alex taught to all what it means to be a hero. A hero must be selfless, courageous, and determined. Selfless because they must care about others, courageous, because they need to take risks, and determined because they need to overcome obstacles. A hero must be all these things, and more. Alexandra Scott, or Alex as her family called her, selflessly and courageously decided to hold a lemonade stand determined to make a difference in young people's lives.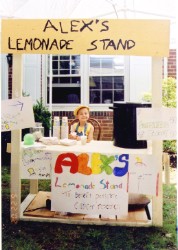 Alex proved her selflessness by devoting her life to her campaign. Aware that her disease could one day take her life, Alex did what she could to make her life worthwhile. "What can I do to help myself and others too?" (Alex Scott). Alex always put others needs before her own. In order to make a difference she decided to help others by raising money to further cancer research. She thought nothing more of herself than one of many affected with cancer. But she knew that if she could do this, it could possibly change the lives of others and possibly her own. Alex wanted a fair chance at life for everyone and although the treatment she received didn't work to her benefit, she wanted as many cancer patients as possible to receive a shot at beating their disease. "When she was four years old, Alex told her mom she wanted to open a lemonade stand and she wanted the profits to go to her hospital" (Fighting Cancer). Alex was grateful for the help she received from her doctors and she wanted everyone to get the same care. She could have easily kept the money they raised for her own treatments, but instead she wanted the funds to go to the hospital. Alex was driven by the care she had for others.
Alex's courageous decision gave her life meaning. Alex didn't know what would come out of this and how it could affect her and her family, but she pushed herself to make a difference. Despite her illness and exhausting treatments, "She said she was going to go ahead and do it anyway" (Fighting Cancer). Alex wasn't afraid that her lemonade stand might not make enough money, she was just happy anytime they sold a cup because she knew each sale helped a little and she had her heart set on making a difference. "Alex and her family continued to hold yearly lemonade stands in her front yard to benefit childhood cancer research" (Meet Our Founder). This was something she wanted to do and having the support of her family and friends made it a little easier when treatments were difficult. This young girl devoted her short life to a simple lemonade stand unaware of what it would become, that it would grow into something wonderful and bring people together.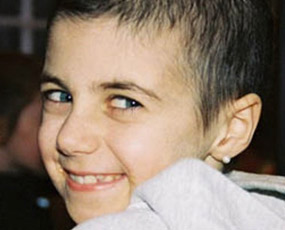 Alex remained determined to impact the lives of cancer patients despite numerous chemotherapy sessions. Treatments were difficult to go through and the doctors prognosis was not always easy to hear. In fact, "...doctors said she would never walk. But the little girl with the tireless spirit proved them wrong" (Fighting Cancer). This frail young girl was determined from the start to survive her disease. She thought that if scientists could find a cure for cancer, she could use it and be saved. The only problem was finding the cure. "With the help of others, she had raised more than $1 million to help find a cure for the disease that took her life" (Meet Our Founder). Alex started with a goal of $100,000 but that was quickly surpassed so she set another goal. Before she said her final goodbyes, Alex inspired others to continue the efforts and more than $5 million was raised nationwide. Alex's huge heart gave her the strength to finish what she started.
At age four, Alexandra Scott sought to make a difference in the lives of cancer patients by raising money for cancer research. Even though her disease worsened and her body deteriorated, her spirit remained strong. She never gave up hope and raised over $1 million within four years. Alex is an inspiration to me because when she didn't see a way out she took matters into her own hands. She found a way to help others while struggling to keep her own life. Although her life was ultimately cut short, this determined little girl made her mark working to create a better future for cancer patients everywhere. "She left behind a movement founded on a simple concept: beating childhood cancer one cup of lemonade at a time" (Fighting Cancer).
Works Cited
Alex Scott: A Stand for Hope Trailer. Dir. Larry Mendte. Perf. Alexandra Scott, Liz Flynn Scott, Jay Scott. 2007. Youtube, Alex Scott: A Stand for Hope Trailer. DocDramaDoc, 28 Nov. 2007. Web. 7 Feb. 2015.
"Fighting Cancer One Cup of Lemonade at a Time." ABC News. ABC News Network, 30 July 2005. Web. 07 Feb. 2015.
"Meet Our Founder: Alexandra Scott." Meet Our Founder: Alexandra Scott. Alex's Lemonade Stand, n.d. Web. 30 Jan. 2015.
Page created on 2/15/2015 12:00:00 AM
Last edited 2/15/2015 12:00:00 AM
The beliefs, viewpoints and opinions expressed in this hero submission on the website are those of the author and do not necessarily reflect the beliefs, viewpoints and opinions of The MY HERO Project and its staff.