Alexandra Scott
by
Alyssa from Brea
There are many different ways you can classify a hero. It is not someone with superpowers, but someone who actively shows devotion, kindness, and who is a leader in their everyday life. Everyone is different and special in their own way. We as the people of God need to stop thinking about our problems and help someone else. To be a hero it doesn't matter how old you are, as long as you are dedicated to making the world a better place.
Alexandra Scott was born in 1996 in Manchester, Connecticut, but moved to Wynnewood, Pennsylvania, to be nearby Children's Hospital of Philadelphia (CHOP). She was diagnosed with neuroblastoma a pediatric cancer. The doctors informed her parents if she could defeat this disease she would probably never walk again. This obstacle did not let it ruin her life; she kept a smile on her face and had a free spirit. By her second birthday with the support of leg braces, Alex was able to crawl and stand up. She worked tremendously hard to be able to walk and this showed everyone how determined she was going to be in life. Unfortunately, month's later doctors discovered that her tumors were growing again.
In January of 2000, Alex received a stem cell transplant and she then got inspired from seeing all of the other sick people at the hospital. She then told her mom that she wanted to start a lemonade stand outside of her house, to raise money for cancer victims. All money she would receive would be donated to doctors to find more research to cure cancer. News traveled fast around her town and many people then started to donate to help her cause. In the first year of selling lemonade Alex raised two thousand dollars; her small little stand turned into a foundation. Her big kind heart was making a lot of children's lives better.
Alex got a lot of publicity around the world, and inspired others. She started to receive donations from kids who started their own lemonade stand and she felt so proud of how she has changed the world. Alexandra and her family were doing annual lemonade stands every year and were more successful each time. Her leadership skills grew immensely throughout her life. After four years of selling lemonade Alex made one million dollars and donated it all to her hospital. Sadly, on August 1, 2004 at the age of eight Alexandra died from neuroblastoma cancer, but she knew that her goal in life was accomplished.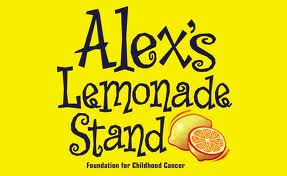 Even though Alex passed away, her lemonade stand continued. Kids heard about her story and got involved. Dozens of stands were contributing from all around the world. So much profit was coming in the small but substantial foundation, raised more than thirty-five million dollars. Celebrities have even donated such as Cindy Crawford, Peter Facinelli, Ann Gunn, Bailee Madison, Mark Summers, and Jordin Sparks. Alexandra Scott was kind, devoted to changing the world, and a strong leader. Her beautiful young life helped so many other children and she is truly a hero.
Page created on 12/21/2011 12:00:00 AM
Last edited 12/21/2011 12:00:00 AM
The beliefs, viewpoints and opinions expressed in this hero submission on the website are those of the author and do not necessarily reflect the beliefs, viewpoints and opinions of The MY HERO Project and its staff.
Related Links