Alexandra Scott
by
Dominique from Greenwich
My hero is a little girl who lived in Pennsylvania and was born in 1996. Her name is Alexandra Scott. I think she is a hero because her goal in life was to help raise money to find a cure for children's cancer. Now you may be thinking, a little girl, making money for children's cancer, how is this possible? Just like any other young girl she had lemonade stands. But instead of keeping the money she would give it all to cancer foundations. Now you maybe thinking okay, no big deal. A little girl raising 10 bucks at most, but no she did more. She raised over $700,000. Her main goal was to raise $1,000,000 but didn't live up to this goal.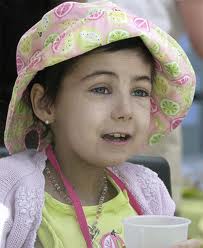 Alexander Scott was inspired to do all this because when she was born with a tumor on her back. They decided to remove it, but two days later, before her 1st birthday, she was diagnosed with Neroblastoma, a form of childhood cancer. She worked really hard to fight for her life. The doctors told her if she did overcome the cancer there would be a good chance she wouldn't be able to walk ever again. Just imagine, at the age of four, being told you would either die or never be able to walk again. You would be able to do much for your condition. She wanted other children to have a chance at life just like she did, this is why she had lemonade stands. 
She opened her first lemonade stand in July of 2000. Within her first year of selling lemonade she raised over $2,000 dollars. Continuing her stands with the years after, the word of her lemonade stands spread and she raised about $900,000 for pediatric cancer. An average cup of lemonade would cost about $.25, but Alex didn't put a price on her lemonade. Instead she would just tell the people the money was going to a cancer foundation and they can pay as they please.
Now that Alex is no longer with us, sponsors continue to raise money for her foundation. She expressed that anyone could do something as simple as running a lemonade stand so she accepts everyone in her foundation. Even when you donate and join her cause they will give you your own lemonade stand kit to help you spread the word. Alex's Lemonade Stand, is still in action today.
One thing she taught me to do was take action for what I believed in, just like she believed every child should have a breath of life. I now may start raising money for dog shelters because I think every dog deserves a loving home.
Page created on 4/9/2012 12:00:00 AM
Last edited 4/9/2012 12:00:00 AM
The beliefs, viewpoints and opinions expressed in this hero submission on the website are those of the author and do not necessarily reflect the beliefs, viewpoints and opinions of The MY HERO Project and its staff.