Christopher Reeves once said "I think a hero is an ordinary individual who finds strength to persevere and endure in spite of overwhelming obstacles." This is the exact definition of my hero Alek Skarlatos. He was an ordinary guy from Oregon on vacation in Europe with his childhood friends Spencer Stone and Anthony Sadler, when a man, Ayoub El-Khazzani, pulled out a gun and attempted to assassinate everyone on the train. Alek plus his two friends Spencer Stone and Anthony Sadler were fearless enough to stand up and stop the terrorist attack. Alek Skarlatos deserves the title hero because of the traits he holds, such as courage, and being an inspiration.
Alek Skarlatos was born in Roseburg, Oregon on October 10, 1992. In middle school he met Spencer Stone and Anthony Sadler, but he had no idea that on a vacation with them would have such an effect on their lives (Hartle). Alek joined the national guard and was deployed to Afghanistan after high school and the three of them went their separate ways (Preston). They all planned to meet up in Europe for a vacation. After spending time in Brussels they boarded a train to Paris. About three hours into the ride Ayoub El-Khazzani came out of the bathroom and was ready to attack. The three of them all had military experience and Spencer had experience in martial arts, so while Alek and Anthony beat El-Khazzani Spencer held him into a choke hold, eventually he went unconscious ("Train Attack Thwarted" ).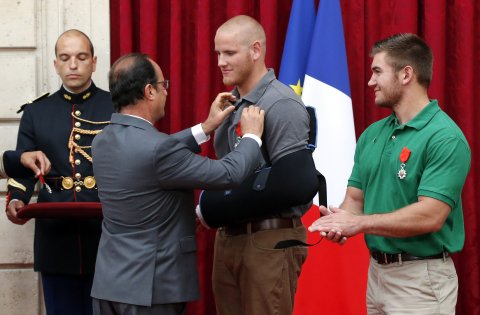 One reason why Alek is courageous is because of the attack. Alek saw the guy come into the cabin where he was he said to his friends "Let's go!" Skarlatos explained the attack in an interview in 2016 "Spencer got to the guy first and grabbed the guy by the neck. I grabbed the handgun, got that away from the guy, and threw it. Then I grabbed the AK-47 [Kalashnikov], which was at his feet, and started muzzle-bumping him in the head with it. Everybody just started beating the guy while Spencer held the chokehold until he went unconscious." After they beat him to the ground they learned that a man in the cabin ahead of them tried to stop the attacker but was shot. Spencer knew how to help him so for the rest of the journey he held his finger in the man's wound to save his blood from spilling out ("Train Attack Thwarted"). The three of the men are all inspirations because they had the courage to stand up and stop the attacker knowing they could possibly get shot and die. It takes a lot of courage to actually do something to help others around you and Alek clearly has the courage to do anything. Their courage was recognized by being the recipient of the French Legion d'honneur and the US Soldier's Medal, the highest award for actions not taken in combat. Another reason Alek has courage is he joined the military and is planning to become a cop (Petit). After the attack he explained to People magazine that after the military he had plans to become a cop, but after competing on Dancing With the Stars he wanted to stay in LA and explore his opportunities. Today he is still working on being a cop because it has been his dream.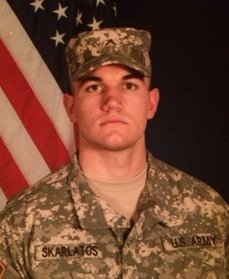 Alek is an inspiration to young kids and adults everywhere because he was an ordinary guy who has done extraordinary things. An example of being an inspiration is becoming a specialist with the Oregon army national guard, at such a young age (Preston). Alek joined the military to defend his country. He definitely is an inspiration to anyone who wants to join the military, because he has an abundance of pride. Alek is also an inspiration because of what he did on the train. Alek willingly stood up and defended strangers from a terrorist attack and saved hundreds of lives (Preston). He definitely has courage and should be an inspiration not only for young kids but also adults who need to stand up for what they believe in. He is just an example of how an ordinary guy can make a huge difference in people's lives.
To conclude, Alex Skarlatos is a hero, an inspiration, and has a ton of courage. He is an example of how an ordinary guy can make an extraordinary difference in the world. On the train attack he had seconds to decide whether to hide or to fight the guy. He made the right choice which isn't always the easy choice. Having the amount of courage to join the military and then stop a terrorist attack is more than most people have combined. He is definitely a hero, not only to everyone on that train, but to everyone who wants to make a difference, just like he did.
Works Cited
Hartle, Terry. "'The 15:17 to Paris': how three ordinary young men became instant heroes." Christian
Science Monitor, 27 Oct. 2016. Biography in Context, link.galegroup.com/apps/doc/A468105320/BIC1?u=powa9245&xid=389bd137. Accessed 12 Jan. 2017.
"Train Attack Thwarted in France, August 2015." Historic World Events, Gale, 2016. Student
Resources in Context, link.galegroup.com/apps/doc/BT2359070700/SUIC?u=powa9245&xid=1338b938. Accessed 12 Jan. 2017.
Petit, Stephanie. "Alek Skarlatos and Spencer Stone on Life After Stopping Train Attack In France."
PEOPLE.com. Time Inc, 05 June 2016. Web. 12 Jan. 2017. <http://people.com/celebrity/alek-skarlatos-and-spencer-stone-on-life-after-stopping-train-attack-in-france/>.
Preston, Alex. "Alek Skarlatos: 'I Saw This Guy with an AK-47, Tapped My Friend on the Shoulder
and Said: Let's Go'." The Observer's Faces of 2015. Guardian News and Media, 20 Dec. 2015. Web. 12 Jan. 2017. <https://www.theguardian.com/world/2015/dec/20/alek-skarlatos-us-soldier-foiled-paris-train-attack>.
Page created on 2/6/2017 12:00:00 AM
Last edited 2/6/2017 12:00:00 AM