Annie Sullivan
by
Rebecca from Bradford
"The truth is not wonderful enough to suit the newspaper; so they enlarge upon it, and invent ridiculous embellishments."
Can you teach a blind student that can't talk, while you're blind as well? My hero can. Her name is Annie Sullivan.
Annie Sullivan was born on April 14, 1866 in Feeding Hills, Massachusetts. Johanna Sullivan's (Annie Sullivans) mom died when the rest of Annie's family didn't want to care for her. Two years later Annie and her brother Jimmie went to go live in a poor house with people who have mental and physical ailments. Annie Sullivan started losing her sight at the age of 3 to a disease called Trachoma, the disease is a very bad bacterial infection. Annie Sullivan went to Perding school for the blind for her education and became a sign language teacher for other blind people. That's how she became Helen Keller's sign language teacher/tutor.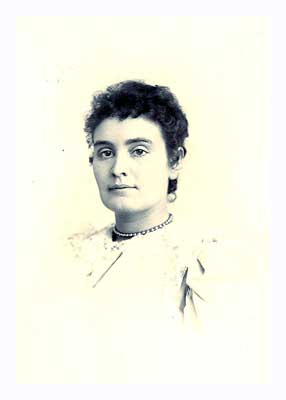 Annie Sullivan had a very difficult life. She lived with her mother and father but her mother died so she was left to take care of her father that was always drunk. But after her father couldn't take care of her, she moved into her aunt and uncle's house so they could take care of her. They couldn't take care of her anymore so that's when she and her brother Jimmie went to live in the poor house and that's when her brother Jimmie died from a sickness. The person that inspired Annie the most was her teacher Michael Anaganos.
My hero achieved to become a young and successful teacher for the blind and deaf students. Annie Sullivan was a very helpful teacher to families with deaf or blind kids - that's how she taught Helen Keller how to talk sign language even when Annie was getting frustrated with Helen Keller because Helen was one of those wild kids when she was younger.
My hero had courage because even when her brother died she had COURAGE to keep moving on with her life. She also had hope because she had hope for herself to achieve the rest of the life she lived, even when her brother died.
My hero influenced me by showing me that even though some things were hard in her life she forgot about it and she kept moving on with her life.
I hope you enjoyed my article about Annie Sullivan and I hope now she can become one of your favourite heroes as well.
Page created on 5/11/2010 12:00:00 AM
Last edited 5/11/2010 12:00:00 AM
The beliefs, viewpoints and opinions expressed in this hero submission on the website are those of the author and do not necessarily reflect the beliefs, viewpoints and opinions of The MY HERO Project and its staff.
Bibliography
Miller, Sarah. Miss Spitefire. atheneum