Amy Tan has written books that illustrate the lives of Chinese immigrants and families that live in conflict between daughter and mother and other familial bonds, as well as the difficulties of maintaining a dual cultural identity. Tan's stories sometimes reflect her life experiences making the stories with more meaning. Tan is mainly recognized for her works, but it is what she does out of her desk that makes her a hero. Tan was born from immigrant parents from China in Oakland, California, on February 19, 1952. Her father was a Chinese-born Baptist minister and her mother was one of three daughters of an upper-class family in Shanghai, China. Later they married and had three children together. The family moved to Santa Clara, California, and stayed there, until unfortunately Tan's father and other brother died of brain tumors within eight months of each other in 1968. Tan's mother then took her and her brother to live in Montreux, Switzerland, for them to finish school. Then they returned to America, where Tan enrolled in a pre-chosen college and course of study by her mother, in Oregon, at Linfield College. Her mother wanted Tan to study pre-med which Tan took for a year, until Tan moved with her boyfriend to enroll in San Jose State University changing her major to English and Linguistics in 1970. She earned a bachelor's degree in English in 1972 and a master's in linguistics in 1974, both at San Jose State University. She married her boyfriend, Lou DeMattei in 1974. Later she dropped out in 1976 upon accepting a job with the Alameda County Association for Mentally Retarded Citizens as a language development consultant.
In the 1980's, Tan began a career as a freelance business writer which became a success. In 1987, she took a trip to China with her mother to visit her relatives and connect with her Chinese roots. From the experience, she wrote her first novel, The Joy Luck Club. The novel became a success and won the Silver Medal from the Commonwealth Club at the California Book Awards, the Bay Area Book Reviewers Association Award for Fiction, and the American Library Association's Best Book for Young Adults award. Then Tan was awarded with a full-time career as a fictional writer. On the way there Tan experienced the conflict between the American culture and the Chinese culture, the experience of her body breaking underneath her such as Lyme disease which most doctors misdiagnose and treat. Despite this, Tan's compassion has raised awareness of Lyme disease and the people affected by it and their harsh lives, and also revealed the conflict between the American and Chinese cultures through literature, an influential way of using her and other peoples' experience.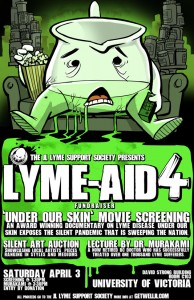 Tan's compassion and selflessness has raised money and awareness for those less fortunate than her has made her a hero to those with Lyme disease. Currently she lives in San Francisco, California. In 1999, after an outdoor wedding reception, she discovered a small red rash on her leg which she passed off as unimportant, an act of ignorance she now regrets. "[She now knows] the greatest harm [Lyme disease] has caused. It is ignorance. That ignorance is destroying more and more people as an epidemic grows. Lyme disease is now the fastest-growing vector-born disease in the country. Much more is needed to know how to diagnose it and how to treat it. In the meantime, advice to friends and family is to be aware and to be informed. Realize that Lyme disease has been reported in every state in the United State, in Europe, in Asia, and every continent except Antarctica. The CDC estimates the actual numbers of those infected each year is at least tenfold of what is documented as confirmed cases. Some Lyme researchers believe the numbers are much, much higher."(AmyTan.net) Lyme disease isn't always detected and most of the time people don't even see the rash or see the tick. Even if you show the symptoms, most of the time doctors will think that Lyme disease is a regional disease, which is only contracted in a certain area or place, and is misdiagnosed and treated. Tan knows this and from her experience is helping those uninformed. To raise awareness of Lyme disease, "[She has] joined a club of people with a stigmatized illness, one many doctors do not want to treat. [She realizes that she is] lucky to have a doctor who is willing to provide open-ended treatment. [That She is] lucky I have insurance. [And that] most Lyme patients are denied insurance. They are viewed as whacky. They have gone without appropriate care for so long they have lost their health, their jobs, their homes, their marriages, and even their lives."(AmyTan.net) She is now devoting a part of her life to help raise awareness of Lyme disease and this is also a part of her that makes her a hero. Through persistence and resilience she was able obtain a correct diagnosis, and is now able to help others. She shares her experience with Lyme disease and has a section on her website to describe them.
Works Cited
Tauber, Michelle. "A New Ending: For years author Amy Tan battled depression, anxiety, pain and bizarre hallucinations. The secret cause: Lyme disease.(Pages)." People Weekly. 60. 18 (Nov 3, 2003): 89. Student Resource Center - Gold. Gale. DEL NORTE HIGH SCHOOL. 14 May. 2010
Tan, Amy (1952-)." DISCovering Biography. Online ed. Detroit: Gale, 2003. Student Resource Center - Gold. Gale. DEL NORTE HIGH SCHOOL. 14 May. 2010
"Tan, Amy (1952-)." Encyclopedia of World Biography. Ed. Suzanne M. Bourgoin. 2nd ed. Detroit: Gale Research, 1998. 17 vols.Student Resource Center - Gold. Gale. DEL NORTE HIGH SCHOOL. 14 May. 2010
Tan, Amy. "How a speck changed my life forever." Amy Tam. Amy Tam Unknown. Web. 6 Mar. 2010.
Page created on 6/14/2010 12:00:00 AM
Last edited 6/14/2010 12:00:00 AM